Premier League sells TV rights to Sky Sports and BT Sport in record £5 billion deal
2.21K //
11 Feb 2015, 01:10 IST
The Premier League has sold the UK broadcasting rights for a record £5.136 billion for the next three seasons, which is a 71% increase in the value of the rights from the last round. Sky Sports has paid £4.2 billion for five of the seven TV packages while BT Sport has paid £960 million for the other two packages in the record TV rights auction. This TV deal is said to run for next three years from 2016 to 2019.
Sky Sports is said to have paid 83% more than it did in the last round three years ago. They also mentioned that they will pay £1.392 billion per year (or £11.07 million per match) for the right to broadcast 126 live matches, which is 10 matches more than what they currently broadcast.
On the other hand, BT Sport will pay £320 million per season, against its £246 million per season at present, which is 18% more and has also increased the number of live matches from 38 to 42 in a year.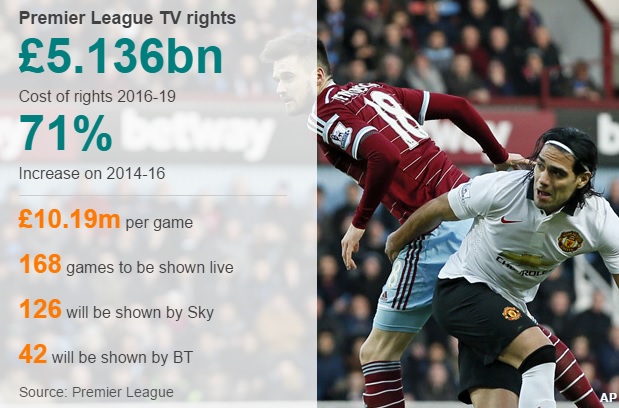 The above figures indicate that Sky Sports will pay the major amount of £4.1 billion of the total £5.136 billion deal. Also, the Premier League TV rights auction had been expected to raise as much as £4.4 billion, which means the results of the auction will cost these two broadcasters an average of £10.19 million per game to show a single Premier League match.
The Chief Executive of the Premier League, Richard Scudamore, has admitted surprise in the second successive 71% increase in the value of the rights. He said: "Premier League clubs deliver competitive and compelling football to fans in stadiums and on television, driving interest levels to new heights.
"I continue to be surprised by every television deal really, in some ways."