PSG ran riot at the Parc des Princes to beat Ajaccio 5-0 in Ligue 1 and relegate their hapless visitors to the second division.
Fabian Ruiz and Achraf Hakimi scored apiece in the first half before Kylian Mbappe bagged a second-half brace. Mohamed Youssouf struck an own goal as Hakimi and Thomas Mangani were later sent off for an on-field scuffle.
Ajaccio had to win this game to stay afloat in the top division but their hopes started to crumble as early as the 22nd minute when Ruiz opened the scoring with an audacious outside-of-the-boot finish.
Hakimi doubled their advantage another 11 minutes later as relegation closed in on the Bears.
In the second half, Mbappe burst to life, scoring inside two minutes of the restart and then netting a second one in the 54th minute with a stupendous volley as PSG went 4-0 up inside the hour mark.
There were more celebrations to follow as Youssouf inadvertently converted Marquinhos' low strike into his own net to gift PSG a fifth goal.
The game turned sour in the 72nd minute when a scuffle broke out between PSG and Ajaccio players which saw Hakimi and Mangani sent off for pushing and shoving each other.
Both teams were reduced to 10 men but it didn't impact the remainder of the proceedings in any way as PSG held on to see out a big win and edge closer to the Ligue 1 title. Ajaccio were condemned to Ligue 2 following the defeat.
Here are the five talking points from the match:
---
#5 Kylian Mbappe back in front of Golden Boot race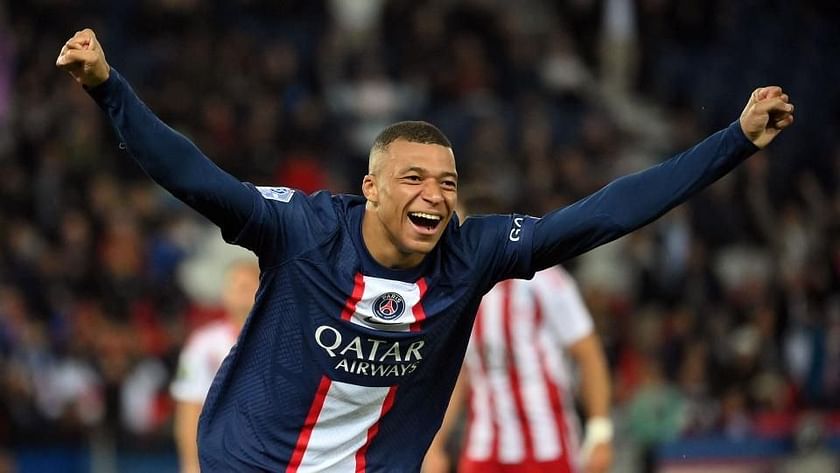 Continuing his blistering run of form, Kylian Mbappe scored twice more to race past Lyon's Alexandre Lacazette in the league's goalscoring charts with 26 for the season.
For the fifth top-flight match running, the Frenchman found the back of the net. His first was a scrappy one. Ajaccio goalkeeper François-Joseph Sollacaro attempted to block his close-range effort but it had enough power to roll over the line regardless.
His second, however, was an absolute stunner. Sergio Ramos sent in a long ball over the top of Ajaccio defense which Cedric Avinel looked to head away, but it fell to Mbappe, who produced a pristine first-time volley to make it 5-0.
The 24-year-old is really determined to win his fifth consecutive Golden Boot.
---
#4 Ajaccio's toothless display summed up their season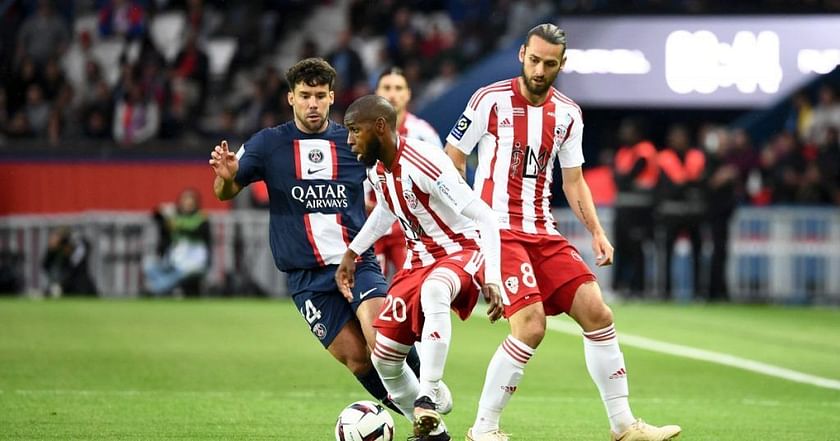 Attack-wise, Ajaccio have been the worst side in Ligue 1 this season with just 22 goals scored in 35 games. They came to Parc des Princes last night on the back of three consecutive goalless outings and did nothing to change that here.
With PSG throwing the kitchen sink at their hapless visitors, the Bears spent most of the time in their own half, desperately looking to defend as relegation loomed large.
In the 13th minute, though, Mickael Barreto produced a powerful header on goal, but PSG custodian Gianluigi Donnarumma offered strong hands to save it. That would be the closest that Ajaccio would come to scoring in the game.
Quiet simply, Olivier Pantaloni's side resigned themselves to a defeat by allowing PSG have the ball and never really making conscious efforts to regain possession and create something.
Ajaccio ultimately finished with just 27% possession and completing only 275 passes, almost thrice less than that of PSG. Such a hapless display truly summed up their campaign.
---
#3 Hakimi has a meltdown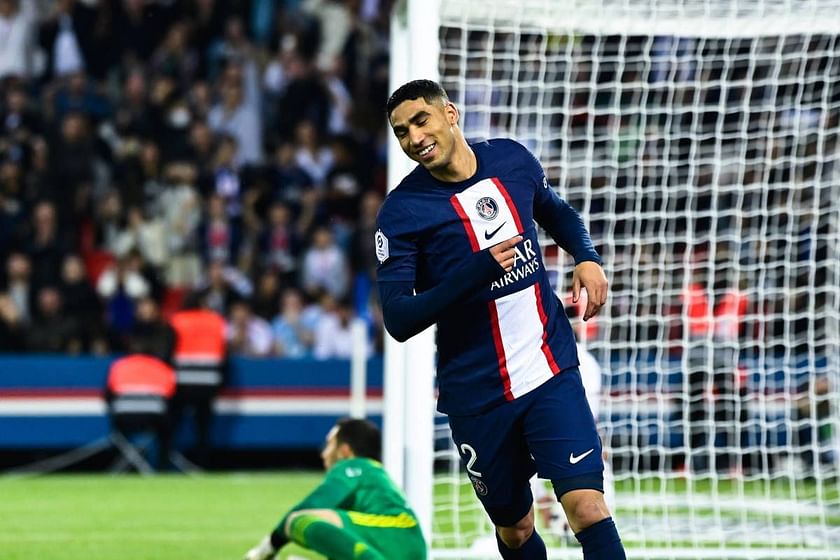 Achraf Hakimi was having a fine outing for PSG. He had scored a goal in the opening stanza to double PSG's lead and was front and centre of creating opportunities for his teammates.
Then in the 72nd minute, the Moroccan eclipsed all his good work by earning himself a red card for a scuffle. Lionel Messi was kicked down by an Ajaccio player which saw an altercation ensue between both sides.
Hakimi was seen pushing and shoving opposition players and was hence shown a straight red. Ajaccio midfielder Thomas Mangani was also seen reacting aggressively to the PSG full-back. Having initially been given a yellow, it was turned to red after the referee reviewed the incident on the pitchside monitor.
As for Hakimi, he will now sit out their trip to Auxerre next weekend.
---
#2 Ajaccio are back down to Ligue 2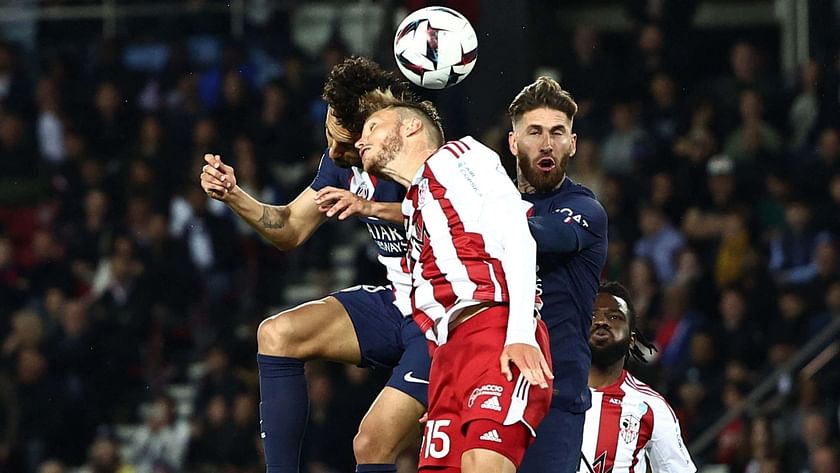 Ajaccio faced a make-or-break clash in Paris last night. With only 22 points from 34 games, the Bears were 10 points adrift of safety and needed to pull off a victory away to PSG in order to survive another day.
However, there were no such surprises. With PSG cruising to a comfortable 5-0 victory, the Corsican outfit's survival hopes were crushed and were sent back down to Ligue 2 just a year after their promotion.
This had been coming, though, with Ajaccio never really settling to life in the top-flight. They failed to win their opening seven games of the season, losing six, while also leaking goals at an alarming rate.
Now, the club is set for a period of inquest before starting over again in the second division.
---
#1 Lionel Messi returns, but no fireworks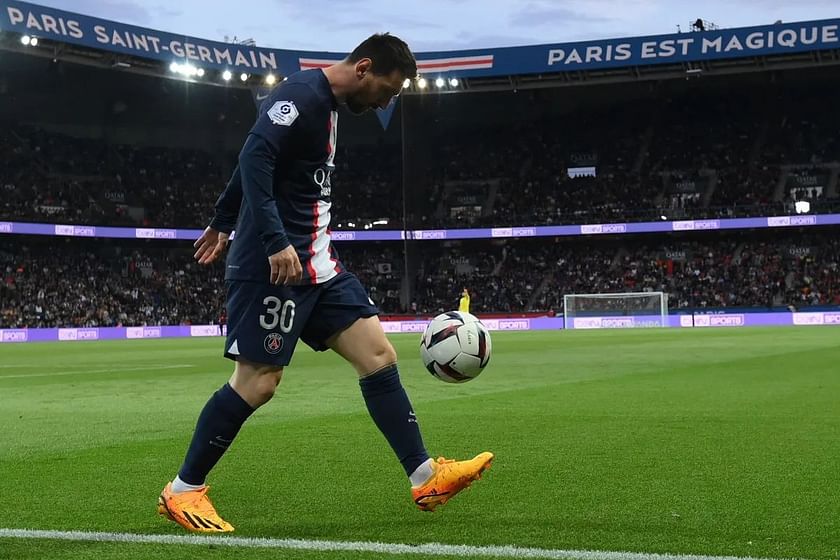 Much of the pre-match talk was focused on Lionel Messi's return to the PSG starting XI as he returned to the fold after serving an in-house suspension.
The Argentine was penalized by the club for his unsanctioned trip to Saudi Arabia earlier this month that also led to him putting out an apology video to his fans.
He missed their game to Troyes last weekend but returned to face Ajaccio last night, although there were no fireworks as Messi looked off.
The 36-year-old mustered just one shot on target in the game and had an xG of just 0.16. He also completed just one of his six crosses and lost possession a mammoth 21 times.
Messi is set to leave PSG later this year when his contract expires in June but received plenty of flak from the club supporters for his no-show last night as they fell he's already lost interest in playing for the Parisians.