Rafa Benitez and Torres
1.03K //
25 Dec 2012, 22:52 IST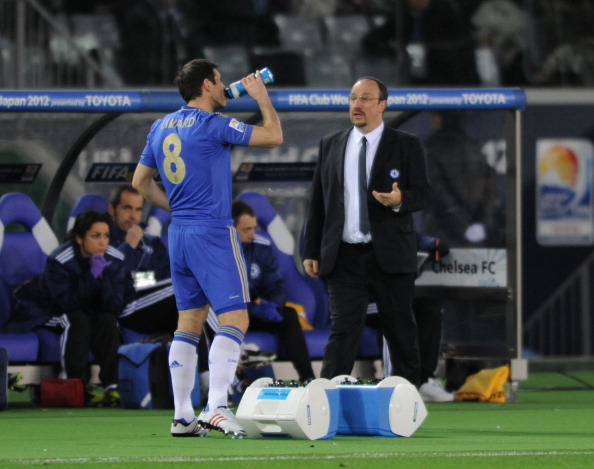 After the outrageous sacking of Roberto Di Matteo,which we Chelsea fans couldn't really understand, Rafa Benitez, the Spaniard who guided Liverpool to their miraculous win in 2005 against Milan in Istanbul, was appointed as manager. Now, we Chelsea fans and Benitez really don't get along well together (partly because of his "plastic flags" comments), but he seems to be doing a good job at the moment. After Benitez's arrival, Chelsea fans greeted him with vicious signboards, but it didn't seem like he minded it very much. Benitez has chosen to stick with Matteo's famous 4-2-3-1 formation, which has proved to be fruitful. But he has replaced Oscar with Moses on the right and Mata has been shifted to the centre. Oscar has been benched, which was not a thing you would have seen in RDM's reign. But it doesn't matter. What matters are the results, and Benitez looks like he could provide them.
Now coming to the relationship between Benitez and Torres. Benitez has shown confidence in Torres, and it has paid off. Torres is on the road to redemption, and a couple more matches like the one against Wigan, and he may be back to his old form.
It is not just the goal, which, as an emphatic header was top notch, but the way he played throughout the match was what made me think Torres was well and truly returning to his old form. The way he dribbled and took shots, and that 'Rabona' he did from the edge of the box – it just shows us class is permanent. But we have to accept that there is still room for improvement.
It certainly is Benitez's immense faith in Torres that is helping him. And it also helps that both are Spanish and can converse freely during training and other times. Both have previously worked together and Benitez certainly knows how to make Torres score.
If Torres' performances improve, it will be a HUGE plus for us. And I request our adventurous owner Mr.Abramovich to not replace Benitez with Guardiola. We must keep him for at least 3 seasons and let him build Chelsea. And Rafa, I wouldn't mind an apology for your previous comments against us Chelsea fans. It won't hurt your popularity you know!
#KTBFFH!