Raheem Sterling: Taking the OX by the horns
After the Liverpool game yesterday, comparisons between Raheem Sterling and Oxlade-Chamberlain are bound to crop up sometime in the future. Rating them individually solely based on yesterdays performance would mean weighing a pound-sterling against a 50 pence coin. Who is what, is best left alone for now, but it will only lead to Chamberlain being left shortchanged.
Pace is an equally important attribute of both the players skill set. The idea might seem far-fetched but one would be tempted to compare a player possessing such pace with a comic book hero from the Marvel universe. Watching them dribble past defenders gives one the feeling of a Yamaha powered jet-ski thunder past a skiff.
Chamberlain, against Liverpool, was nowhere close to the player he was made out to be last season. He did not leave the fullback marking him gasping for breath nor did he make a whooshing sound when he passed his marker. Jose Enrique, Liverpool's fullback, had his shields up and absorbed Chamberlain's attack.
Training a gun on Chamberlain is like hunting for deer during off-season. The 2012/13 Premier League season is just three games old and Chamberlain just started his first game of the season.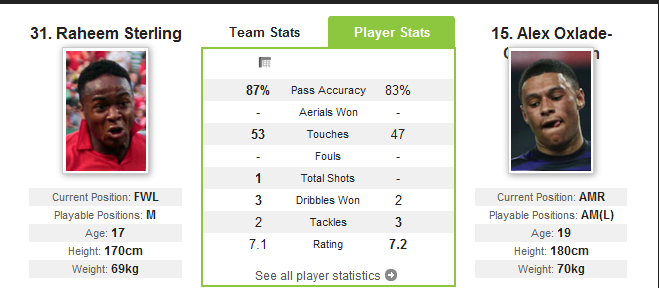 However, one particular moment stood out in yesterdays game. Raheem Sterling tracked back to take the ball off Chamberlain just when the Arsenal winger was about to jump to light speed. It was not the first time Raheem showed us that he can defend as good as he can run with the ball. Against Heart of Midlothian in the Europa League Qualifiers, Sterling was a surprise start. He never looked tired after putting on 90 minutes of spectacular show in which he combined offence and defence to a good effect.
His first Premier League start against Manchester City was equally impressive and showed signs of what we can expect from him in the future.
Yesterday, against Arsenal, he was equally charged for his second straight home game. In the 37th minute of the game, Steven Gerrard cushioned the ball with his head from inside the penalty box; Sterling received the pass with his back towards the goal. A touch and a turn saw him move clear off Thomas Vermaelen and the goalpost denied him his first career goal for Liverpool.
All it took was £600,000, which could rise to £5 million depending on first-team appearances, to replace Stewart Downing on the left wing. Downing cost Liverpool three times the price they paid to Queen Park Rangers two years ago for Sterling.
"Young players will run through a barbed wire fence for you," said Rodgers. "Older players will look for the hole or just turn back and not even go through it. But you get that freshness from Raheem. I like exciting players as well and he is a boy that excites you."
Expect to see Sterling play a role in England's World Cup qualifying games.