Reading 3-3 Fulham: Jol's side should have claimed all three points
625 //
28 Oct 2012, 10:13 IST
In a match with plenty of excitement and drama, the better side didn't win today, and Fulham fans such as myself are left frustrated with 1 point for a second straight away match. The draw at Southampton was acceptable, mainly because our away record has been poor, and just to have come back in that match and secure any points was good in and of itself. But today, when Fulham held a lead on two separate occasions in the final 10 minutes, to end up with less than 3 points just won't do, against a side that we were clearly superior to. The final two goals were insanely lucky for Reading, but that doesn't excuse the fact they were allowed.
The good
Dimitar Berbatov – Towards the end, he was visibly egging his teammates on, encouraging them to keep the ball on the ground and give him the final touch, a good strategy considering everyone else's inability to keep the ball from ending up in Row Z. But he was pacey, and despite much of the first half playing a touch back and in the midfield compared to what he's used to, he was a major bright spot and he will be going forward.
Bryan Ruiz – Talk about a super sub. Injected into the match around 60 minutes time, it was no looking back from there. Both teams were pretty evenly matched until his arrival, at which point Fulham took control and never let up on the pedal. I know, they ended up scoring twice from there on out, but it was obvious who was better and more quality from that point on.
Chris Baird – Unlike last match where he was quite invisible until he made his mark on the scoresheet towards the end, he was influential throughout the match. Baird was quality on the defensive side as well as adding a bit of creativity on the front end of build ups.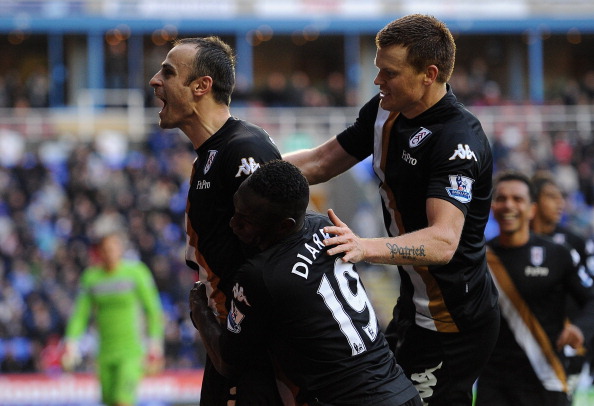 The bad
Brede Hangeland – Having a conversation on Twitter with one of my loyal followers, the consensus is this: we need to sell Brede Hangeland for whatever we can get before the world realizes he's lost his top quality. It's true, and while there may be backlash from those loyal fans who have an affection for the man who's given so many important minutes to Fulham, he's not the same. He's not the same in the air, and he's certainly not the same man who could be relied on to patrol the middle of the field with an imposing presence. He's lost his ability to keep up with strikers, and it's showing.  I think Martin Jol needs to realize this, and cash him in in January before he completely loses any market value.
Sascha Riether – I'm putting Riether on this list for one moment and only one moment. He was decent outside of this one moment. But the foul outside the box to put in a second set piece that led to Reading's final goal was bad, and he NEEDS to not do that, as to not allow more pressure than necessary. Bad foul, and led to a big moment in the match.
The cutting edge at the back – Teams always talk about finishing. It's a major talking point in so many sports because the ability to finish sets apart the good teams from the great teams. And on the road, Fulham is mediocre at best, for this reason completely. It's hard to point to any one or two players and pin this problem on them, just like it's tough to pin it solely on the manager or coaching staff.  Everyone is responsible, and everyone needs to look into the mirror around the 75 or 80 minute mark and ask of themselves "what do I have left in the tank to give to this club." It comes down to accountability, and in the end, everyone is accountable
Man of the Match: I've got Bryan Ruiz. He made a massive difference in the match.
Stat Central: Possession wise, Fulham dominated. They ended up with 65.9% of possession, and passes were 519/612 for Fulham and 198/288 (a very poor 69% rate). But the one that stands out the most to me is the foul count. Reading committed 6 fouls to Fulham's 17. That can't happen.
I think conditioning is what this club needs to be able to finish out matches. Hopefully Jol takes a hard look at his strategies at the back in the end of matches, because this happening once is a fluke you live with. Twice a row and it becomes a serious problem. This team should have 4 points they've dropped in these situations, and any more dropped points will definitely result in lost positions at the end of the season.
One more note about this match, it would have been very fun to watch from a neutral perspective, as 4 of the 6 goals in this match were excellent strikes. The only first half goal was a fabulous strike, and both Berbatov's and Ruiz's goal sliced into the top corner.