Real Madrid vs Ajax: Match preview
1.04K //
04 Dec 2012, 09:45 IST
Stadium: Estadio Santiago Bernabeu
Referee: Pavel Kralovec
Kick-off: 1:15 AM (IST), Wednesday, 5th of December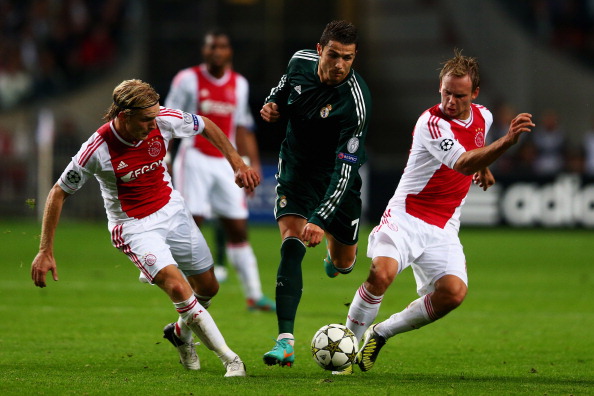 Real Madrid have already qualified to the next stage of the Champions League and host Ajax in an inconsequential game for them as their head-to-head record with Dortmund in this year's competition means that they will finish second in the group, irrespective of the results in this final round of group fixtures. Jose Mourinho is thus likely to send out a fresh looking team onto the pitch, with rest for the likes of Xabi Alonso, while at the same time trying to ensure that their winning momentum  is maintained.
Ajax, on the other hand, have plenty to play for, with continued European football at stake. In spite of being the least fancied team in the Group of death, Ajax have done slightly better than Manchester City and sit in third place, 1 point ahead of the English champions. While their head-to-head record with City ensures that they will go through if City fail to win at Dortmund, a win for City could still knock Ajax out of the Europa League spot that is awarded to teams that finish third in the groups.
Real Madrid: W D L W W
With a morale-boosting derby win over Atletico over the weekend, Real proved that form may be temporary, but class is permanent. After a dull first half where virtually nothing happened, the hosts burst into life in the second half and dominated their higher placed opponents to seal a convincing win. This was in keeping with the recent results Madrid have been gathering, and proved that their loss to Betis in the week before was just an oddity. Now up against the Dutch champions, the likes of Kaka and Callejon are likely to be sent out onto the pitch to prove themselves to the fans and, more importantly, Jose Mourinho. To be able to send someone like Kaka or Modric as a fresh player is a blessing for Real, and they will still be a very tough team to beat.
Ajax: W W L W W
After a slow start to the season, Ajax have hit their stride in recent weeks and have 4 wins on the trot in the Eredivisie, including an uplifting 3 – 1 beating of PSV Eindhoven over the weekend. Still, they sit 4 points behind leaders Twente in fourth position, and would like to have done much better already. The same is applicable to Europe as well, but all that will matter tonight is the 3 points at stake, with no space for regret. With Eriksen, de Jong and Schone in good touch, Ajax have a good chance of ending their 5-match losing streak against Real Madrid.
Injuries, Concerns & Suspensions
Real Madrid: Gonzalo Higuain, Marcelo Da Silva, Alvaro Arbeloa.
Ajax: Nicolai Boilesen, Kolbeinn Sigthorsson, Ryan Babel.
Kaka vs Toby Alderweireld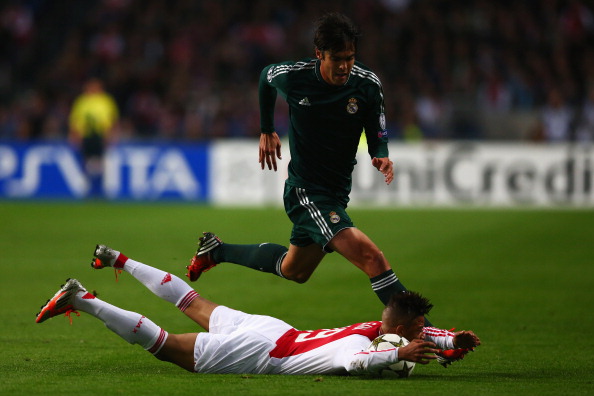 The former AC Milan star has made just 2 starts for Real in all competitions this season in spite of being spoken of in the same breath as Ronaldo just a couple of years ago. Now, with a rare opportunity on hand, Kaka will give his all if selected to play, and is likely to face off against Toby Alderweireld. Kaka's talent on the ball and ability to shoot from range, as well to find a perfect through ball, are unquestionable and Alderweireld will need to be at his best to deny Kaka garnering another assist, something he did the last time these two met, or more.
 Christian Eriksen vs Pepe
 The Danish starlet has been Ajax's creator-in-chief this season, particularly in Europe, where he has 4 assists, while the rest of the team has 2 in total. Thus, with Siem de Jong being one of the main benefactors, Pepe will have his hands full with dividing attention between the two. Eriksen has marvellously tricky feet, and Pepe's style of defending may well see him get into trouble with the ref.
An entertaining draw, maybe. Both teams certainly have the quality to create plenty of chances, but Ajax need the win much more than Madrid do. On the other hand, no team likes losing at home, and in spite of having secured progress, there will be several players in Real that are hungry to prove their worth. Life shall be made very difficult for the visitors.