Real Madrid's training ground secrets
6.37K //
29 Jan 2015, 21:59 IST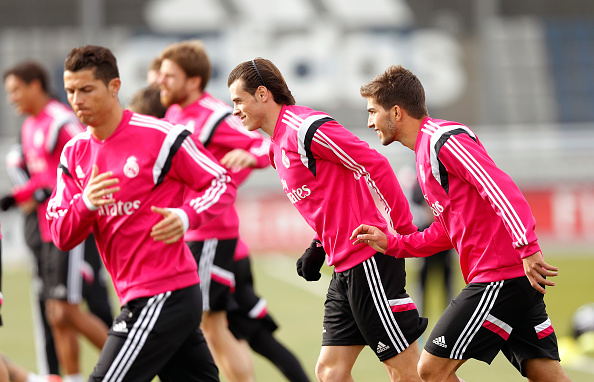 Real Madrid have lorded over football in their country and beyond for decades, and what methods are followed at the Spanish club to maintain their degree of excellence is an often pondered question. Reporter Mark Ogden was recently granted a rare, behind-the-scenes access to the world's most glamorous club to see how Cristiano Ronaldo, Gareth Bale and their fellow galacticos are taught to get even better.
English coach Paul Clement, who has followed Carlo Ancelotti to Madrid from Chelsea via a stint at Paris Saint-Germain, was seen working with Gareth Bale for ironing out a specific flaw in the Welshman's game.
"Gareth is very strong on his left side, but we play him on the right where he cuts inside and he is excellent in that role," Clement explains. "But he is getting into positions where he is at the byline and needs to be able to stand the ball up better at the far post.
"He is not so strong on that, he realises that and we have spoken about it and come up with a plan."
Celement says, "We talk about the technique, break it down, as how he feels about it and the work on it. You can't just talk about it, you have to do it and practise it."
Bale does a short but intense training session composed of a very basic drill. He knocks the ball to the touchline, sprints and clips the ball to the far post, with Clement encouraging him to focus on delivering the killer ball. Cristiano Ronaldo steps out from the dressing room and jokingly goads Bale on, who returns the smile and continues with his drill.
Big players practise extra: Clement
Ancelotti patrols the training pitch, observing quietly, while Clement oversees several simultaneous five-a-side games of breathtaking speed and skill. Clement says that the big players never let up on their intensity in training sessions by virtue of them being superstars."I haven't worked with one top player who thinks he is the finished article and believes he doesn't need to do extra this or that. It is actually the ones lower down you have the problem with because they think they are better than they are.
"But people like Cristiano, Gareth, Zlatan (Ibrahimovic) at PSG, the players back at Chelsea - Lampard, Terry, Drogba - they are the ones who are doing extra: practising, practising, practising.
"Cristiano will be out practising virtually every day after training, particularly central free-kicks. He is so good at central free-kicks because he continually practises them."
This is evident in the training session, where Ronaldo is seen continuously demanding the ball, celebrating like a schoolboy whenever a goal is scored, and after netting the winner at the end of the session, beckoning the photographer to take a team photo of his 'winning team' of Toni Kroos, Dani Carvajal, Asier Illarramendi and goalkeeper Keylor Navas – a photograph Ronaldo then would ask for a copy of via the Real media officer.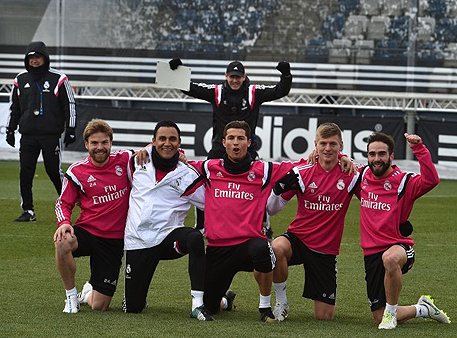 Clement said, "He picks up a lot of individual accolades like the Ballon d'Or and top scorer awards, but he actually sees that as his part in helping the team be successful.
"On a similar level, he thinks that the job of defenders is to make sure that they have the most clean sheets.
"He does a lot of the details really well - he has a great knowledge of diet and nutrition and he also really knows how to recover well, whether it be here with the massage and ice baths, or at his home, where he has had those facilities installed in his own house."