Results hard to come by as Roberto Mancini attempts to restore Inter of old
1.68K //
29 Jan 2015, 16:09 IST

"Football can be cruel," rasped a hoarse Roberto Mancini on Sunday afternoon. Torino defender Emiliano Moretti, a player he had given a Serie A debut to at Fiorentina, had claimed his club's first victory over Inter at San Siro since Valentine's Day 1988. It was the last act of the game too. Aware that Andrea Ranocchia would be preoccupied by Kamil Glik, the league's most prolific centre-back and Torino's top scorer (5 goals), Moretti hid among them. As they went to challenge for Omar El Kaddouri's 93rd-minute corner at the near post, he was left completely unmarked and knelt to nod Maxi Lopez's flick-on beyond Samir Handanovic.
"It's cruel because Inter didn't deserve to lose or draw," Mancini sighed. "They defended with all their men behind the ball and we played the entire game in their half." Inter had 70% possession, with only 15% of all touches coming within their defensive third of the pitch. They had 403 more touches overall and played 385 more passes. "I'm happy with the performance," Mancini insisted, "the team played and did what it should do." You could chalk it down to football being a funny old game. The best team doesn't always win.
Listening to Mancini was Sky Italia's analyst, the former Lazio goalkeeper and teammate of Mancio's, Luca Marchegiani. "I didn't see Inter play as fluidly as Roberto described," he said. "Inter had a lot more of the ball than Torino, but to a certain point it was easy. When it got more difficult I saw a team without solutions with few players taking the initiative and little incisiveness." Inter's statistics sure were indicative of a dominant display. Only theirs was a sterile dominance. All they mustered were two shots on target by Lukas Podolski, who incidentally was taken off in the 65th minute.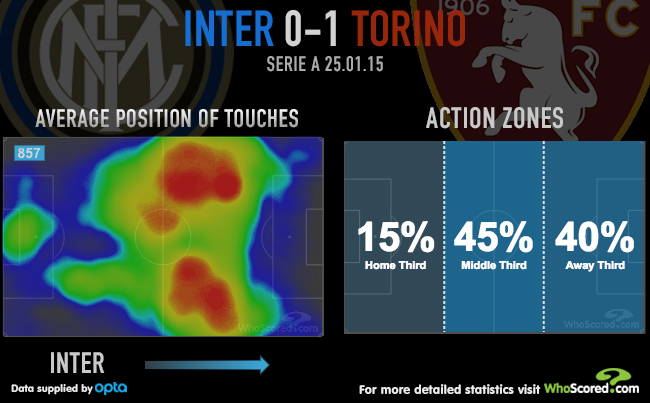 We had possession right up until the edge of their penalty area," Mancini admitted, "then we were lost… We created little. It's in the final third that you have to show your quality." A heat map of the game shows how Inter couldn't get hot in Torino's box.
"Our attacking players didn't move enough," Mancini lamented. "That wasn't good." Il Giornale thought Inter played at a "snail's pace." Il Corriere della Sera got the impression "Podolski, Kovacic, Palacio and Icardi wanted to win a game of who ran the least and at the lowest rhythm."
When confronted with a defence that sits deep, with players often at a standing start, you require smart combination play, runs off the ball, vision and a zip in the pass. Think the give-and-go that their new signings Podolski and Xherdan Shaqiri played to break the deadlock in the Coppa Italia against Sampdoria.
Not everyone is fit. You can tell Podolski has spent most of the season on the bench. There's a rustiness and a lack of understanding of his play. Kovacic appeared tired after his endeavours in the cup. Palacio elected not to have ankle surgery but doesn't look entirely comfortable, while Icardi doesn't participate enough in the play. He scores goals and that's it. Shaqiri also doesn't have 90 minutes in his legs yet, though it's clear, from his experience at Bayern, that he is used to training and playing with a different intensity and tempo.
Consecutive league games without a goal are suggestive of a team that is struggling to create. The stalemate with Empoli was different. Unlike Torino, they attacked and outplayed Inter who were fortunate to draw. "The only positive is we didn't concede," goalkeeper Samir Handanovic said. Once again, though, a lack of ideas when they did have the ball and a predictability to their play meant that all Inter could conjure was a single shot on target.
So have things really improved under Mancini? His points per game average of 1.1 is inferior to that of predecessor Walter Mazzarri (1.45). Other basic metrics are all more or less the same. Inter's goal-to-game ratio has declined a touch from 1.5 to 1.3. The number they have conceded has risen slightly from 1.3 to 1.5. Possession is 57.4% as opposed to 58.2%. Inter are shooting a fraction more at an average of 13 per game compared to 12.9. And although the chances they're creating per game has fallen from 13.6 to 9.3, Inter are more clinical under Mancini. Their conversion rate has climbed from 9.1% to 10.3%.
If that's all underwhelming, then it's important to consider the context. The mood is significantly better than it was under Mazzarri. There is renewed enthusiasm following Mancini's return. Hugely popular with the fans, he has a track record of success at the club that he can point towards and has the charisma required of an Inter coach. He has said it depresses him that the objective is to finish third. After all, this is Inter. They should be challenging for the title. He doesn't see why the club can't attract players like Yaya Toure. Inter are over a hundred years old. They have won the league 18 times and the European Cup on three occasions. They're a member of the continent's traditional elite.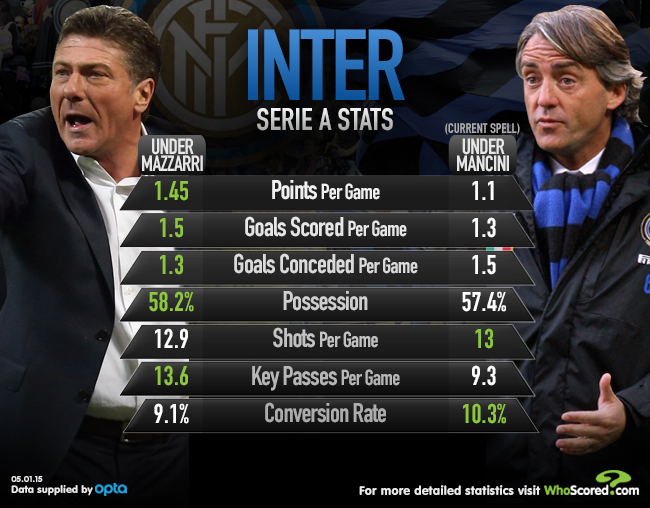 Mancini hasn't had the benefit of a pre-season. He is still learning about the players, which ones he can trust, which ones he can't. Dani Osvaldo, Dodo and Yann M'vila, three of the summer signings, have been evaluated and don't figure in his plans. He inherited a team built for a different manager with a different system and style.
Until the transfer window opened he had to make do and mend and still is to an extent. Mancini has transitioned from a back three to a back four. He has sought to give the team wings. The signings of Podolski and in particular Shaqiri have generated great excitement. Would Mazzarri have been able to attract them? Would they have joined for him? One suspects not.
Mancini hasn't had the luxury of conducting experiments or introducing concepts in friendlies. They have had to be made in competitive matches. Mitigation for collecting fewer points than Mazzarri is offered via a glance at the fixture list. He started with the Milan derby. Inter then went to Roma. They hosted high-flying Lazio before Christmas and began the New Year by travelling to Turin to play champions and league leaders Juventus in the Derby d'Italia. To say it's been uphill is an understatement.
He hasn't been afraid to think big. From the get-go, he has asked Inter to be expansive in their play and to take risks. He wants his defence to step up and play a high line. He wants to take the game to the opposition, to play it in their half. He is effecting a change of mentality, making the players understand this is how a top club should play. They should impose themselves on their opponent rather than sit back and look to counter. If the sweeping changes Mancini has made appear radical it's because a revolution was in order.
There have also been signs of a nascent mental toughness emerging at Inter. A goal behind and later a man down against Dnipro they came back to win. Twice they got level with Roma before succumbing to a 4-2 defeat. Lazio and Juventus were also pegged back. In fact, after surviving the first half Inter could have won the Derby d'Italia.
They have played well intermittently. The first 45 against Udinese. The second against Juve and Lazio. The 3-1 triumph over Genoa at San Siro seemed to be a turning point. Mancini restored Nemanja Vidic to the starting line-up to good effect. Fredy Guarin has also impressed in a new role in a midfield tandem. Unfortunately it has been one step forward and two steps back. Vidic's partner that afternoon, Marco Andreolli is now injured while Danilo D'Ambrosio, one of Inter's most consistent performers, is also on the sidelines. "We could always play Zanetti and Sylvinho [Mancini's assistant]," owner Erick Thohir joked.
Luckily one of Mancini's great skills is getting his owners to put their hands in their wallets. A full-back will arrive - Jeison Murillo from Granada or Rhodolfo from Gremio - and they're working on an upgrade on Gary Medel who too often slows Inter's play down. Lassana Diarra, Lucas Leiva and Thiago Motta are the targets to further reinforce that area after the intriguing arrival of Marcelo Brozovic who partners Luka Modric in midfield for Croatia.
A sustained upturn in results has yet to happen under Mancini. It will take time. But the perception of Inter is that they are more like themselves with him at the helm than Mazzarri. The general outlook and atmosphere is certainly more positive. It's normal after an engine refit for it to cough, splutter and stall, but once it gets going Inter should be headed in the right direction.