Is it right to blame Gareth Bale for Real Madrid's problems?
2.65K //
13 May 2015, 10:16 IST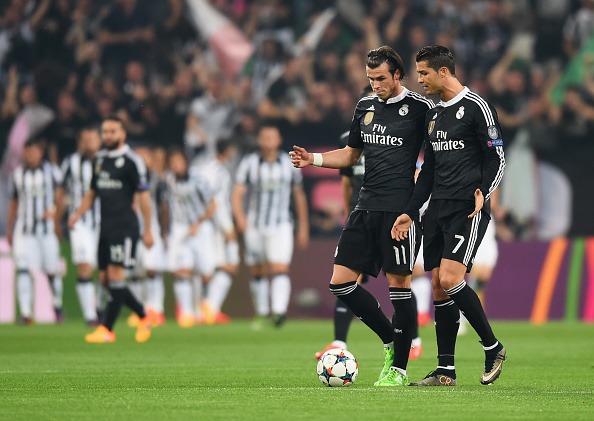 It is fair to say that Gareth Bale's performance in Real Madrid's 2-1 Champions League semi-final first leg defeat at Juventus last week did not impress many pundits.
"It's very difficult to win a big game like this when you're only playing with 10 men," ex-Manchester United midfielder and current Republic of Ireland assistant manager Roy Keane said on ITV. "Gareth Bale gave them absolutely nothing tonight."
The Spanish press reaction was pretty similar, with Marca dubbing Bale "The Invisible Man". The paper also ran with the infamous statistic that the Galactico attacker touched the ball fewer times (27) than Madrid goalkeeper Iker Casillas (44) over the 90 minutes.

The criticism was generally harsh, but there is some truth in the claim that, as Marca put it, Bale's stats were "full of zeros". In Madrid's biggest game of the season to date, their €100m player had 1 shot (0 on target), played 0 key passes, made 0 tackles and was caught offside 0 times. He made 1 interception and 1 clearance, won 2 headers, completed 1 successful dribble and was fouled 3 times.
These are not good numbers, and they were put to Madrid coach Carlo Ancelotti at his press conference ahead of Saturday's La Liga home meeting with Valencia.
"I have not spoken with Bale about this, as I do not base my ideas about the game on such statistics," the Italian coach said while looking quite peeved. "Bale did not play well, as Real Madrid did not play well. Bale will play well again, as Real Madrid will play well again, very soon."
Ancelotti and Madrid's fans hoped this day would come against Valencia at the Estadio Santiago Bernabeu. Bale began the game as if with a point to prove. He was by far Madrid's most dangerous attacker in the first half, hitting the post with a 25-yard free-kick, drawing a superb save from visiting goalkeeper Diego Alves with a powerful drive from even further out, laying on a relatively simple chance, which Javier 'Chicharito' Hernandez struck off a post and winning the penalty which Cristiano Ronaldo missed.
Although less influential after the break as the game became more of a physical battle, Bale did provide the assist for Isco's equaliser as Madrid came back from 2-0 down to draw 2-2. The result meant Barcelona are four points clear in the La Liga title race with only two games to play. Even still, most Blancos pundits were pretty upbeat afterwards, pointing to their team having been unlucky. Isco and 'Chicharito' were singled out for praise by the Bernabeu commentariat. Bale got just one 'ace' out of three in AS's match ratings.
This was despite the numbers showing that Bale was actually Madrid's best attacker against Valencia. He finished with a WhoScored rating of 8.06 for an active performance that included 5 shots (albeit just 1 on target), 4 key passes and 5 crosses. Ronaldo had 5 attempts on goal but got just 1 on target - the penalty he missed. Chicharito earned the admiration of the Bernabeu faithful for what seemed a much more energetic showing but had only 36 touches compared to Bale's 47. Ronaldo had 46 touches and Casillas 31 in comparison.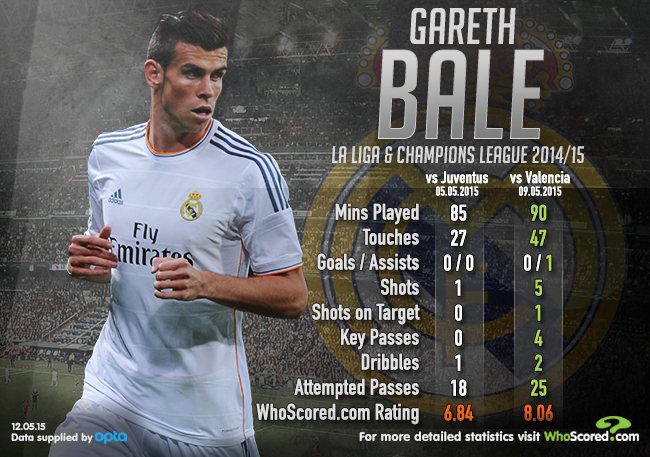 All of this means that plenty of pre-existing judgements seem to be being used during the analysis of each Bale performance. While he did make little impact against Juventus, it was his first full game back after injury, and he played much of the game in an unfamiliar central striking role. He may have had fewer touches than Casillas, but so did Ronaldo (just 34 over the 90 minutes), and nobody made a big deal about that. Sergio Ramos struggling in midfield was noticed, but nobody played up the fact that neither Isco nor James managed to make 1 tackle, interception or clearance between them.
The stats suggest it was a horror show performance all round by Madrid in Turin. Bale was unable to stand out as a real superstar might, but neither did any of his teammates. The Welshman was still scapegoated for the overall poor team performance. When he does actually play very well - as he did against Valencia on Saturday - nobody seems to notice.
It's fair to say that the days when Bale does really impress have lessened this year. The former Tottenham winger's overall stats for this season have dipped from those of his debut campaign with Madrid. In 2,953 minutes played between La Liga and the Champions League, Bale scored 21 goals and made 16 assists in the 2013/14 season. This term he has 15 goals and 10 assists in 3,329 minutes played across the two major competitions.
That is a significant drop-off while the general consensus is made worse by Bale not having provided match-winning moments on huge occasions as he did last year. Those included a superb long-range strike against Juventus in the Champions League group stages, his famous winning Copa del Rey final goal against Barcelona and the winning Champions League final goal against Atletico Madrid. Without these decisive contributions in big matches, it has become easier for critics to single out the Welshman when things do not go right for Madrid.
Into the debate has come Bale's agent Jonathan Barnett, who seized upon UEFA statistics apparently showing his client covered more ground than any other Madrid player against Juventus, telling Telegraph Sport that the real problem was Madrid's other players would not pass him the ball.
"This proves that people don't know what they're talking about when they criticise Gareth," Barnett said. "Real have to work with Gareth and pass the ball to him more. Give him more of the ball and let him show everybody what he's good at. He's going to be the best player at Real Madrid when his teammates work with him and help him. Hopefully, Real will come to terms with this."
It is arguable whether the distance covered does actually mean that a player is taking up good positions, but not receiving the ball as his teammates shun him. Football statisticians continue to make rapid progress, but reading players' minds remains beyond even the latest tracking systems. Barnett is reading the figures the way he wishes to, as are many of Bale's critics. Both sides are picking the numbers they want to help draw opposite conclusions, apparently based on previous biases they hold.
It's clear that the Welshman is not having a great season at Madrid, and his long-term future in Spain remains in doubt. But, as Ancelotti said, whether Bale touched the ball more or less times than Casillas against Juventus is pretty much beside the point.
Do you think Gareth Bale has been unfairly singled out for criticism? Let us know your thoughts in the comments below.