RVP - Robin van Perfection
1.27K //
16 Dec 2012, 20:12 IST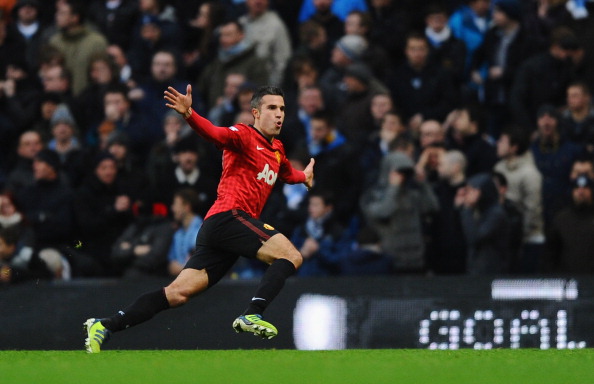 Aug 16th, 2012. This date will be remembered by every United fan as this was the day Robin Van Persie decided to join Manchester United, and although it's been only 4 months, his impact can easily be seen on this new look United side. At the time, many pundits raised their eyebrows at the transfer because of the £24 million fee involved for a 29-year-old player, and there were other doubts attached to his transfer, primarily whether he could stay fit for the whole season. Could he co-exist with Wayne Rooney? But this was no ordinary 29-year-old player they were doubting. Van Persie was England's best striker last season with 30 goals and it seems as if most of that £24 million has been repaid already, with the latest feather in his cap being a superb curling free kick past Joe Hart and sealing his first ever Manchester Derby with an amazing win.
After 17 games in the league, once again he tops the chart with 12 goals and any doubts as to whether Rooney and RVP would be able to co exist have been put to rest with Wayne Rooney leading the assist chart with 7 assists as well as 7 goals. With Van Persie deployed up front, it  has given Wayne Rooney the freedom to roam in behind RVP and act as the supplier and not surprisingly, he is acting as one of the very best in the league. In the 12 games that Van Persie and Rooney have started,  United have won all of them. No more stats need to be told to prove that this partnership is certainly flourishing.
It's not just the goal scoring that Van Persie brings to the Old Trafford outfit. It's his attacking skills, his creativity, his sense of positioning – everything seems to be suiting United very well at the moment and the biggest proof is his return of goals, with  15 already this season. His level of involvement in United's triumphs this season could be highlighted from the fact that if we remove his 12 goals and 5 assists, United would be battling in the lower half of the table.
One of the major factors why van Persie's transfer got a green signal from Sir Alex Ferguson was that he definitely didn't want to lose the title on goal difference again, and that tactic has started to deliver as United top the scoring charts with 37 goals. Goal scoring is one thing but scoring crucial goals is what has made him an instant hit with the fans. van Persie so far has scored the winning goal in 5 different games (3 in his last 4). It didn't take him time to establish himself with the United faithful as he scored a stunning hat-trick against Southampton. To add to that, he has scored against every crucial rival for United i.e Liverpool, Chelsea, Arsenal and now Manchester City.
There isn't a doubt that he is a prolific striker and his statistics speak for itself. It has been a great beginning for the Dutchman and every United fan would hope that it carries on in the same way, thus bringing trophies after trophies for Manchester United. I will go one point further in saying that if he continues his superb goal scoring and incredible displays, we might have a new Eric Cantona in the making. It also helps that he has felt welcomed at the club. His relationship with Rooney on and off the field seems to be getting better and better as whenever he or Rooney score a goal, they look for each other to celebrate. van Persie's recent comments on him being at Old Trafford will surely help to increase his already established popularity to new heights.