Ryan Giggs: A legend if ever there was one
1.46K //
01 Mar 2013, 17:31 IST
"A young Giggsy was like a Ballet dancer. I had never seen a young player like that and I had seen the Busby Babes." – Eric Harrison
As we approach a milestone that few players ever dream of achieving, that of a 1000 games, and for a single club to boot, it is perhaps no surprise that Giggs is the biggest thing modern day football has to a Bobby Moore, or even a George Best, albeit without his white wine.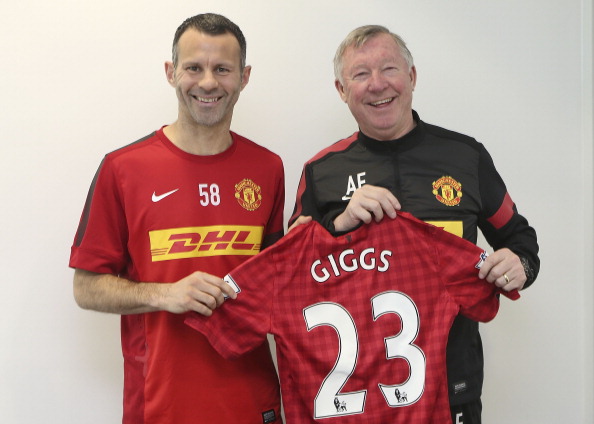 Personally, I fell in love with the United number 11 when I was watching my first match, when Giggs coincidentally hit his hundredth career goal against Chelsea in 2002 at Stamford Bridge. At the time he was quicker and more of a traditional winger, and over the last ten years I have seen Giggs evolve and change as per his manager's needs. With respect to his ageing body, he still can turn on the pace but is not as quick as he was. Instead, he has developed as a playmaker who can play behind the striker or an 'inside' left who can tuck in and cover up when Evra bombs forward. His appearances have fallen but his importance has not. To be regarded as a crucial squad member at his age is nothing but miraculous. At a time when Beckham plies his trade in the not-so-competitive Ligue 1, Giggs, two years his senior, still pulls his weight. And he has yet again signed a contract extension for another season, ensuring that he goes into his 40's with a Manchester United jersey on his back.
Here's a summary of the achievements of this most decorated player of English Football. He has won 2 UEFA Champions Leagues, possesses 12 Premier league winner medals, has 4 FA cup's, 4 League Cups, and 8 Community Shields. He was also part of a Club World Cup and UEFA Supercup winning team.
It was almost not meant to be though. Giggs played two years in the blue of Manchester City, but was won over when Sir Alex recognized his talent and on his 14th birthday, visited him and offered him a contract to join United. And the rest, as they say, is history.
When he burst onto the scene, he ousted Lee Sharpe within a season to become the touchline hugging winger, a rage in the late 50's, Garrincha its best example. He had pace, guile and spirit in equal measures, and was the first player to win consecutive PFA Young Player of the Year awards. Giggs has perhaps been a part of all the great United teams under Sir Alex. Be it the 1993 double winning team of Hughes, Bruce, Ince or a graduate of the class of 1996, after the departure of Kanchelskis and Ince, along with Beckham, Butt, Keane and Cantona. Then a senior in the 1999 dream team of Scholes, Beckham, Schmeichel, Yorke, Neville, Butt, Keane, Cole and a professor along with the young Ronaldo, Rooney, Ferdinand and Vidic.
"Eric Cantona is a great player, but he's not as good as Ryan Giggs." - Johann Cruyff
Let us see an example of Giggs' longevity. Giggs made his 1st senior team appearance in 1991. Check out the ages of current United players when Giggs started his career.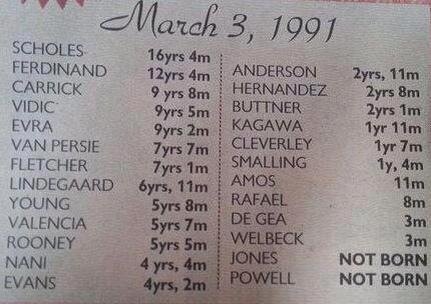 As Rooney had said, 'Id seen Giggs play at the Goodison and dreamt of being able to play like him one day, but playing with him, training with him itself makes me love the game even more.' 
Giggs has had prolific partnerships with almost all strikers to have entertained the Stretford End, but his understanding with Nistelrooy was legendary. Nisterooy, being the ultimate poacher, waited for Giggs' inch perfect lobs or crosses and struck them home. It is testament to this partnerships that Van Nistelrooy has the highest quantity of Giggs' 271 assists. Funnily enough, with all its strikers over the years, it is Giggs who has the most goals by a British player in Europe. He has also the distinction of being the oldest player to score in the UCL.
In the Premier League's drive for modernization, Giggs became the first footballing superstar. He became the face of British soccer. Giggs has the highest assists in the Premier League at 271, but it has always been his penchant to score big goals at important times for his club and he seems to have a taste for getting crucial goals in Cup semifinals and quarterfinals. Everyone remembers the 2 goals United scored in additional time to clinch 1999 Champions League final. Few though remember that it was Giggs who took them to the Nou Camp, by scoring a last gasp equalizer against  Juventus in the semifinal. Prompting Del Piero to say, 'It's embarrassing but I've cried very few times in my life and twice has been while watching my favourite players score , the first was Baggio, the second is Giggs.'
A more memorable goal was the winner he scored against Arsenal in 1999 at Villa Park, widely acknowledged as his best goal. He took the ball from a Patrick Vieira mispass at the hallway line, started running and went past 5 Arsenal defenders before unleashing a completely unstoppable shot at Seaman's near post, after which he took off his jersey and showed that his hair quality was as good as his game.
In his recent match against QPR, Giggs showed why he still remains a force to be reckoned with at the European level. His run and finish was one Messi would be proud of, but the moment of the match came when he just clipped the ball over Cesar which unfortunately crashed with the goalpost. Other than that, he found his wingers with regularity by long diagonals.
"His talent is God-given. He will have wonderful skill even when he's got his bus pass, because that sort of ability never deserts you." – Brian Kidd
By admission, Ferguson is Giggs' biggest fan. He has monitored him since he was a 14-year-old boy and today 25 years later, no one will be prouder than the gaffer at United. 
"To spend twenty years at one club is unique in this era. Ryan has been a fantastic servant to United. It will be a comforting thought if he ends his career here." – Sir Alex Ferguson.