Sachin and Gerrard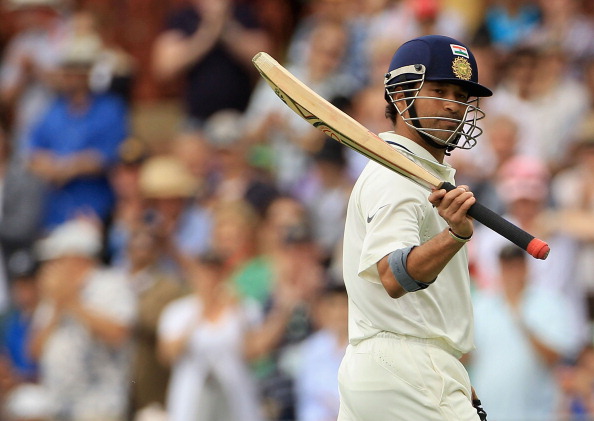 10th October 2013 turned out to be one of the most depressing days for an Indian cricket fan as that was the day Sachin Tendulkar decided to retire. I knew that Sachin's retirement from the ultimate form of cricket was coming and it was coming soon. But yet when the story first broke out, I was distraught, dejected, disheartened.
For me and for many other people born in the 1990s, Sachin Tendulkar has been an ever present in the Indian cricket team and it is difficult to visualize the Indian team without him. Like most Indians, Sachin was the reason why I started watching cricket in the first place. Sachin was the reason why I woke up at 5 in the morning to catch a glimpse of the Border-Gavaskar Test Series. Sachin was the reason India went into the World Cups as favourites. Its not his 100 centuries or 50000 runs he has scored that sets him apart, it is his knack for doing it consistently for the best part of 25 years. In spite of breaking millions of records, what sets Sachin aside is also his humble nature and his willingness to put the body over the line on the field even at 40 years of age.
On the other side of the spectrum lies Steven Gerrard. Both have had similar yet contrasting fortunes over the years. Both have carried the burden of their sub-par teams over the years while not letting their own performance levels drop. While Sachin is known for his extraordinary batting skills and the host of records he has broke, Gerrard is someone who is known for his never-say-die attitude and for leading Liverpool to a host of memorable trophies and wins. While Sachin has won everything a cricketer can aspire to, the Premier league and the World Cup medals still manage to elude Gerrard.
As Sachin grew older, he started withdrawing from less important tournaments, as a result cricket did not hold the same aura for me anymore. I was in search of a new hero, a new role model and that is where I encountered the brilliance of Steven Gerrard. Steven Gerrard has now scored in each of the last 15 Premier league seasons he has played in; he has now 100 goals in the Premier League.
He is a worthy recipient of numerous trophies like Champions League, UEFA Super Cup, UEFA cup and the list goes on and on. It is not his trophy cabinet though which makes him one of the best players in the world, it is his ability to inspire the players around him, to deliver when it matters the most, to orchestrate amazing comebacks when the team is down and out.
Apart from a little fling with Chelsea, Steven Gerrard has remained at the heart of the Liverpool football club since the age of 8 delivering memorable goals, crunching tackles, amazing free kicks and exquisite long range passes. Who would have thought that Liverpool would hit 4 goals past Real Madrid and Manchester United in the same week and Gerrard was at the very heart of both these memorable victories.
What sets both these guys apart from other sportsmen is their ability to inspire confidence in their teams to achieve the impossible time and again. For me, they have provided innumerable moments of inspirations. Whenever I am feeling depressed, I relive the amazing moments they have provided over their careers like Sachin's amazing knock in Sharjah, in the semifinals of the 1996 World Cup, or the 2011 World Cup win itself, Gerrard's unstoppable shot in the FA Cup final, and amazing turnaround the Champions League encounter in 2005. These moments have provided me with huge bundles of joy over the years.
If you look from a more social perspective, both have been ideal role models for their respective teams over the past couple of decades.They have largely managed to stay away from controversies, limelight and have yet achieved amazing things. You don't see these guys throwing tantrums, or sleeping around (I am looking at you, Giggs), or criticizing fellow players. In spite of their stupendous achievements, they have never stopped working hard in training.
Over the years, both have grown into their roles as senior players, by motivating the youngsters in the team and helping them improve. The world has already become a poor place with the impending doom that is the retirement of Sachin Tendulkar and I seriously dread the day when Steven Gerrard would follow the same path. They have provided the epitome of what a person should be and I, for one am forever indebted to them for their moments of sporting brilliance.