Scottish fans prepare for Barca storm at Celtic Park
642 //
07 Nov 2012, 08:38 IST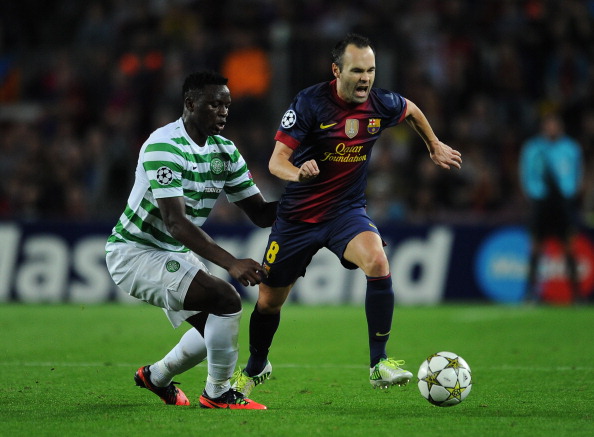 After losing out to Chelsea in the most disappointing fashion last season, Barcelona have made their intentions for this season quite clear with a full quota of points from their first 3 matches. This includes a victory against Celtic, at the Nou Camp, that came courtesy of a Jordi Alba winner in the 4th minute of added time. Thus, Tito Vilanova will be quietly confident that his team will seal qualification to the knock-out stages in tonight's game, at Celtic Park.
Celtic, who had a strong start to the season, have stuttered a bit since their loss to Barcelona, with a rare loss in the Scottish league, to Kilmarnock. In fact, Celtic have been off key since their second half against Barca, where their last attempt at goal came in the 53rd minute. However, the Scottish giants are a force to reckon with in front of their passionate fans, and will be looking to do better this time around.
Celtic: W L L W D
The defeat against Barcelona seems to have knocked the wind out the sails of Celtic, as they have dropped 5 points out of 6 in the league since then. This may have to do with the fact that Neil Lennon rested key players like Samaras, and Hooper over the weekend, meaning that they will be fresh, and eager to have a go at Barca. Celtic did record a comprehensive 5 – 0 victory agaist St. Johnstone in between their league disappointments, however, and Kris Commons' hat-trick in that match might just earn him a starting berth against the Spanish giants. Celtic, quite surprisingly, do have the more consistent looking defence of the two teams, at the moment, and might look to rely on counter-attacks.
Barcelona: W W W W W
Barcelona have been coasting along this season, just like the past few now, and have only been further propelled by their late win over Celtic. With 11 goals in the three games played since then, Barcelona, as well known, can rip apart the best of defences on their day. While their attacking strengths are as impeccable as always, Barca's defence has taken a severe blow with injury lay-offs for Puyol, and Abidal. While Alba has performed magnificently thus far, Mascherano has continued to fill in at centre-half, with mixed success. With Pique also having only just recovered from an injury, and defensive midfielder Busquets suspended for the game, Celtic might just manage to squeeze in a goal or two.
Celtic: Emilio Izaguirre, Thomas Rogne, James Forrest, Lassad.
Barcelona: Eric Abidal, Thiago Alcantara, Carles Puyol, Marc Muniesa, Isaac Cuenca, Adriano, Gerard Pique.
Lionel Messi vs Efe Ambrose
Messi, who has allayed concerns over the knock he picked up against Celta Vigo, has continued to perform at the highest level, accumulating accolades day in and day out. With 13 goals already scored this season, his thoughts will be already be proceeding along the lines of surpassing last year's feats. For Ambrose, on the other hand, this is an opportunity to endear himself further to the Celtic fans. Hailing from Nigeria, the 24 year old has made a total of 19 clearances in his two matches in the Champions League, including the game at Camp Nou. Irrespective of whether Messi plays in the centre of attack, or is rested, Ambrose will be determined to keep Barca away from the Celtic box.
Victor Wanyama vs Xavi Hernandez
Young Kenyan Victor Wanyama has already made splashes in the world of football, with some of the elite clubs of Europe already showing interest in him. His performances so far this season have been to boot, with consistency being key. While Xavi may be one of the best attacking midfielders in the world, if he forgets to pay due respect to his defensive duties, one can be sure that Wanyama will make Barca pay. With 4 goals this season, Wanyama is no stranger to scoring, but will have to mind his own defensive responsibilities as well, considering how the entire world is aware of Xavi's prowess on the ball.
A Barcleona victory, of course. To expect anything else would be shocking, blasphemous even. As the 4-time winners showed last time out in the Champions League, it is nigh impossible to stop them. Even with a shaky defence, the quality going forward is simply too high resist. However, spurred on by the scintillating atmosphere, in front of their home fans, Celtic will most definitely put up a good fight.