Season Review - English Premier League
3.97K //
15 May 2014, 21:24 IST
The 2013-14 EPL season is done and dusted. We've seen some great games, great goals, wonderful spats and almost every other thing you would expect from an EPL season.
While we wait for the impending World Cup, let us take a look at some frank season reviews for all the 20 teams that took part in this season's Premier League.
20 – Cardiff City
As a United fan, I can only feel sorry for Ole Solskjaer. Cardiff were always one amongst the favorites to get relegated given their eccentric owner Vincent Tan. If you could've had a competition asking managers to sign the worst possible players ever, Cardiff would've won that with ease. The amount of money they spent translated to nothing. Nada.
The fans hate the owner, the owner hates the fans, the club and the country (racist comment eh?). So, if everyone hates everyone else, what was the whole point of playing anyway? Disaster from start to end is what this campaign was.
However, the moment of the season was when Blue Birds dressed in Red faced off against the Red Devils faced dressed in Blue and Kim Bo-Kyung scored in stoppage time and also that win against Manchester City.
19 – Fulham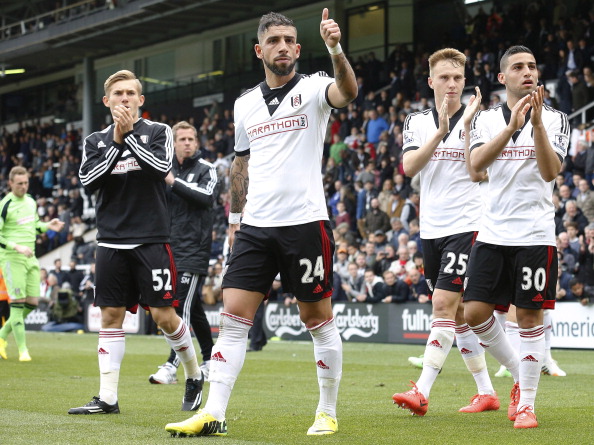 Fulham players applaud their fans after their last Premier League game
What were they thinking? I for one did not expect Fulham to get relegated. I would most certainly miss Craven Cottage. Now, their campaign too was a disaster from start to end.
How can you expect to stay up if you change managers twice in one season? Rene Meulensteen was a rejected coach and he was made their manager. Why? To bring fringe players from United? Well, that is what he did and it backfired tremendously. The January transfer window let them down and how!
Other than that Kasami goal against Palace, I don't remember anything memorable from Fulham's season.
18 – Norwich City
I've always liked Norwich but they failed to score goals. 28 goals (the lowest in the league) is not going to help you to survive. As simple as that.
I thought they went bananas when they fired Chris Hughton. But, Hughton was getting too pragmatic about the way of things but that didn't warrant the club to fire the man who knows how to survive with a month before the season ends. If your star striker scores 1 goal in 25 appearances, there is nothing much you can do is there?
17 – West Bromwich Albion
Yes, the same West Brom that finished 8th last season and denied Alex Ferguson a victorious send off by playing a great game. Well, not the same West Brom. Lukaku was not there and Steve Clarke was fired halfway through the season.
Steve Clarke's dismissal still boggles me. Maybe that can be justified by his signing of Nicolas Anelka. It was a fantastic experience watching the legend take (what 2 months?) to score his first goal, acting like a total douche bag after scoring and getting himself sacked!
16 – Hull City
A good season? I would say so. It worked fine for Bruce. Safety before April and the FA cup final. So, Europe next season. The fans are visibly happy. They sang "Stand Up if You are going to Europe" at Old Trafford.
Unlike Cardiff, Hull did not bend over to the whims and wishes of its owner. So, Bruce went and made a team with all Premier League rejects – Huddlestone, Jelavic, Long, Harper and Livermore and it worked.
But there is a pattern with Bruce's teams. He offers them stability in the first years and leaves the club when the going gets tough. Is that going to be a problem for Hull next year?