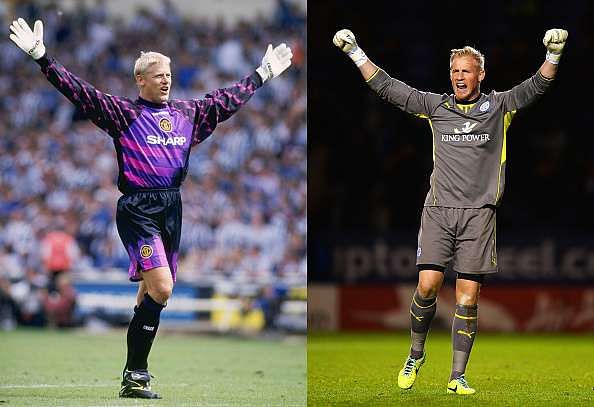 For a young boy with dreams of being a professional footballer while watching his father accomplish and realise the dream, the pressure is enormous. The weight of expectation, to emulate their dads and mentors could creep up into young players' head, ultimately discouraging one from playing the game.
However unfair, it's the way this game sadly works, although a certain few put in the effort week on in to realise their dreams and follow in the footsteps, by creating a name and legacy of their own.
Kasper Schmeichel, son of great Dane Peter Schmeichel, spoke up on the issue of external pressure because of the image surrounding his father, claiming it affected his son's career although he needed to continue working to shut the critics up. Indeed he did, the younger Dane, Kasper managed to do so as he went on to guide Leicester City to their maiden and historical Premier League triumph last season.
Here we take a look at five young boys, whose father's preceded them in the beautiful game, bagging a tonne of honours earning themselves recognition, glory, respect and followers around the world, as they hope to do the same one day and maybe even emulate them.
---
#5 Mitchel Bergkamp
The first match to be played at the Emirates Stadium, in 2006, saw a young Mitchel Bergkamp kick the game off in what was his father Dennis Bergkamp's Arsenal testimonial, signalling the end of the career of one of the greatest footballers of all time.
The son of Dennis Bergkamp is a talented player himself but seems to be taking a slightly different route into the game than his father, who signed with Ajax at the age of 12. At the beginning of the 2012/13 season, aged 14, Mitchel joined the under-15 ranks at Almere City, a club currently in the second tier of Dutch football.
Mitchell, now 18, is on the verge of breaking into the ranks of the first team of the club. Founded in 2001, the club currently sits in fourth place in tier 2 with Mitchel Bergkamp and co eager to earn their promotion and a spot in next season's Eredivisie.
#4 Justin Kluivert
Patrick Kluivert has four sons of varying ages, but it seems that Justin was blessed with a footballing brain as well as plenty of pace and dribbling ability and is the closest of the four sons to follow in his father's giant footsteps.
Unsurprisingly, a beautiful finisher too, Kluivert Jr. developed his skills turning out for the youth teams at Ajax, the same club where his father made his start in professional football, before going on to feature for the likes of AC Milan and Barcelona.
Justin currently plays as a winger for Jong Ajax, the reserve team of Ajax, playing in the second tier of Dutch football as he continues his education in the game, looking to become one of Holland's best.
#3 Devante Cole
Devante Cole, son of former Manchester United and Newcastle striker Andy was on the verge of breaking into the first team at Manchester City at the age of 18 but consistent loan spells followed a permanent switch to Bradford City.
He was part of the City's Elite Development Squad, managed by Patrick Vieira, travelling with the senior players on tour last summer and making his debut against SuperSport United in a friendly in Johannesburg. After playing for Bradford for a year, the 21-year-old made the switch to Fleetwood Town, where he continues his development, playing regular first team football.
Cole has represented England at youth level and is recognised as one of the most promising forward talents in the country. With time on his side, Devante Cole could follow in his father's footsteps and enthral fans in the coming future.
#2 Joe van der Sar
Joe van der Sar, son of former Dutch goalkeeper and current technical director of Ajax, Edwin van der Sar, shares the same position as his legendary father. Joe had the tremendous opportunity to train with Manchester United's academy while Edwin was winning trophies at Old Trafford, quite similar to how young Kasper Schmeichel learnt things from the first team, while his father Peter was doing the same at United.
Joe represented the club against Ajax's development squad, before his father's testimonial in 2011 at Old Trafford.
After returning to the Netherlands in 2011, when his father retired from football, Joe turned out for amateur club VV Noordwijk before signing with Ajax's academy in 2013. As he continues his development at Ajax, he is being tipped to emulate his father and bring glory to his nation.
#1 Enzo Fernandez
One of the greatest of all time, Frenchman Zinedine Zidane has three sons who hope to follow in his footsteps and reach the pinnacle of the sport. The three young boys are signed to Real Madrid's youth academy, where Zidane Sr. is currently manager of the club and guided Real to their eleventh Champions League.
Enzo takes his mother's surname, Fernandez, so as not to draw comparisons with his father and is the oldest of Zizou's three sons. Playing as a midfielder, Enzo trained with the Real first team as early as 2011. He is currently 21 and is playing for Real Madrid Castilla and Real Madrid C, trying to break into the Madrid first team.
Younger brother Luca is a promising goalkeeper, while 13-year-old Theo is beginning to earn a fearsome reputation as a striker in the Madrid youth ranks.