Tottenham Hotspur: From Mid-Table to Main Contenders
1.05K //
29 Mar 2011, 23:22 IST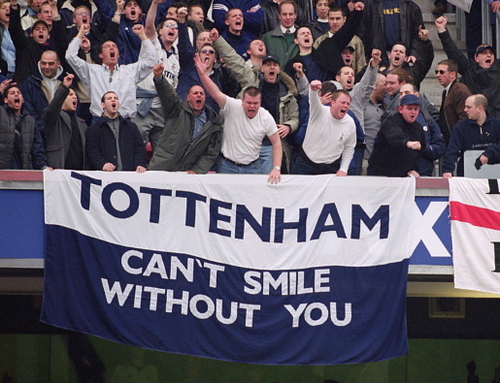 When I first ventured into following football, the year was 2001.  It was the year when the English Premier League was all about the domination of Manchester United and Arsenal with Liverpool, Newcastle United and Leeds United playing attractive brands of football and competing closely with the title-chasing duo from Manchester and North London.  Back then, Tottenham Hotspur was a little-known club synonymous with a mediocre brand of football not pleasing on the eye, inconsistent performances and mid-table finishes.  In short, Tottenham was not a club someone would get too excited about.
MID-TABLE MEDIOCRITY
I distinctly remember watching Tottenham in my second season of following the Premier League.  Having finished tenth in the league, there was immense pressure on manager Glenn Hoddle to change the fortunes of the under-performing club.  Hoddle failed to handle the challenge and was sacked 6 matches into the next season, giving way to David Pleat who was then the Director of Sports at the club.  Pleat's temporary appointment did Tottenham no favours and he was later replaced by Jacques Santini, who then gave way to Martin Jol, thus completing a managerial roulette as sackings and new appointments became the order of the day at White Hart Lane.
Martin Jol's appointment, however, was a step in the right direction for the misery-ridden Spurs.  The Dutch tactician brought to White Hart Lane the key ingredient that had been missing under previous regimes: stability.  With his astute management skills and shrewd signings, especially that of Dimitar Berbatov being a touch of class, Jol helped Tottenham become a force to reckon with outside the 'big four' and finish fifth for two consecutive seasons, narrowly missing out on Champions League qualification.  Despite Jol's best efforts to steady the ship, the club was still short of silverware, a reason which was cited by the club management for the Dutchman's removal, as Jol made way for the arrival of the reputed Juande Ramos from Sevilla.  Ramos began his Spurs campaign with a bang as he led his club to the 2008 Carling Cup trophy beating Chelsea, but the momentum fizzled out the very next season as Spurs suffered their worst ever start to a Premier League season with no wins and just two points from eight matches.  This dreadful start meant Ramos had to go, but his departure would usher in a glorious era to the club in the form of Harry Redknapp's appointment.
THE HARRY REDKNAPP REVOLUTION
Having built a good reputation at Portsmouth and Southampton, Redknapp would rise to the occasion at White Hart Lane and fulfil his destiny of becoming one of the world's top managers.  Beginning slowly by righting the wrongs from the previous regimes, Redknapp began to turn things around at Tottenham with his intelligent way of moulding his system to suit the players at his disposal.  Fan favourites Robbie Keane and Dimitar Berbatov left and supporters were left frustrated, but there was no stopping Redknapp and his ambitious plans of reviving the sleeping giant that is Tottenham Hotspur, as he led them to an eighth place finish in his debut season despite the dreadful start to the campaign under Ramos when the club was bottom of the table for several weeks.
The 2009-10 season would turn out to be a glorious one for Tottenham that will go down in the annals of the club's history as their best in a long while.  With Jermain Defoe in red-hot form, the sensational Gareth Bale revelling in his new found role of left winger, Peter Crouch winning physical battles up front consistently and a solid defence that boasted the best defensive record at home in the league, Redknapp's Tottenham combined flair with ruthlessness as they began grabbing the spotlight with the 9-1 battering of Wigan Athletic and the defeat of arch-rivals of Arsenal.  In the end, when it came down to a play-off with Manchester City for a place in the Champions League, Tottenham held their nerve to usher in a new era at White Hart Lane as they qualified for Europe's elite competition for the first time in their history.  The heart-breaks and confusion of the previous regimes were over, Redknapp had achieved what Jol came so close to achieving and thus proved that he was at Spurs to make a difference.
THE DREAM LIVES ON
Not one to rest on his past laurels, Harry Redknapp has made sure that Tottenham's fourth place finish and Champions League qualification doesn't become a one-off and prove to the world that they are here to fight it out with the big boys by bringing in marquee signings like Rafael van der Vaart and William Gallas.  His moves have paid off brilliantly so far as the club now lies fifth in the league are set to face Real Madrid in the Champions League quarter-finals after tearing champions Inter Milan apart at White Hart Lane during the group stages and outwitting AC Milan comfortably in the last 16 round.  With Luka Modric coming of age and growing to become one of the best playmakers in the world, Aaron Lennon and Gareth Bale leaving full-backs apart with their lightning quick pace and Van der Vaart undergoing a career revival and coming up with crucial goals and defence-splitting passes thus becoming the toast of White Hart Lane, Tottenham have become the most talked about club this season for their attractive football played at break-neck speed.  As the dream date with Real Madrid looms large, I have my fingers crossed.
Whether Tottenham win silverware or not come end of the season, what is certain is that the Harry Redknapp revolution will continue to make waves through the corridors of football.  From being a mid-table club that only attracted academic interest from followers of the Premier League to becoming a major force to be reckoned with in Europe, Tottenham have come a long way under Harry Redknapp.  May the dream live on!
Edited by Zico