Sunderland 1-3 Chelsea: Torres strikes twice as Martin O'Neill faces the music
736 //
09 Dec 2012, 07:45 IST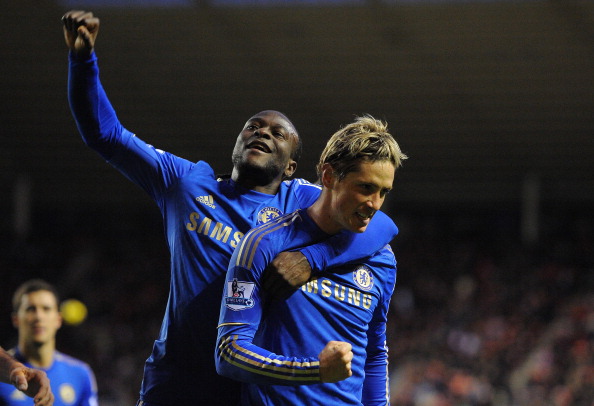 Chelsea came back to winning ways after a comfortable 3-1 victory at the Stadium of Light. Martin O' Neill will face the firing squad, as his team face their worst run of form in recent years. It was a game of sheer physicality and only a few glimpses of magic, with not much on the tactical front to discuss upon.

First Half
Rafa Benitez named an unchanged side from midweek's routing of Norsjaelland. Chelsea lined up in a routine 4-2-3-1 setup, with Moses and Hazard on the flanks and Romeu partnering Ramires in midfield. John O'Shea recovered in time to lead Martin O'Neill's side, while Bardsley was retained from the previous match. The main absentee though, was Steven Fletcher. Connor Wickham took the striker responsibility with Sessegnon playing as a no.10. Adam Johnson and James McClean were flanking Gardner and Larsson in midfield. Their shape was a standard 4-4-2 or 4-4-1-1.
The half saw shifts in dominance of play, with Sunderland sitting deep in the first 10 minutes and allowing Chelsea to have the ball. Wickham was their out ball and he was doing a good job holding up the play. David Luiz was assigned the role of keeping Wickham quiet. Hazard and Mata were given the freedom of playing around with the opponent's defense, as Victor Moses did all the marking and tracking. A few early exchanges between Hazard and Mata should have served as a wakeup call for the home side, but a swift counter by the Blues saw Eden Hazard's cross meet Torres's boot, resulting in an early goal. It was poor marking from Danny Rose and a great run from Torres.
Sunderland finally woke up and were now pressing high up the field. Chelsea meanwhile lost Oriol Romeu to an ankle injury. Oscar replaced him and was playing alongside Ramires. Chelsea now didn't have a natural holder and Sunderland took full advantage of this.
Adam Johnson came to life on the right wing and he tormented Ashley Cole with his trickery. Connor Wickham was dropping very deep and allowing Sessegnon to make runs off his headers, but this was not helping Sunderland as they were short of players in the box when it came to meeting crosses from McClean and Johnson. This was the 20 minute spell that Martin O'Neill's team enjoyed. Hazard's poor defensive side was well exploited by Adam Johnson and neither of the midfielders came to Ashley Cole's rescue when it was much needed.
Soon, Chelsea came back into the game as they slowed down the tempo of the game and emphasized more on possession rather than attacking. It was turning out into a foul fest as teams notched up a considerable amount of fouls and were living up to the reputation of the Premier League. A challenge on Ramires inside the penalty box by Seb Larsson resulted in a penalty for Chelsea on the stroke of halftime. Fernando Torres converted the spot kick with ease to move into double figures for the season.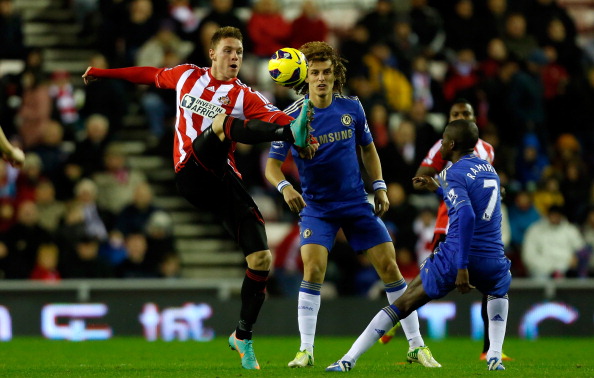 Second half
It seemed as if Chelsea were on course to cruise to an easy victory, but the black cats came back strong and bright in the second half. But a moment of hesitation from Bardsley led to a third Chelsea goal scored by Juan Mata after Torres rattled the crossbar. Chelsea enjoyed a long spell of possession after that goal with Oscar, Mata, Hazard and Moses maintaining the tempo and controlling the game keeping it away from the reach of Sunderland.
Benitez introduced Ryan Bertrand for Victor Moses, a like for like swap on the wing. Sunderland enjoyed a lion's share of the ball after that, as they tried to find their first goal from numerous corners awarded to them. David Luiz was strong at the back, keeping the Black Cats at bay. A moment of magic from Adam Johnson nipped one back for the home side as Cech was left baffled by the curl on the ball. Colback came on for Bardsley and Danny Rose moved into the midfield, making it a 3 man defense. Rose had a good game overall and looked strong on the ball winning 3 aerial duels and taking most touches of the ball in his team. Oscar and Ramires dominated the midfield with 11 tackles and 13 clearances between them. Ramires had the most touches of the ball in his team.
Pressure piled on the Blues as they broke down wave after wave of Sunderland attacks, and Petr Cech being instrumental in defending most of those attacks. Eden Hazard was not able to challenge the physicality of his opponents and was rightly replaced by Frank Lampard who played in the hole for a couple of minutes and later dropped beside Ramires, allowing Oscar to go high up. Fernando Torres was looking a different person, as he helped his teammates win balls in defense and relieve the pressure. It was a top notch performance from the Spaniard and his long sought form might have just been found.
Chelsea's nemesis Louis Saha was introduced for Larsson later. Luiz and Cahill now had two strikers to take care of, but Sunderland fell short of personnel in their midfield and were caught high up when they lost the ball and Chelsea broke in numbers. The game matched the criteria of a typical Premier League style matchup, and Sunderland were just not good enough, though they tried hard to put in a spirited effort.
Statistics:
- Juan Mata made the most number of fouls: 6
- Danny Rose and Oscar had the best passing averages, 88% and 86% respectively.
- Sunderland attempted a total of 32 crosses of which only 5 were successful.
PIE Verdict:
Fernando Torres looks a different man now and seems to have found his lost confidence. His movement on and off the ball is sharp. He contributed well defensively and showed composure while taking the penalty. Looks like Rafa has bought the old Nando back, or is it just too early to come to any conclusions? Anyway, Nando is PIE's Man of the Match with 2 goals and sort of an assist. Next stop, Japan.