Swansea City: Are we there yet?
861 //
20 Mar 2013, 10:30 IST
That dreaded line for any parent on a long journey, a question we can also ask ourselves as Swansea City supporters as we too are on quite a journey. My answer would be 'nearly' there. So where next for our club?
Before we look ahead, let's rewind and appreciate recent points of our journey.
It has been well documented that we were rock bottom a decade ago, at least it was our rock bottom. Thankfully, we didn't suffer the 'Luton' or 'Oxford', both of whom a generation previously had reached their Wembley Cup finals, both winners of a major cup. It's a volatile game, this football thing.
Neither club has recovered to reach similar heights after losing their league status, but after so long in the conference, it was nice to see Oxford promoted back to the Football League. That fateful day against Hull could have delivered an entirely different direction for our club and we danced with the devils of non-league. Would we have returned?
I believe so, I have considered a few reasons why, but thankfully we will never know the answer to that question. One thing for sure is that we wouldn't be parading cups around our city on a bus full of internationals stars.
Size counts for nothing in this ruthless game, the worst teams fall through the trap door. We are a much bigger club than both Luton and Oxford, boasting far greater fan bases and population, but comparisons can be drawn between the clubs. Seven hundred and fifty thousand people live within a forty-five minute drive of Swansea – that's a huge catchment area.
More importantly, the hands of our club are in the safest set in the entire football pyramid, and have been since 2001, two years before our judgement day. Huw Jenkins and Martin Morgan, in particular, have built this club with their hands dirty and through their heart and soul, for the city and its supporters, not themselves.
The board, in the winter of 2003, recognised two things that could be done to affect the journey and change the destination, bringing in players and fans. They did both by running several cheap ticket schemes that doubled the attendances from 3500 to 6000 and beyond. The extra revenue generated was reinvested in Martinez, Britton and Tate, amongst others. History and survival has been well documented since.
So, acknowledging the past will always have our board and long term supporters appreciate the present and future. Accepting where we are in the pecking order of the football hierarchy can bring perspective to what we have achieved when planning the next steps. So many managers become victims of their own success, with Nigel Adkins and Brian McDermott recent examples. Thankfully, our board see the hill in front of them and have one eye, not two, on the mountain beyond it.
If this was 'bet in play', would we cash in now? Have we peaked? How far can we develop our club? Are we now considered a big club? Are we there yet?
We were promoted in style, also in hope, not belief that Premier League could be retained. Belief has now turned into expectation, as I predict a minimum five year run at this level.
If there was a check list of items necessary to develop in this league, I believe we tick every box. We can now set our targets even higher beyond the hill and towards that mountain.
We remain debt free, profitable, focused on developing a young squad under long contracts, under a manager committed for the next season at least. Our profile grows month on month, and the board have the investment priorities in the right order. It's all about the Liberty, the team and new training facilities absorbing the cash surplus, what we can afford and pausing what we cannot.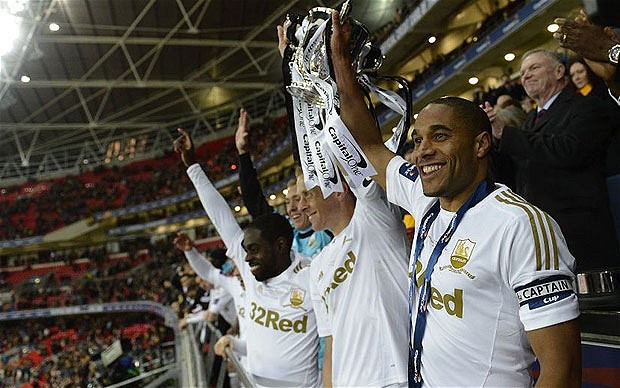 There is not another club in the Premier League that ticks every box. This leaves us in an enviable position where we can prosper and become a 'big club'; this has to be the goal. There is no actual definition of a big club, but the most common factor considered is attendances. Also, there is often no correlation between population and attendances, so it comes down to history. Clubs like Norwich, Sunderland, Ipswich, Wolves, Southampton and West Brom punch well above their weight, but this is down to a prolonged time in the top flight.
A top flight stay breeds a generation of fans, it becomes a habit, and one that we all know well. Most remain through relegation and tough times, therefore securing greater revenue at lower levels and the probability of a promotion. This is in the minds of the Swansea board as they embark on the investment for stadium expansion. The interest is not the revenue, as there is enough of that swilling around, it's the bums on seats for the future of the club.
Adding to this, the fact that 'we're all going on a European tour', again the few million yield on this adventure is of secondary importance. The raised profile attracts both players and fans, embedding our proud name in the media every Thursday across Europe. Iron the banner Mrs J, me and the fella are off to Latvia.
So, are we there yet? I don't think so, but we do need to understand where we sit in the order of things. We will not be competing for the Champions League, firing our manager for not winning the league, booing our players off the pitch for not winning 5-0 or chanting 'sack the board'.
Let's not forget our values as a club as we become more successful. Our recent history is now our best history, but I believe there is more to come, lots more. The first ever top flight south-Wales derby perhaps? Let's hope not!  A serious crack at Europe, an FA Cup and a decade in the best league in the world sounds like a great destination for me.
But let's not forget, 'we are Swansea, and we know who we are'.