Swansea dent Blue's title chances
999 //
13 Mar 2012, 00:27 IST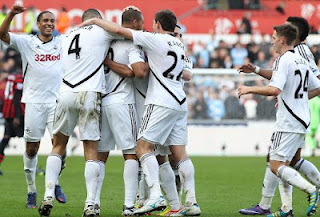 Premier League new boys Swansea City blew the title race wide open with a brilliant 1-0 victory over Manchester City at the Liberty Stadium.
Manchester City's surprise defeat handed the ascendancy to Manchester United after Sir Alex Ferguson's side defeated West Bromwich Albion 2-0 at Old Trafford.
Substitute Luke Moore's header in the closing stages was enough to give Swansea a historic victory as they continue to make their mark at the highest level. The Swans are all-but assured of a second season in the top flight and could become a permanent fixture in the Premier League if they maintain their early promise and those following Betfair will have been impressed by their efforts.
While Swansea's objective was solely to survive in their maiden Premier League season, Manchester City's was equally as clear – to lift the title for the first time since 1968. Roberto Mancini is confident his side can outperform their rivals during the run-in.
"I'm still confident about winning the Premier League. We were top for months but it just so happens that we are second with ten games to play. It is important that we are there around the top," said Mancini.
"The season is long and what happened today can happen also to United."
Manchester United quickly overcame their midweek European disappointment to register their seventh win in eight league games.
Wayne Rooney's brace against ten-man West Brom saw United go one point ahead of City. It is the first time the Reds have held top spot since October 15 and Ferguson believes they have the experience to see the job through. Those looking at the Premier League betting need to bear this in mind.
"We won't get nervous. We have the experience. I hope it is a significant day. I don't mind being top of the league at this stage," said Ferguson.
Written by Alex Corcoran