A look at the relegation candidates in the Premier League and their chances of survival
1.70K //
05 Feb 2015, 04:23 IST

At this stage of the season the Premier League table has rather satisfyingly split into three sections: the big-hitting European hopefuls in the top 8, the no-hopers in mid-table - lacking in ambition and almost certain to end the season drifting aimlessly amidst mediocrity - and the precariously placed candidates for the drop. 8 teams, no less, are separated by just 6 points at the foot of the Premier League table, each at one point or another making their own extremely strong case for relegation by taking levels of top-flight ineptitude to new heights.
3 sides will go down and 8 teams are battling the drop; a terrible reductionist or wonderful optimist might thus look at favourable odds for any competing side. Things patently aren't that simple, but with the teams packed so tightly together, it is almost a case of putting a run of 2 or 3 wins together and you will be out of danger. Given that 3 of the teams at the wrong end of the table [Sunderland, Hull and QPR] haven't yet managed back-to-back wins at all this season, that is certainly easier said than done.
Seven of the eight sides at the bottom suffered defeat this weekend - with Sunderland the only exception, victorious against Burnley - and those eventually relegated could be the teams who are the worst of the worst rather than any particular side standing out for the right reasons. Who is, though, best set to avoid the drop now that all the transfer dealings have been done, and the managerial merry go round is in full swing?
Alan Pardew has shown since taking over the reigns at Crystal Palace what a change at the helm can do for a team's confidence, and after Harry Redknapp jumped ship at Loftus Road having failed (for what feels like the first time ever) to make a single deadline day signing, will they be left in crisis or can an incoming manager turn things around for them?
Tim Sherwood is being touted as most likely to take over the job. With Les Ferdinand and Chris Ramsey already at the club, things are perfectly are set up for Sherwood, who prides himself on leaving Tottenham as the manager with the best Premier League win ratio in their history (59.1%), to come in. Derided for a lack of tactical acumen but unquestionably an effective motivator, Sherwood could spark a honeymoon period to shoot the Hoops to safety.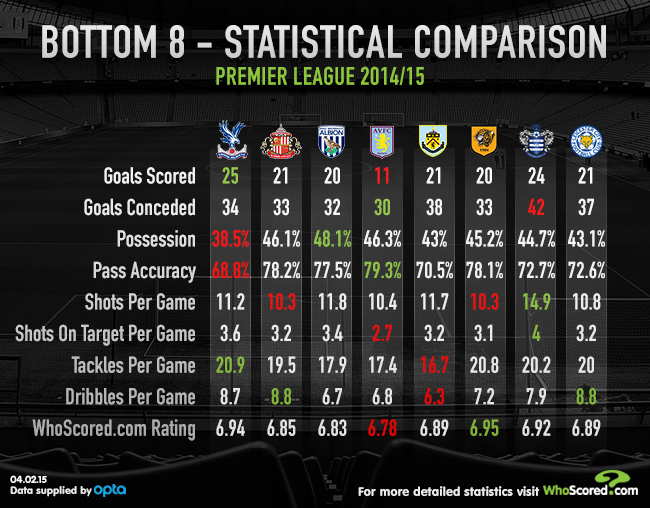 They have a home record adequate for a team harbouring hopes of survival, but have been let down by woeful form on the road, losing all 11 of their away matches so far. With a rating of 7.22 at home and 6.60 away, a difference of 0.62 is by a distance the biggest contrast in the Premier League.
With the worst defence in the Premier League (42 goals conceded) and having conceded the second most shots (15.9 per game), Sherwood's lack of planning is arguably not going to be the right approach for this QPR team. Even a sharp upturn in form that he could bring might not be sufficient, as we might be beginning to see at Palace.
Pardew's appointment sparked a run of 4 consecutive wins (though only 2 in the Premier League) to drag them away from danger, but they looked decidedly ordinary in defeat to a struggling Everton at the weekend, and may not be through the mire just yet. The Eagles face a rather tough run of fixtures coming up, though the 4-point cushion they have could prove vital and they have Pardew to thank for that.
Sunderland's aforementioned win was only their fourth of the season, while they have also only lost 8 games - the same number as Swansea in ninth - and they are proving hard to beat, something that is rather deceptive given the manner of their 8-0 defeat to Southampton earlier in the campaign. That steel should provide the foundations for them to stay out of trouble but their insipid attack persists with throwing them back the wrong way.
After two appearances and 1 goal Jermain Defoe is already only 3 goals away from being the Black Cats' top scorer and if he does reach the top of those charts, those goals could fire the club to safety. West Brom have almost taken the easy way out by appointing Tony Pulis. Still yet to ever be relegated as a manager, he made two shrewd signings in January in Calum McManaman and Darren Fletcher, and having already shown with a few clean sheets that he has them well-drilled at the back, just needs to get the likes of Saido Berahino back in the goals.
Talking of needing goals, Aston Villa's 6-match run without a goal (surely soon to be seven, with Chelsea on the horizon) is the worst in their history, while the last time any team went this long without a goal was 2007/08, when Reading (6) and Derby (7) both did so. Both, predictably, were relegated.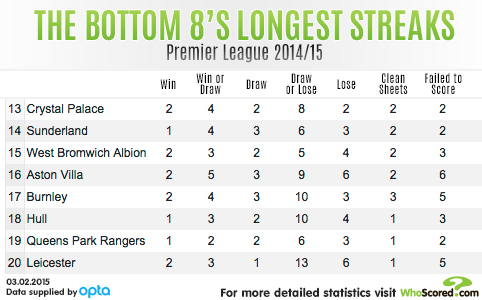 One way of looking at Villa's plight is to recognise that they have come through this drought and are still outside the relegation zone; eventually it will end and surely then their form will take a U-turn. Then there is another perspective. Villa haven't scored in over 10 hours of Premier League football and don't truly look like doing so.
Their manager of nearly 3 years continues to make things worse and with his latest move to a Pep Guardiola inspired but decidedly bland and extremely ineffective brand of possession football, screams incompetence. Carles Gil scored a wonderful FA Cup goal against Bournemouth, but as Paul Lambert's only January signing, it is hard to see where inspiration will come, even if the club were sure that Fabian Delph signing a new contract was sufficient to do that.
Things arguably look bleakest for Burnley, Hull and Leicester, though. Each has shown a propensity for survival with some impressive results; Burnley won at Stoke; Hull recently beat Everton; Leicester put 5 past Man Utd. But these three teams boast the worst winless streaks seen by any Premier League sides this season (10, 10 and 13, respectively). Generally, teams that reach double figures in this regard fail to survive in the top flight, though it is not unheard of. Villa were the last side to do so, enduring a 10-match run without a win to end the 2010/11 season but still staying up by 2 points.
With each of the sides who have suffered such poor streaks this campaign inside the bottom 4, fresh impetus is needed. Nigel Pearson has attempted to inject some into his Foxes team with the signing of Andrej Kramaric, but with a WhoScored rating thus far of 5.69, he is their worst performing player this season, though of course he is still settling in.
Steve Bruce has signed towering centre-forward Dame N'Doye from Lokomotiv Moscow, but with 4 goals from 14 Russian Premier League games this season, it isn't immediately obvious that he is the answer to their woes. For Burnley, meanwhile, the main success of the transfer window was keeping hold of prized asset Danny Ings. Already with 7 goals to his name, he has done fantastically well in his first Premier League season, but whether he can continue to score at that rate and push for 12 or 13 goals for the season is another matter entirely.
A six-point gap leaves the relegation battle wide open with 15 games to go and, of course, a great deal can change in that time. Nonetheless, there are certainly reasons to think some teams have a better chance of survival than others.