The Footy Mumble: Arsene in 'lala' land, Chelsea's hypocrisy
2.69K //
14 Nov 2012, 19:18 IST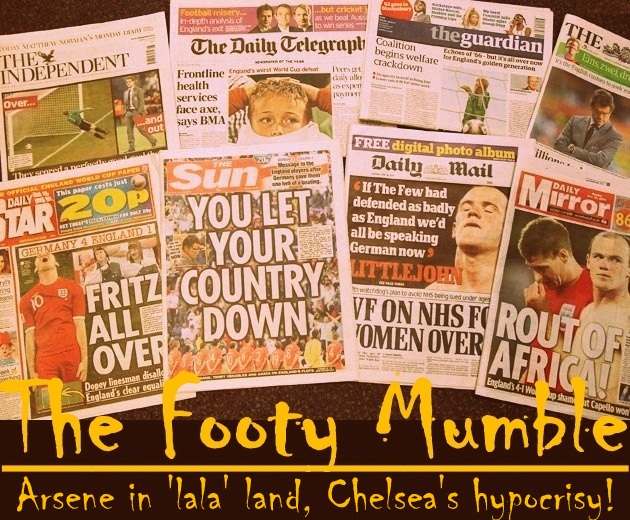 Arsene Wenger for Cavani?
As though being constantly injected with false hopes in short doses over 7 years wasn't enough, Arsenal fans are ready for another dosage, this time with the news that the club are ready to bid a massive £30 million for Edinson Cavani.
Some Arsenal fans have locked themselves in their houses to avoid being made fun of by Manchester fans.
Poor Arsenal. Even if they were to make a £30 million bid, they would be blown out of the water by the likes of PSG or City or Chelsea,, who are ready to pay up to £45 million for the Napoli striker.
United debt falls…finally
Surprise, surprise, Manchester United's debt has finally fallen! After 7 yrs of the Glazers' leveraged takeover, United will announce that the club's debts have fallen below £400 million for the first time. What an achievement!
The fall is attributed to the American IPO in August, which raised £68 million and also several sponsorship deals with Toshiba, Yanmar, Santander, Bwin, etc, etc.
Chelsea defend 'hypocritic' racism complaint
Chelsea have defended their case of racial abuse by Mark Clattenberg, which seems to be falling into pieces, with no evidence to back it up.
Chairman Bruce Buck has defended the club, saying to the Evening Standard, 
"The reaction has been very unfair. We weren't interested in any confrontation with the referee or anybody else, had no thoughts of revenge on the referee.
"I felt we had the moral high ground, so I didn't really feel that bad about the defeat or have that feeling in my stomach. I thought we'd be treated very kindly in the newspapers next day."
He went on to add, "Suppose we had tried to sweep this under the rug and said to the various players, 'Look, it's not a big deal and the press are going to be all over us, maybe you want to reconsider.' If that had leaked out, we would've really been crucified."
Which is exactly what amazes us. The issue stinks of Chelsea's hypocrisy as they were not worried about secrecy when it came to the Clattenberg incident, but did so when it came to revealing Terry's punishment! Very astute of you, Mr. Bruce!
Anelka to Liverpool, Falcao to….everywhere!
Liverpool continue to be linked to strikers, from Asia to Russia, and now its the turn of Lacina Traore and Nicolas Anelka of super-rich clubs Anzhi and Shanghai Shenhua, to be linked with the Merseysiders.
The fact that the former signed for Anzhi just 5 months back and the latter is on wages of a million pounds a month has done nothing to stop the rumors in the British press.
Meanwhile Atletico striker also continues to be linked with an exit. From Man City and Chelsea, to PSG and Real Madrid, no club with spending power has been spared.
Well, that rules out Liverpool at least!
Falcao goal short listed for Puskas award
Sticking with Falcao and onto some more worthwhile news, his goal in a pre-season friendly earlier this summer has been shortlisted for the prestigious Puskas award.
Here's the video of the goal for you guys to enjoy: