The Footy Mumble: Barcelona in French Ligue? Dortmund fans hijack Munich?
2.39K //
27 Nov 2012, 18:21 IST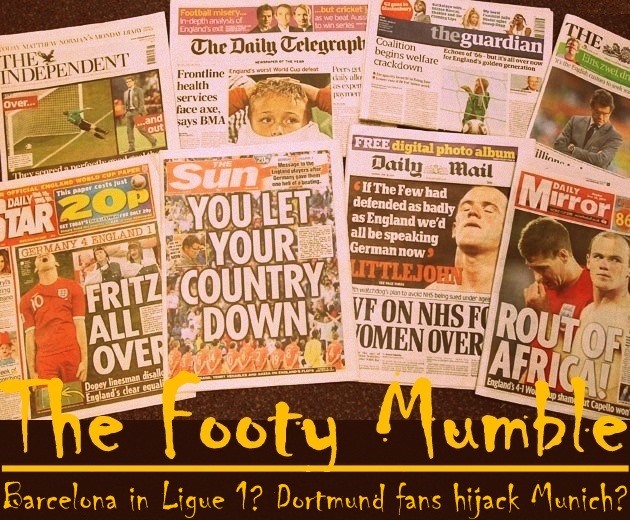 Chelsea fans want Benitez to apologise
After a clearly hostile reception by fans in his first Premier League match as Chelsea manager against Manchester City, Rafa Benitez is seemingly set for a long and troubled time ahead at Chelsea (or 7 months, should we say?)
Chelsea fans just don't think kindly of him, and it's no surprise, is it? All those arguments with Jose Mourinho seems to have come back to bite him right back now!
And not stopping at that, Chelsea fans have now demanded an apology for Benitez's behaviour in the past, with the Chelsea Supporters Group chairman claiming that it would appease fans to some extent.
Trizia Fiorellino told Press Association Sport: "I think (an apology) would help for some fans. Even an acceptance of what was said would be a start."
Seems unlikely to happen, though!
Adel Taarabt for United, Chelsea for Suarez
In today's transfer news, Manchester United have been linked with a surprising bid for Queens Park Rangers' winger Adel Taarabt, with the Telegraph claiming that United were ready to spend up to £12 million on the winger.
Unbelievable it seems, to us at least, with United already stuck with two inconsistent wingers in Ashley Young and Nani. And the fact that this news just comes after United played Rangers in the Premier League increases our doubts.
Meanwhile, Chelsea have been linked to yet another striker, and this time within the Premier League, in the form of Liverpool striker Luis Suarez.
Suarez is currently on top of the scoring charts this season, with 11 goals, and it has come to light that his release clause stands at £40 million. While cheaper than Falcao or Edinson Cavani, Chelsea may think twice about signing a Liverpool striker (Torres, anyone?)
Mourinho to exit Real, Pep to wait for Ferguson
And coming to managers, Jose Mourinho has been linked with an exit from Real Madrid at the end of the season, with Marca claiming that the Portuguese is dragging his feet on future plans involving the club.
Apparently, Mourinho was planning pre-season friendlies for the summer this time last season, but this year is busy planning family holidays in London.
Do we need say anymore? Laughable indeed!
Less laughable might be the news that Pep Guardiola is ready to wait up to two years for Sir Alex Ferguson to retire and succeed him at Manchester United.
That does not mean we believe in it for sure, as Guardiola has been linked to the Brazil national job in recent days and might well spend the same two years with the Selecao until the 2014 World Cup and then take over at United.
Continuing with the Barcelona theme, the Catalan club could soon play in the French Ligue 1 and not La Liga if the town's mayor Xavier Trias is to be believed.
Barcelona voted in local elections on Sunday, and it is strongly believed that the people will vote in pro-independence parties who will push for a referendum on whether Barcelona stays in Spain or splits.
If a split was to occur, then Barcelona would have to play in the local league, or in the French or even Spanish league.
"We [Catalunya] do not have the possibility of a competitive league," he was quoted as saying by AFP.
"We would have very few teams and Barcelona will need to join another league. That could be the French or the Spanish one."
Now that's interesting!
Video: Yellow fever hits Bayern Munich
And in today's video, watch this doubtable video of Borussia Dortmund fans breaking into Bayern Munich's Allianz Arena and changing the stadium color from red to yellow!