The Footy Mumble: City oppose Financial Fair Play, Kung-Fu Football in Brazil
1.35K //
16 Nov 2012, 19:21 IST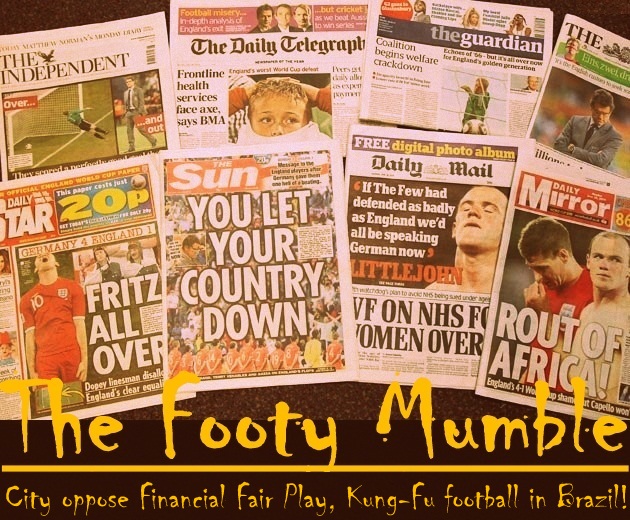 Player smears blood on opponents' face
In one of the most bizarre incidents to have occurred in Brazilian football, Santa Cruz midfielder Chicao has been banned for two matches – not for a red card – but for wiping his blood on an opponent's face!
Chicao was elbowed by Esley of Fortalez during the match. And Chicao's reaction? Straight out of a Bollywood movie, wiping his bloody face and smearing the blood on Esley.
As is very much predictable in Brazilian football, a mass brawl broke out. Now Esley finds himself banned for five games and Chicao for two.
Here's the unbelievable video for you guys:
City oppose Financial Fair Play
Surprise, surprise. City have opposed the Premier League's move to introduce Financial Fair Play rules to the league.
Much more surprisingly, Everton, Fulham and West Brom have also opposed it.
While Fulham and City's opposition is understandable, considering both have sugar daddies to depend on, the other two have given unconvincing reasons to oppose it.
Everton are worried about prospective buyers of the club shying away due to the break-even rules, while West Brom apparently want clubs to be given full freedom to operate as they wish!
Not that this will harm the FFP initiative, as the proposal has enough backing to be passed through, with West Ham owner David Gold wanting it as early as next season.
Balotelli out of City? Scousers want Downing out
Patrice Evra has sensationally claimed that Mario Balotelli could be on his way out of City soon, revealing the Italian striker really misses home.
"Mario really misses Italy," Evra told Italian TV.
"I don't know if he will stay in Manchester, because he wants to return to his country. I am not his agent – I am only telling you how he feels."
"He is my rival in Manchester – I meet him a lot, I know him well. Off the pitch, we joke around and I take the mickey out of him."
Balotelli's place in the squad is already in doubt, with British press constantly claiming he would be sold in order to make space for Radamel Falcao from Atletico Madrid.
Stewart Downing, meanwhile, could be on his way out of Liverpool, as the Mirror claims he has been told he is free to leave in the January window.
The winger cost an unbelievable £20 million and could be sold for a huge loss, considering his poor performances.
Brought during Kenny Dalglish's regime, Downing has not scored even once in 40 appearances.
26-year-old Union La Calera (Chile) striker Gaston Cellerino is set to become famous after he executed a full-bloodied kung-fu kick straight into the chest of Viana, the goalkeeper.
Even Eric Cantona, world famous for a similar kick on a supporter, would have been hard pressed to match the feat!
Mancini turns up in David Platt mask for press conference!
Roberto Mancini seems to be finally seeing the lighter side of things, after appearing in a David Platt mask for a press conference ahead of the match against Aston Villa tomorrow.
Platt, the assistant coach of City, might be known to you as the guy who defended Mancini vociferously after the Italian argued with referees after the match against Ajax a couple of weeks back.
Here's a video of the amusing incident for you guys: