The Footy Mumble: English 'Pep' talk, Hearts fighting for life
1.38K //
08 Nov 2012, 19:18 IST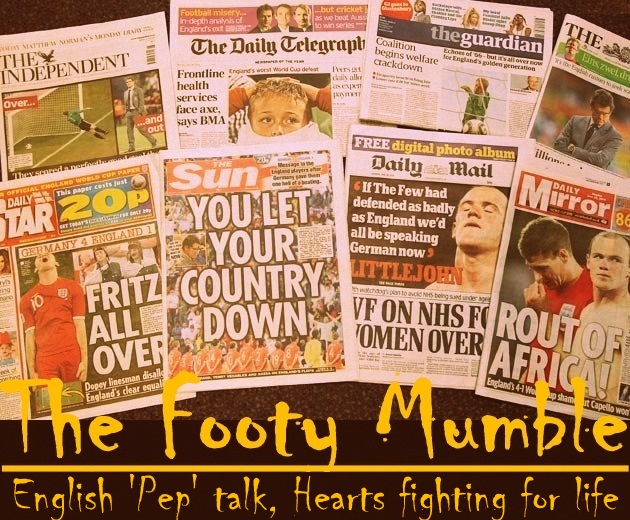 Pep Guardiola to Premier League?
We have become quite bored of these repeated stories of Pep Guardiola. But we have hardly found any juicy stories today, so it's more a case of 'beggars can't be choosers'. Well, here you go, in any case.
There was the link to Milan first, then Manchester United dropped in. Then back to Milan, then Chelsea, back to Milan again. Stop? No wait. Chelsea again. Stop. No wait again…. back to United. Stop. No? Back to Milan. No, wait. It's Manchester City!
We bet even Guardiola will lose all sense of direction at the end of this. Heck, even Eden Hazard will be put to shame at this rate!
The Guardian, among others in the British press, claim that Pep could be replacing Mancini and not Ferguson at United, or Allegri at Milan, as we all thought. Here's more on this.
Rod Stewart ends up in tears  after Barcelona defeat
Half of Scotland reported sick for work today, with all of them complaining of insomnia. No, it's not some mass hysteria spreading through the country, but a result of the Celtic's win over Barcelona.
Glory starved Celtic fans celebrated all night, and all reports of pubs running out of beer cannot be rubbished (or proven).
But for some of the more serious fans, the victory proved hard to believe as famous (in Scotland) rock star Rod Stewart burst out in tears after the final whistle. Check it out below yourself:
Hearts asks fans to save club through funding
Rangers might soon find themselves some company in the bottom of the Scottish Football pyramid, after Hearts reported that the club was less than 10 days away from liquidation.
The club are in such a pathetic state that they have been asked to wind up by the tax authorities for failing to pay a £450,000 tax bill, short change for clubs in the Premier League.
The club have thus planned a share issue, aiming to earn around £1.79 million in revenue. For a club with £24 million in debt, even that amount being raised is in doubt.
So now they have started pleading their supporters to each buy shares in the club, priced at £110. Whether this scrapping of the bowl will save the club, remains to be seen.
Arsenal chase Taarabt, Zaha; Chelsea sign Wallace
In today's transfer news, Arsenal have been linked with a move for Adel Taarabt of Queens Park Rangers, if a bid for Wilfried Zaha fails. Which won't be surprising news, considering that the Crystal Palace winger is priced above Arsenal's club record of 16 million pounds.
Meanwhile, rumours abound that Chelsea have agreed a deal with Fluminense for right-back Wallace, 40% of whose rights they already held since Deco's move from Chelsea to the Brazilian club.
The deal is reportedly worth €5.5 and apparently set to be confirmed at the end of the Brazilian season.
13 year old banned for racism!
A 13 year old has admitted to racially abusing Bolton striker Martin Sordell.
The striker was apparently called a 'slave'.
The boy has been banned from Milwall's match for the near future, but going a step forward, the boy has been enrolled in their educational programme on anti-racism, earning praise from the F.A.