The Footy Mumble: Getafe the next Man City? Pep to Chelsea?
5.49K //
05 Nov 2012, 18:23 IST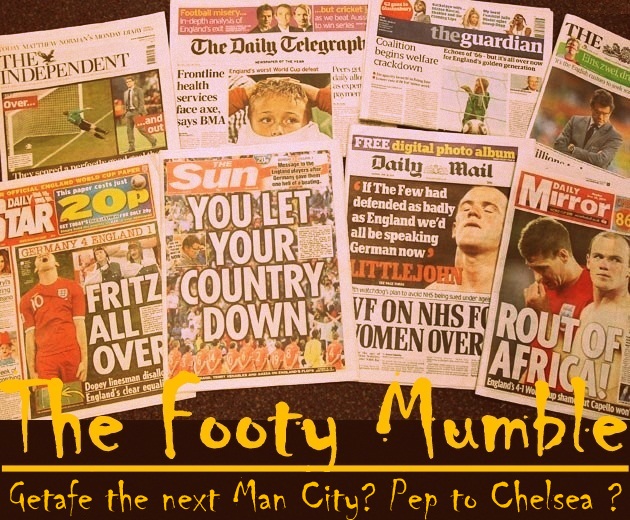 Evra says Wilshere was out to injure him
Manchester United defender Patrice Evra has claimed Wilshere was out to injure him in their recent match at Old Trafford.
The Arsenal midfielder was sent off after a second booking for an apparent stamp on Evra's legs, and now the France international has now claimed it was a deliberate tackle.
"I think he didn't look for the ball," Evra told the press. "He stood on my legs and it wasn't the first time, but the referee did a good job and that's it. That's the rule of the game."
Wilshere himself is returning from a long injury break, with the clash against United just his second start in the Premier League since returning from a year long absence.
Pep Guardiola to Chelsea?
Rumors fly in the British papers today about Pep Guardiola's return to management, with Chelsea seemingly the most favoured destination for the ex-Barcelona manager.
The Daily Mail have gone to the extent of claiming that Chelsea is the dream job for Guardiola, with the exciting offensive style of football played at Stamford Bridge apparently turning the tide in the Blues favour.
But Chelsea are not the only ones in the race, with Manchester United also linked with a move for Pep. Bayern Munich and Man City have also been named as possible favourites, with City's new appointment of ex-Barcelona director, Txiki Begiristain mentioned as a possible influence on Guardiola's choice.
Neymar to City? Huntelaar for Liverpool?
Begiristain's arrival as City's director of football has meant that all footballers who were linked with a move to Barcelona, have now been linked to Manchester City.
The British press' lack of imagination has meant that the latest to be linked with City, after Guardiola, is Brazilian starlet Neymar, who has long been linked with a move to Barcelona or their rivals Real Madrid.
And Liverpool continue to be linked with strikers, with Schalke's Klaas-Jan Huntelaar the latest to be linked with a move to Merseyside.
The Dutch striker could be available for as low as £6 million, as he has only a year left on his contract.
Ronaldo talks about Messi
Cristiano Ronaldo has claimed there are no issues between him and Lionel Messi, and that he respects Messi as a professional. Watch the full interview below:
Carlos Slim to buy Getafe?
Getafe could be set to become the next Manchester City, if reports out of Spain are to be believed. Spanish paper Marca claims Getafe are on the verge of being sold to the world's richest man, Carlos Slim!
Marca also say that the takeover will be carried out by América Móvil, who, incidentally, also own the broadcasting rights of La Liga in Mexico, the homeland of Slim.
While a little hard to believe, the news will still worry football purists and fans alike, who are becoming increasingly worried about the amount of money being thrown around by newly rich clubs like City and PSG.
Getafe fans, however, will celebrate the news, as the club is coming under increasing debt in its quest to stay in the top division of Spanish football.