The Footy Mumble: James Bond rejects Alex Ferguson, Lampard for China!
1.39K //
12 Nov 2012, 19:10 IST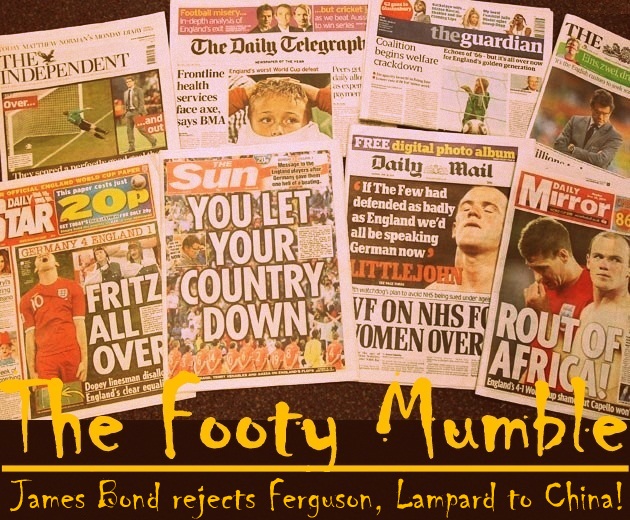 John Terry's season had barely begun, with just 6 appearances so far, but it could be over already, after sustaining what looked like an horrific knee injury in the match against Liverpool yesterday.
The English captain only just returned from a 4 match ban for racially abusing Anton Ferdinand, but it seems he will have to enjoy the rest of the season in front of the T.V rather than on the pitch.
Tests are to be carried out today to determine the extent of the damage, but the British press is already giving conflicting reports, with the Daily Mail claiming the injury is not as serious as feared, while the Sun claims his season could be over.
In either case, it will be some time before we see Terry on the pitch again. Boy are the British press going miss him!
Ask any Manchester United player about the 'Hair dryer' treatment and his words alone will convince you never to get in Sir Alex Ferguson's way…ever. Few have gone against 'The Boss' and no one is spared, not even Peter Schmeichel, who towered over Fergie by over a foot.
But it seems one man has dared to go against the big man's wishes and it is none other than the world's most famous spy, James Bond.
Daniel Craig, who plays the role now, was apparently offered tickets to United's matches at Old Trafford by Ferguson, which was promptly refused by his mother.
In an interview to the Sun, Ferguson says, "…The only thing about Daniel Craig is he's a Liverpool fan."
"His mother was on the same plane as me when I went to New York in September.
"I said to her, 'There's a ticket for Daniel at Old Trafford any time.' She looked at me as if I had horns on my head! She replied, 'I don't think Daniel will want to go and see United.' "
Suarez's latest antic falls flat
Suarez's on-field tactics, be it for diving or celebrating, are all well known, but for once, it fell flat on his face when after scoring a goal his team mates just didn't want to celebrate, with him at least.
Enough words. Just see it below yourself:
Lampard to China, Everton to lose Fellaini?
Frank Lampard could be set to join former Chelsea team mates Didier Drogba and Nicolas Anelka in China, if the Daily Mail is to believed.
Apparently, Chinese club Guizhou Renhe are in talks with Chelsea, but no deal has been struck yet.
The club's chairman has himself supported the reports, telling Beijing's BTV-6,  'Yes, we are in contact with Lampard but so far nothing has been settled.'
Meanwhile, David Moyes has revealed that he expects top clubs to come calling for Marouane Fellaini in the January transfer window- and even admitted he won't fight too hard against it.
Moyes told the Daily Mirror, "I'm not in the mood to keep the fight going all the time, because I've lost a few players now, but the ones we've lost – they've paid for."
And in an indirect message to interested clubs, he said, "…they know as well that it will be a big price if they are interested."
Balotelli falls asleep during City's match 
True, Man City's match against Tottenham was boring for the first half at least. Even Spurs' shock lead did little to spice things up. And if you were a fan of either team, or football in general, you could very well be forgiven for falling asleep during the match.
But a City player himself? That's precisely what happened with Mario Balotelli, who seems to have given up on his team and dozed off,  and was caught on cam doing so.
Hers' a small video of the incident for you guys to enjoy.