The Footy Mumble: Messi not the best, Britain's worst!
2.49K //
12 Dec 2012, 18:45 IST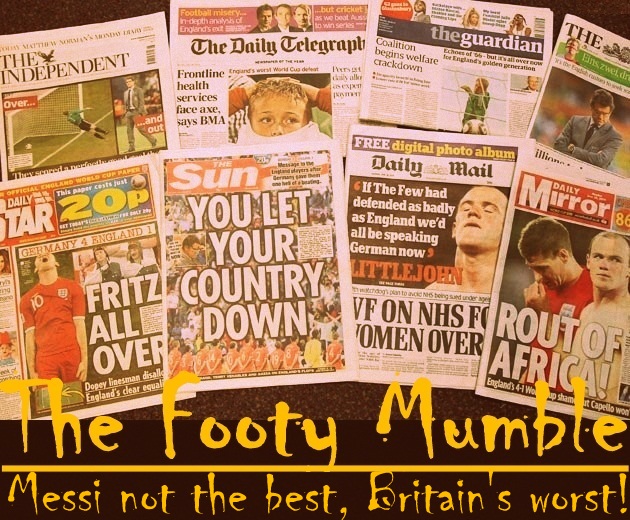 Messi still short of World Record
For all you Messi fans out there, here's some news you just won't like. The Barcelona star might have broken Gerd Muller's record of 86 goals in a calender goals, but that's not the World record apparently!
Yeah, a footballer in Zambia, Godfrey 'Ucar' Chitalu scored 107 goals in 1972. And mysteriously, the record has not been upheld by FIFA.
Zambian officials are urging them to do so, and it remains to be seen what happens next. If confirmed as official, it would be out of reach for Messi, who has just 3 matches left and 20 goals to get.
Worst football team in Britain
And going into the contrasting end of the spectrum, we might have just found the worst football team in Britain. Madron FC lost every match in their league last season, the heaviest being a 55-0 loss! That's stretching the realms of possibility, but its true!
Other interesting records they hold include a losing streak of 30 games and conceding 407 goals over the length of the season!
In today's transfer news, Manchester United are reportedly set to sign Theo Walcott from Arsenal. So claims the Daily Mail, who might be just confirming the long known theory that Arsenal are now the official feeder club for both the red and blue halves of Manchester.
Meanwhile, Liverpool are linked with Daniel Sturridge and Tom Ince of Chelsea and Blackpool respectively. They have also been linked with David Villa and Alexis Sanchez, both of Barcelona, so don't believe everything you read!
In today's Video of the Day, we bring to you Gervinho's incredible open goal miss, which indirectly sent Arsenal out of the Capital One Cup. Seems like Fernando Torres finally has some company in that department now!