The Footy Mumble: The Chelsea Chronicles
1.62K //
07 Dec 2012, 20:41 IST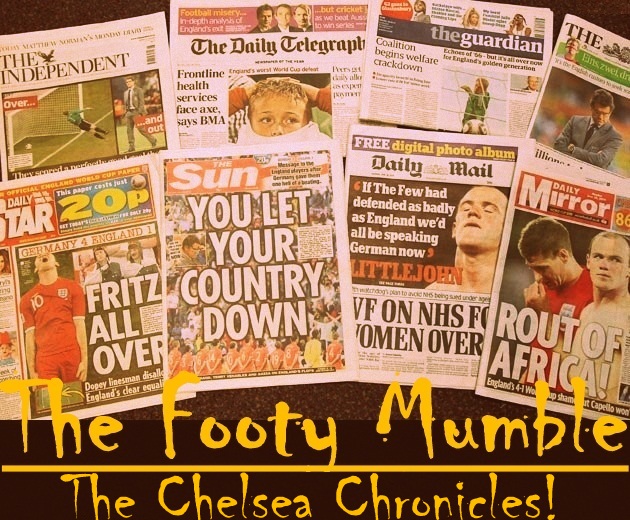 As though missing open goals wasn't enough, Fernando Torres has sought to draw more negative and humorous reactions from fans and critics alike by claiming he needs more time to succeed at Chelsea!
Speaking to Daily Mirror, the £50 million striker said, "It's just a matter of time and training and being sure that we understand each other.
"With [Juan] Mata I have been playing for many years in the national team and last season at Chelsea, but Oscar and Eden [Hazard] have just arrived and we need to train more to improve.
Just a reminder, folks: It will be 2 whole years come January since Torres moved to Chelsea from Liverpool.
Chelsea count losses after UCL exit
Sticking with our favorite punching bag, Chelsea, at the moment, the Blues will lose up to £20 million compared to last season after bowing out in the first round of the League this season.
Not that it will matter to a club with over £742 million in debt before the start of the current season.
Chelsea not good enough for Europa League!
Meanwhile, former Chelsea boss Andres Villas Boas has claimed Chelsea don't deserve to be in the Europa League after their UCL exit.
"I think it's extremely unfair. It would be much fairer if the clubs came in to the Europa League when they are knocked out of the last 16 of the Champions League. 
"You can't give a bonus to teams who have failed, and in the situation as it stands, teams fail in the Champions League and are promoted to the Europa League, which, in my opinion, is a massive bonus."
No love lost there, eh?
Manchester United are swooping in for Man City's Croatian targets Sime Vrsaljko and Alen Halilovic in a double deal worth £20 million.
The Daily Mail claims Manchester United chief executive David Gill flew to Croatia on Tuesday for talks about signing Dinamo Zagreb's £15million-rated teenage sensation Alen Halilovic and £5 million rated Sime Vrsaljko.
Whether the news is real or just an attempt to spice things up ahead of the Manchester Derby is something we will learn only later.
Juventus will make a bid for Arsenal's Theo Walcott, either in January or the summer.
So claims the Daily Express, who themselves quote calciomercato.com as their source. Walcott will be free to sign a pre-contract with foreign clubs in January itself, and Juve could well be a potential destination.
A Bolivian goalkeeper has pulled off one of the most amazing sequences of penalty saves ever seen on a football pitch after he saved the same penalty three times. Watch it in full here: