The future XI for Seleção: the Samba stars
1.04K //
28 Mar 2012, 21:29 IST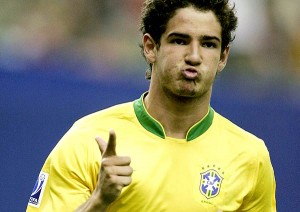 Let's look into the future, say, 2016-17. In five year's time, a lot will be changed in the present world. The Seleção too will have undergone. With no Ronaldo, Ronaldinho and Rivaldo to don the green-stripped yellow jersey, it is the "juniors" who will have to shoulder the responsibility of carrying forward their legacy and the brilliant history of the soccer-crazy nation. But with a disappointing show at the last FIFA World Cup followed by another upset at the 2011 Copa America, Brazilians have enough reasons to believe that their beautiful Samba football is in the dumps and it is high time for its revival. With the golden squad of 2002 having players like Cafu, Ronaldo, Ronaldinho, Lucio no more in the ranks (also Kaka will be beyond the age of something miraculous), we, the fanatics of Brazilian style of football, will have to rely, quite heavily, on the future stars of the South American nation. Here I enlist my picks for the national squad in 5 years time.
I'll go for a 4-3-3 combination.
Goalkeepers
Diego Alves – With Julio Caesar aging, the best option for Brazil will be this Valencia goalie who has every possibility of catching the selectors' eyes if given enough opportunities. He will be 31 at that time and his experience will prove to be handy. He has all the elements in him to be as good as Caesar or his predecessor, Dida between the sticks.
Defenders
Marcelo – Dani Alves would have been a better choice for the right flank but his age (34 years then) will not support him to carry on. Thus, we will have to look up to Marcelo who has it in him to do all that Dani Alves can. There will not be any looking back for him if he can replicate Alves' quick runs in the field or Cafu's stamina with enabled him to run the whole ninety yards even at the dusk of his career!
David Luiz – Chelsea's rising star will be an asset to the squad if he mends his error-prone methods (which is likely to happen in five years' time). In terms of position, he occupies a significant position which was once justified by Lucio, a great defender coming of age. His exuberant ways may revive the Seleção and end Brazil's defensive woes.
Thiago Silva – If Luiz occupies Lucio's position, Luisao will give way to Thiago Silva. A tremendous player in his own boundaries, Thiago Silva will combine well with Luiz and may bring the immensely successful European style of play in Brazil's central defense. Playing for reputed clubs in Europe will do a world of good to them and will also boost their reputation as defenders.
Rafael/Fabio Da Silva - It is quite taken for granted that only one of them will play for the side at a time and so putting them as separate candidates for the remaining position in the defense will be illogical. Their stint with Manchester United under the watchful eyes of Sir Alex Fergusson, one of the greatest coaches in the world, will be of great help and they may well turn out to be the future stars in the yellow-blue kit. Sharing the dressing-room with world-class defenders like Vidic, Evra and Ferdinand should help them lift their game up by many a level. Also age is on their side as they will be only 26 year-olds by 2016. Just wait for another five years and look out for these boys!
Midfielders
Ramires – Another Chelsea regular doing it big in London. He will, undoubtedly, feature in the Brazilian midfield five years on. Being with one of the most successful clubs in Europe, Ramires would have learnt a lot in five years to make him a regular in the national squad. Just hope that he still has the stamina at 29 years.
Lucas Rodrigues Moura Da Silva- Better known as simply "Lucas", he is quick and agile with a great technical feet and has a reputation of weaving through the defense. He has been reasonably successful playing for São Paulo and we may well expect to see him in Europe donning a London club's shirt! This 23 year old lad is ready to surprise you. Just keep an eye on him!
Paulo "Ganso" Henrique – Still in his early twenties, Ganso has already stolen the eyes of the selectors. To make it better, he is a clinical passer of the ball and has all that is needed to be a good play-maker. Enough belief in his abilities and ample chances paired with wise decisions will surely see him emerge as a celebrated footballer. He is definitely going to feature in the Brazil squad for the 2014 World Cup, 2015 Copa America and even 2018 World Cup!
Forwards
Alexandre Pato – He has been AC Milan's reliable man in the front for quite some time. He shot to fame because of his attacking football and mesmerizing skills in front of the goal. He is sure to play a huge role in Brazil's attack along with Neymar. Like Ganso, he is young and skillful and is set to be a regular in the green-yellow outfit. he is, undoubtedly, the future star for Brazil.
Robinho – Still a favorite in the eyes of the coach, unlike Ronaldinho and Kaka, Robinho will have to maintain his stamina and pace at 32 years, five years on. His control on the ball is something that is still admired, and he had shown signs of becoming one of the greats in his early years. Having a short structure also comes to his advantage as he goes on to fox defenders and score goals. However, he has been misfiring of late and with the likes of Damião breathing down his neck, he needs to improve that in order to earn a spot in the eleven.
Neymar – This is what you call saving the best for the last! Without any hesitation, Neymar is the best player (a young prodigy, rather) of the current lot. According to some, he is over-rated but he will surely remove that tag once he gets to play regularly for the national side. He is impressive enough but branding him as the "next Pele" is too much too early! During the 2014 World Cup, he will be only 23 and surely holds the edge to spearhead Brazil's attacking moves in the next 7 years. The game will revolve round him and he needs to make use of those opportunities in order to take the country forward.
Having said enough, here's me wishing all the best to Seleção and Samba football. Revive from the Ashes ~ that is what we want!