The Lower League Fortnight – Financial Mismanagement Edition
628 //
21 Mar 2013, 10:00 IST
Dark clouds gather around the Ricoh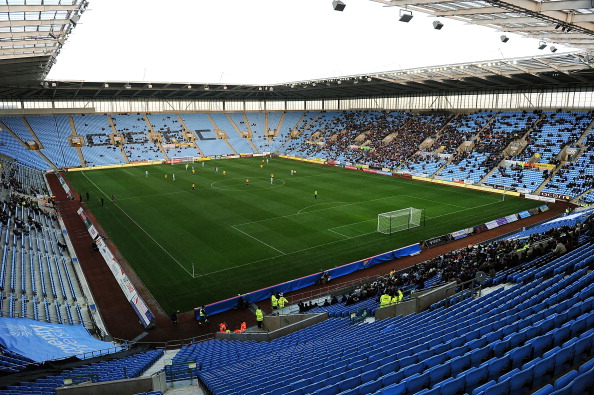 The terms of Coventry City's rent agreement with the owners of the Ricoh Arena are unusually unfair to the club – that much appears to be agreed by all parties. Not only are the Sky Blues being charged an unusually high amount, but matchday revenue (food and drink sales presumably being the biggest earners) is kept by ACL, the stadium owners. Even so, all of this was agreed legally with the club. ACL, who administer the stadium on behalf of both a local charity and Coventry City Council, have done nothing illegal and have even offered to take a massive cut from £1.3m a year to £400,000.
Coventry City, meanwhile, have refused to pay any rent for almost a full calendar year. It's a bit more complex – with Coventry owners SISU using other amateurish negotiating methods such as threatening to play at a stadium across the country and apparently agreeing terms at a meeting between the parties, only to change their minds later. This resulted in ACL blocking the transfer of compensation for Mark Robins' departure.
Last week Coventry Chief Executive Tim Fisher announced that
"We are at a tipping point and insolvent liquidation cannot be reasonably avoided. They need to re-enter negotiations pronto or we file. We'll have no option because there would not be reasonable probability of avoiding insolvency liquidation."
Three days later, ACL took out an administration order against the club, with their chairman Nicholas Carter saying
"We are owed a considerable amount of money in rent arrears. While it is imperative that ACL takes action to recover these arrears and to stop the arrears growing, it is important for us to find a solution that can provide for the survival of the Sky Blues.
A decision over whether Coventry will be placed in administration will be made in the High Court this Friday, and the fantastically named American tycoon Preston Haskell IV is rumoured to be eyeing a takeover.
The intent of the owners isn't necessarily foolish, but their methods certainly are. Cutting a badly negotiated contract to a more reasonable length is sensible. But there has to come a point where SISU cut their losses, accept a bad contract in place of the current very bad contract, and get on with other areas of improvement.
Despite having currently avoided £1.3m in rent, the situation has almost certainly impacted on the first team. There's a strong suggestion that Mark Robins left because of the financial instability, and there's been a rumour that Nigel Worthington rejected an offer to take over before being appointed as York City manager.
Meanwhile, Coventry have appointed a new boss – former Hearts captain Steven Pressley, who made 19 appearances for Coventry 18 years ago. Pressley joined Falkirk as assistant manager in 2009. He took over the top job the following February, but failed to keep them in the SPL. Despite failing to gain promotion from the Scottish First Division in his first two seasons in charge and sitting solidly in midtable (5th of 10 teams), he has been given a three and a half year contract at Coventry.
Pressley was linked with Hearts only last month, and has earned praise for promoting young players. But it's hard to tell how far his reputation has been enhanced by his playing career – at the very least, the length of the contract seems an unnecessary gamble.
 And bright skies on the South Coast?
After a season of almost unrelenting negativity, it's been a pretty good fortnight for Portsmouth. The situation at Portsmouth is complex – with former owners possibly using third parties as front men to regain control, understanding the Pompey situation is like trying to follow the twists of a spy novel.
In essence, former chairman Balram Chanrai has, through his company Portpin, been trying to regain control of the club. But the bid in the lead is from Portsmouth Supporters' Trust, who are backed by several 'high net worth' local businessmen, who've pledged their loyalty to the Trust. At the end of last month, ten acres of land around Fratton Park were purchased by Stuart Robinson, one of the businessmen. But the big breakthrough was on March 8th, when PST exchanged contracts with the administrators, the terms of the purchase being agreed. The sale is still dependent on the purchase of Fratton Park being forced through – a much delayed High Court case is now scheduled for April 10th.
But the court case is now the last barrier to the fans and their allies taking control of the club – given that Chanrai was often draining the club of money and working against the interests of the fans and first team, it has to be seen as a positive move both for the club and football in general.
It's far from plain sailing ahead though – as Portsmouth have now been in administration for over a year, they've been informed they must exit administration by the end of the season or face expulsion from the Football League. Conference rules, brought in after Chester City went bust during the 09-10 season are tougher – any club in administration during the summer AGM will be expelled from the Conference Premier and it's two feeder leagues. So there's still a very real chance that the 2008 FA Cup winners could start the 2013-14 season in the seventh tier of English football.
Even on the field, the last few weeks have been a glint of optimism in an embarrassing season for Pompey. On February 26th, they picked up a respectable draw against an underachieving but talented MK Dons. Portsmouth then beat Crewe, ending a run of 23 games without victory. They then followed it up with another, the day after contracts were exchanged, over fellow relegation probables Bury. Defeat to Leyton Orient (making a late charge to the play-offs) was followed by arguably their best result in the last five games, a weekend draw at leaders Doncaster.
This with a team of genuine journeymen – for instance, Patrick Agyemang, a squad player at Stevenage who hadn't played in the month before moving to Portsmouth on loan, has only missed 58 minutes of football in the nine games since his arrival. Stepping back and looking at things rationally, Portsmouth's situation still offers little to smile about. But given how starved of reasons for optimism they've been, it's only reasonable for them to clutch at what they have with enthusiasm.
Bury's Low Paid Players
In the last edition of Lower League Week, I was critical of the way that Bury had apparently messed around former Belgian junior international Jeanvion Yulu-Matondo, lowering the initial offer given to him, then asking him to play for free. But reports since suggest that Bury were not just being cheap – manager Kevin Blackwell has said that
"There was a lot of players here getting paid nothing and then some are paid £100 and £200 a week. You get more than that on the dole. …  They want to get their careers back on line."
Bury spent a month under embargo in December and January,  before repaying a PFA loan that was needed to pay wages, so their financial problems have been known for a while. It's not totally clear what the roots of their problems are – Bury don't seem to have spent excessively this year or last.
But in terms of the practical effects financial troubles have on the first team, Portsmouth have not been unique in the lower leagues this year. If Bury have been mismanaged, it's not been gross mismanagement. With the TV contracts for next season's Premier League expected to net the lowest team £60 million, it's ludicrous that teams just two divisions lower, who having not done too much wrong, are struggling so badly.
Accrington's Unpaid Players
A league lower, the same problem has troubled Accrington Stanley. Managing Director Rob Heys announced that:
"We have paid some wages at the moment, but we haven't paid them all. … We have got the lowest gates and the smallest wage budget and it is a battle to stay in League Two, but it's where we want to be. … We're fully up to date with HMRC and our usual creditors – it's just a matter of getting these wages paid."
Money on the gate is the single biggest income stream for lower league clubs (aside from Cup runs and profits from player sales, which varies from club to club), and Accrington have attracted crowds of over 2,000 to only two league games this season. Matches in December and January against Wycombe and Dagenham attracted 1050 and 1031 respectively.
A Thatcherite argument can be made that Premier League teams should keep the TV money as that's where the demand is. But competitive lower leagues benefit the game as a whole, aiding the development of Adam Le Fondre, Grant Holt, Joe Hart and many others. If those running the top teams have an idea of even their own long-term self-interest, they'd make sure to pass on a greater share of TV money down the football ladder.
Accrington's England Internationals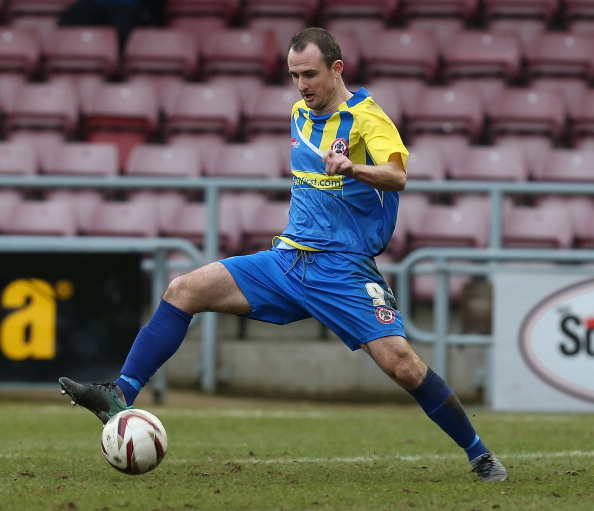 Accrington's financial struggles haven't stopped them from being ambitious – former 'Fox in the Box' Franny Jeffers has joined the club, where James Beattie was already a player-coach.
Jeffers, who replaced Beattie for England against Australia 10 years ago last month, has taken part in four games in 11 days as Accrington fight to stay in the league. The third of those games, a 3-2 victory over Barnet, was the club's first league win in four games, second in 12, third  in 20, four in 24 and fifth in 29.
Leam Richardson, a pivotal player in Accrington's climb into, and subsequent stabilisation, in the Football League, was appointed to the manager's job when Paul Cook left for Chesterfield 25 games ago. He's only 33 and Accrington seems far from the easiest job in football. But an improvement in results is needed by the end of the season. A 4-0 win over Wimbledon, who'd won their last three games, was far better than I'd thought possible when writing the first draft of this section.
A recent interview with the Evening Standard suggests that Jeffers, like Beattie, still sees the romance of the game in League Two.
Collective Spirit
In that 3-2 defeat at Accrington, Barnet had gone three down in the opening 34 minutes to a Lee Molyneux hat trick, before battling back in the second half – Ross Jenkins pulling the score back to 3-2 with half an hour remaining. But, despite having more shots and much more possession than the home team, the fightback ended four minutes from time when player-manager Edgar Davids was sent off.
It got worse for supporters when a failed gearbox stranded one of the supporters' buses on the motorway. The team bus passed them and spotted the club colours. Then, apparently under orders from Davids, the players were dropped at the next service station and the bus was sent back to collect the shivering fans. The players – Davids included – then chatted with fans as they waited for repairs. It's nice to know that one of the genuine greats of the modern game is grounded enough to think about the fans.
The tightest of relegation battles
I've written previously that the competition to go up from League One is incredibly tight. But the battle to stay in League Two is just ludicrous.
After the matches on March 16th, the bottom five teams were separated by goal difference. That's five teams, level on points after 38 or 39 games, with York only a point higher. With all but York and Aldershot in action on Tuesday, that's been thrown off a bit – instead, Aldershot are bottom on 40, York have 41 points… and there's four teams level on 43.
Too many tweets might make a twat
Fleetwood lost to Plymouth at the weekend, causing the chairman to tweet
Far from happy with that. Lots of players not up to standard. We can't give away a two-goal start. One way or another we will be better. I hate losing. Not being messed around by certain people any more. We look after staff exceptionally well. Certain deluded individuals should remember that before it is too late for them.
The previous week's victory over Accrington was Fleetwood's only victory in seven, not nearly good enough for a team around the play-offs, so you can't totally disagree that the players deserved criticism.
But the strength of the language was needlessly antagonistic. I'm all for decision-makers communicating with the fans (and Andy Pilley seems to use his account for a dialogue with fans), but there's an appropriate way to do it. For an example, he could look at Port Vale's new owner Paul Wildes – supportive of the team, endlessly pleasant, and helpful when supporter's enquiries are directed to him.
'Bilel Mohsni up for cage fight'
When I saw the headline, I assumed it was speaking metaphorically. After all, the Southend defender's been a bit of a prat this season, refusing to return to the club who gave him his first chance in English football and who pay his wages. And when he did return for Southend, he was sent off after half an hour. With Southend facing a tough battle for promotion and having financial problems, it makes sense that the defender who's been sent off five times in 73 games would be talking about his intent of providing the scrappiness needed for promotion.
Apparently not.
Ultimate Warrior Challenge, a minor Mixed Martial Arts franchise, have an event in Southend this summer, and Mohsni has been mentioned as a possible fighter. Tara Brady, the principle owner of UWC and former Chief Executive of Southend United, has said
From direct personal experience I know Bilel is perfect for MMA. … He's athletic, aggressive and fast and, while he will obviously be concentrating on his football, this could be a good outlet for him during the close season. I also think it's time for him, without any repercussions, to do what he was put on this earth for and that's to fight."
There's really nothing I could add to that.
A new face for the managerial Merry-Go-Round
After six weeks of procrastinating, Oldham finally got around to appointing a new manager on Monday, and it was a surprise – former Yeovil and Bristol City midfielder Lee Johnson, released by Kilmarnock in January. It was probably about time, given that youth team manager Tony Phillisirk had been running the first team in that time as well as carrying on in his day job. But the choice is certainly a surprise.
Aged just 31, Johnson now becomes the Football League's youngest manager, taking the title that Karl Robinson had held for three years. Robinson retired early from a more or less non-existent playing career, spending three years as a well-regarded coach at Liverpool, Blackburn, then MK Dons, before stepping up to the top job.
The most notable recent lower league examples of a player that young, with no coaching experience, being appointed from outside the club are Roberto Martinez at Swansea and Darren Ferguson at Peterborough.
Both of those men have proven themselves since (though Ferguson seems to have been well-backed by lower league standards, his budget has been amongst the lowest in the Championship). It's an unfashionable and possibly naïve thing to say, but sometimes football chairmen are smart enough to see something the average fan wouldn't have thought of. Given that Oldham backed Paul Dickov with the funds to bring in four loan signings towards the end of January, and they're locked in a relegation battle, Johnson probably hasn't been chosen because he's the cheap option.
But it's such a left-field choice that it's almost impossible to tell whether he's a smart appointment. The evidence of his first match – which sounds to have been an energetic and organised display in a 3-0 victory over relegation rivals Hartlepool, less than 48 hours after his appointment, seems to suggest he's been a shrewd choice. Oldham have now climbed out of the relegation zone, with games in hand.
The captain departs
If Johnson is going to turn around Oldham's form and keep them up, he'll have to do so without the club captain. Dean Furman, a Rangers youth product, has been at Boundary Park since 2009, and in 2008 made his international debut for South Africa. He represented his nation as far as the quarter finals at this year's African Cup of Nations, playing every game, but has struggled to play his way back into the team since his return.
Chairman Simon Corney claims that Furman made a transfer request, and as he'd played three of seven games since his return from the bench, it's understandable. But as the club captain, you'd hope he'd knuckle down and encourage his team-mates to pull together – he was out of contract in the summer, so could have plotted his big move then.
Stevenage Sheff Utd, & Dani Lopez
Dani Lopez signed for Stevenage last summer – the former Atletico Madrid, Getafe and Espanyol reserve appeared from the bench just three times in the first three months, not scoring. Despite scoring six times in 12 on loan at Aldershot, he was given just one appearance for Stevenage, before being loaned out again, this time to Barnet, where he didn't score in his first three appearances.
On March 9th, Lopez made up for this with a hat trick at home to Morecambe. He didn't score in the 1-0 midweek defeat to Oxford, but was recalled by Stevenage – to the club and starting line-up. Given that Stevenage had won just once in the last 10 and Sheffield United kept six successive clean sheets, winning four, Lopez didn't seem to have too much of a chance of making an impression.
A hat trick in a 4-0 win, which included a blast into the top corner from the edge of the area, should give him a chance of holding down a first team place.