Born 17 February 1982 in the slums of Rio de Janiero, Adriano showed an early interest in football and spent most of his childhood years playing on the dusty pitches of his neighborhood. His great performances for a local community team caught the eye of Flamengo, which signed him as part of its youth squad in 1999.
In 2000, he earned a debut for the senior side and scored his first goal four days later in the same competition. In the 2001 season, his impressive performances for Flamengo caught the attention of Inter Milan in the Serie A and led to a transfer that was valued at €9.75 million. He was loaned to Fiorentina after failing to impress in his early matches for Inter Milan. He moved to Parma from Fiorentina where he formed an impressive attacking duo with Adrian Mutu and scored an impressive 17 goals in 31 matches.
In January 2004, his impressive performances for Parma earned him a return transfer to Inter Milan, which was valued at €23.4 million. At Inter Milan his high level would continue and he would score a stunning 42 goals in all competitions for both club and country in the 2004/05 season.
Adriano would go on to win four League titles with Inter Milan, two Coppa Italia titles, and three Super Coppa Italia titles. His impressive performances also transcended to the Brazil National team where he replaced Ronaldo as the leading striker in both the 2004 Copa America and the 2005 Confederations Cup, and he won the Golden Boot award in both competitions.
His night habits and decline.
While it is difficult to pinpoint the exact cause of Adriano's career decline, everyone seems to agree that his night habits were the primary cause of his slump. Adriano himself said when he joined Inter Milan that Ronaldo was the one steered him on the right path, "Ronaldo de Lima gave me hints on how to behave on the pitch to win the crowd. His playful spirit was super important to make me feel at home. He made me stop spending nights with ladies in Italian hotels."
After his father, who he was strongly bonded to, died, he redeveloped his nightlife habits and reportedly skipped training to spend time partying with friends. His teammates in Inter Milan tried to talk him out of drinking but they failed. Adriano speaking of his father's death and nightlife had this to say, "Only I know how much I suffered. The end of my father's life left a huge hole. I felt alone and I isolated myself when he died. I was sad and depressed in Italy, and that was when I started to drink.
"I only felt happy drinking, I drank everything in front of me: wine, whisky, vodka, beer... I didn't know how to hide it. I used to go to training drunk in the morning." His bad performances meant he was out of favor in Europe and he returned to Brazil. Though there were sporadic performances that reminded us of his peak days, the large majority of his time in Brazil were unfruitful. He had lost the desire to play.
Current condition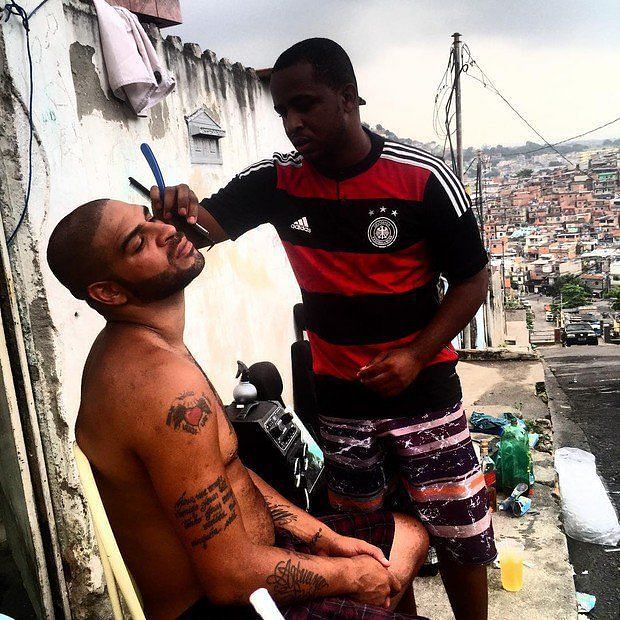 Adriano at the slum
After quitting his contract with Miami United FC, Adriano returned to Brazil and blew up his fortune on nightlife. Currently, there are reports he is living in the slums of Rio, and he is relying on a notorious gang (The Red Command) for protection for himself and his family.
Leite has rented his home in Rio and even denied a move to Flamengo in 2018. There seem to be no return to football for Adriano, but his fans will always remember his powerful strikes and flamboyance on the ball. His life serves as an example to all the importance of hard work in success.
Watch Adriano's best goals in his career.
Edited by Victor R. Lopez M.