The Shrewd and Successful Napoli
945 //
07 Mar 2011, 19:53 IST
The 2010-2011 Serie A season has been markedly different from the bland Serie A seasons of recent past (primarily the last 3). This is so chiefly because of the emergence of teams which have staked a strong claim to Inter Milan's Serie A Crown. May that be AC Milan rising again to vie for the Scudetto again, or other teams like Udinese and  Lazio playing exquisite attacking football to the delight of many ( Who can forget the 7-0 drubbing of Palermo by Udinese.). Not only this,  there have been other teams who have done their bit to make this season memorable, take the wonderful Serie A campaign of Cagliari that sees them well placed in the top half of the table, or the horrendous journey of Sampdoria who have none other than their President  Riccardo Garrone to blame for their misfortune. But one team that stands out from all of this is Napoli who have stood up to be counted as worthy challengers to the title. The only  thing that may come in their way would be their inexperience when it comes to cutting it at the highest level. In spite of that, they have on more than one occasion outshone and outsmarted far stronger sides like Roma and Juventus. When we take a closer look at Napoli we see that their success can be attributed to more than one thing which has clicked for them this year.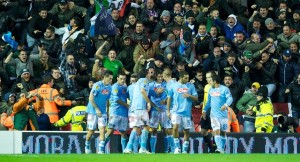 One of these things, has been their Manager Walter Mazzarri , who has a reputation for transforming  good teams into very good teams. Mazzarri is your typical hardnosed Italian coach in the mould of a young  Fabio Capello.  Mazzarri has been one of the few coaches in Italian Serie A this season who has adapted his tactics to suit the abilities of the players at his disposal. We can very well take the example of Del Neri who at Juventus  has obstinately stuck to his preferred 4-4-2 when evidently his team does not have the wide midfielders to make this system work. The results have been for all to see, with Juventus struggling to get results against even the weaker teams. Contrast this to Mazzarri's 3-2-3-2 system, not only is this system relevant given the players at Napoli, it has also helped Napoli to gain a larger share of possession in the center of the park, which has given them a distinct advantage no matter what the opposition. This utilizes the strongest attributes of the players and allows Napoli to play to its strengths. Inspite of this Mazzarri has been open to modifying his system whenever a need for doing so has arisen, again this is one the essential attributes of a good coach and going by the results Mazzarri may soon become a legend at Napoli.
One important thing to which Napoli's success can be attributed( in addition to Walter Mazzarri and the good performances of the players) is the shrewd transfer system that Napoli have adopted under Aurelio De Laurentiis. For me Napoli have been successful at spotting and signing talent like none other , given their resources. If you look at the players in their roster you can't help but admire the vast talent that Walter Mazzarri has at his disposal. This accrual of talent has not taken place in a single year but has been done over a span of 5-6 years of ingenious transfer dealings. The signings like those of Marek Hamsik and Ezequiel Lavezzi in 2007 or the more recent one of Edinson Cavani show just how shrewd Napoli have been when it came to acquiring talent. Moreover , these players were signed not for the huge transfer fees that we have become so used to in this world mega transfer deals,  rather they were bought for 'peanuts' if you compare the transfer fees to the amount of talent that they bring to the table. Napoli have consistently improved their team over the years not just in one department, like some of their well known compatriots(Read AC Milan), but in all the departments that their team need reinforcements or some injection of quality. Napoli have gone about building their team in the most comprehensive manner that you can come across and with the acquisition of De Sanctis, Santacroce, Gargano , Zuniga and the like, they have made a strong statement of intent. I believe it won't be long before we'll see Napoli giving the big guns in Italy a run for their money, as if they are not already doing so.
Napoli are a prime example of the case which proves that a team is not built by headline grabbing signings, but the foundation that makes a team successful is one which has at its core a sound transfer policy and a coach who has the intelligence to adapt to his player's strengths.