The story of Fernando Torres - a look back at El Nino's trek all over the world
7.48K //
14 Feb 2015, 19:11 IST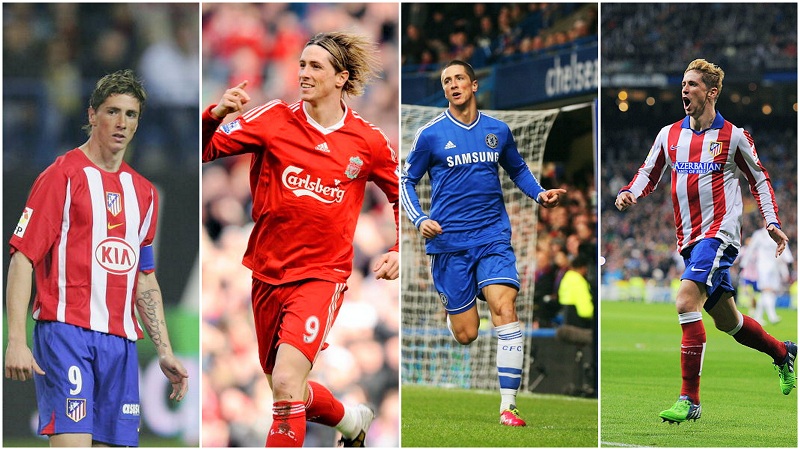 A breezy August noon at Merseyside, Liverpool attacking the Anfield-road end.16 minutes in and skipper Steven Gerrard plays the ball into his feet. He takes a brilliant first touch and better second one, taking him past the scrambling Chelsea full back and clinically dispatches a shot into the far corner. His first goal for Liverpool in English soil! That moment will forever be etched in my memory, as that is when I started admiring Fernando Torres with much devotion and fervor.
Eight years later El Niño (the little boy), on his return to his boyhood team, Club Atlético de Madrid scored twice at the Bernabeu netting two goals that took us on a ride down the memory lane. Much had happened in the space of nine years. Fernando Torres has won a World Cup, two Euro cups, a Champions League and a Europa League medal under his belt. To be honest, this tally is not a fair reflection of what Torres has been through during the course of time. Let us take a look back at the journey that this Spaniard has had at the top in Europe's finest leagues.
Early Days
Fernando José Torres Sanz was born in the community of Fuenlabadra, Madrid and started kicking a ball at the age of 7 playing for local clubs such as Parque and Rayo. He started out as a goalkeeper but later became a striker after he sought inspiration from the famous Japanese anime character Captain Tsubasa. Torres' impressive goal scoring form, while he was at one of the local clubs, Rayo 13 drew attention and it was not long before Atlético beckoned.
He joined his darling side, club Atlético Madrid in 1995 at the age of 11 and quickly came through the ranks. On May 27th 2001, Torres made his senior debut with Atletico against CD Leganes in a league game and week later scored his first ever senior goal against Albacete Balompie.
The season 2002-03 was Torres' first season in Spain's top flight league. His fine form caught the eye of English Premier League sides, most notably Chelsea, who approached him with a 27million bid. Despite all the interests from outside, Fernando Torres was named the captain of the Los Colchoneros at the age of 19, living the dream of every Atlético fanboy.
Torres ended the 2006-07season with 14 league goals and in the summer Liverpool came knocking on the door.
Liverpool
Fernando Torres came to Anfield, well knowing that Liverpool was once the home of world class strikers such Ian Rush, Robbie Fowler and Micheal Owen. The then Liverpool manager, Rafael Benitez at the helm of proceedings at Anfield, had high hopes in his new number 9 as a tough 2007-08 season lie ahead. Torres soon made an impact, fitting perfectly into Rafa Benitez's team and gelling in almost immediately. He found the back of the net 33 times that season; an astounding figure for any striker in Europe and finished his maiden Liverpool season in style. Fernando Torres and Liverpool seemed to me like a match made in heaven.
But the 2008-2009 season was to be the last of the definitive Fernando Torres. He had a terrific season with the Reds and helped them finish second. Watching Torres became a treat to the eyes, there was a sense that he would score a goal every time he was on the ball. He scored many crucial goals that season for the Merseysiders, including ones against the likes of Manchester United and Real Madrid.
Playing style
If there was such a thing as a 'no-nonsense striker', Fernando Torres would be the first player that would spring to my mind. "He gets the ball and scores again" is a famous song sung by the Kop(a stand at Anfield) and oh did he do justice to the song!
His eye for goals and presence of mind sets him apart from the rest of the strikers. Pace, strength, and skill are his prime attributes to name a few. As we have seen in the past, he is a master at sniffing out chances in and around the 18-yard-box putting him, at the right place at the right time.
He is the one striker who has made the most of playing alongside creative midfielders such as Xavi, Iniesta and Gerrard. Top defenders such as Fabio Cannavaro, Nemanja Vidic have all had horrid times defending Fernando Torres.
Out of the plenty outstanding goals he has scored, my favorite ones, continue to be the belter against Arsenal in 2006-2007 Champions League and a half volley against Blackburn Rovers at Anfield in 2008.
National Hero
Fernando Torres quite simply is one of the best strikers Spain has ever had. He featured for Spain in major tournaments such as the 2008 and 2012 Euro Cup and 2010 and 2014 World Cups, scoring vital goals in the process. Torres' goal in the 2008 Euro Cup final, in a man of the match winning performance, against Germany will stand out as one of the best goals he has scored for the La Roja.
Chelsea
As a Liverpool fan, I was distraught when it was confirmed, on 27th of January 2011, that Fernando Torres would leave Liverpool and join Chelsea for a British record fee of £50 million. Mixed reactions ranging from burning shirts to farewell testimony and thank you letters were staged by the Liverpool faithful.
With a total of 65 goals for the Reds, he left Liverpool hanging loose in mid-table; out of the race for fourth place, leaving behind only memories.
These big money moves as they say, can either make or break you. Unfortunately for Fernando Torres he was on the unlucky end of it all.
The Londoners had to wait for a snaillike 903 minutes to see Torres find the back of the net in Chelsea colours. To the neutral eye, Torres just wasn't the same anymore. The man who was scoring goals for fun at Liverpool seemed like having an aversion to the goal.
However, throughout his disappointing spell at Chelsea he did manage to show us what he was capable of. Torres ran the length of the pitch and scored against Barcelona in 2011-12 Champions League semi-final at Camp Nou and also scored in the final of the 2012-13 Europa League against Steaua, emerging a winner of the tournament on both occasions.
On 19th May 2011 at Old Trafford, Torres missed a sitter in front of goal, reaching yet another low on his already miserable Chelsea career. I sympathized with Torres after the incident, as his role and capabilities went under the microscope. Even today, I feel that it is a bit unfair that the social media made a very big deal about the incident, putting Torres on the receiving end of shameful criticism casting a shadow over all the positives he did at Chelsea.
Post Chelsea days
Having played under five different managers at Chelsea, on 31st August 2014, Torres moved to Italian side AC Milan, which was made permanent on January 5th 2015. After 6 uneventful months at Milan, it was announced that Torres would make a return back home to Club Atlético Madrid in January.
I was thrilled at the prospects of Torres adorning the red and white stripes again; it was homecoming of all sorts. On 4th January, a crowd of 45,000 turned up at the Calderon for the unveiling of Torres, to welcome back their hero.
Conclusion
Fernando Torres will certainly be one of the most clinical strikers of my generation. While he may not be the first name in a world XI at the moment, he will forever be my favorite striker. On his day, he scored beautiful goals, tormented defenses and was a joy to watch.
At 30 years of age and soon approaching the twilight of his career; I'm sure we haven't seen it all. Like we saw in his recent goals against Barcelona and Real Madrid, it is evident that he still has it in him, and can help manager Diego Simeone and Atlético clinch another Spanish league title. I for one hope that he can put the tough times behind him and be the dangerous striker he once was.