The Tale Of Two Cups: Sevilaa Vs Barcelona, Inter Milan Vs Roma
950 //
21 Aug 2010, 16:14 IST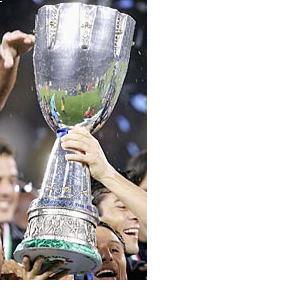 On Saturday , football fans would witness two pre season cup clashes as the Italian supercoppa and the Spanish supercopa takes place . With nothing other than grabbing the headlines and the bragging rights in their quest for league triumph , the matches generally turns out to be an interesting and fans are able to witness free flowing soccer . The match also tells us the amount of preparation of each team before the start of the all important league .
Inter Milan enjoyed their best season last year when they achieved the near impossible dream of treble under Jose Mourinho . With the special one taking charge of Real Madrid , Inter Milan no time and signed the arrogant yet a highly successful Rafa Benitez .Termed as the wizard of European nights , many thought that he was the right man to take inter Milan further forward . and it is now time for him to prove them right and shut the mouth of many detractors who had always blasted him for his negative tactics . The players are firmly behind him and with the core group of players being successfully retained , fans can expect another fruitful season for the nerazzuri . Inter Milan have no injury worries and they are likely to put in their best squad for the cup clash .
Roma have been the main obstacle in the path of inter Milan for the last 4-5 seasons . led by their inspirational captain Francesco Totti , they have come very close to securing the seria a title on many occasions . last season , under Claudio ranieri , they managed to reach the summit but failed to keep their position intact . over the years , roma have build a strong team and with the recent signing of former nerazzuri player Adriano , the confidence is sky high ..
Over to spain , pep guardiola would be ruing the absence of their world cup stars as they look to turn the deficit of the first leg in their favour . although the world cup stars have been training and are near match fit , it is expected that guardiola would be resting some of them in order to ensure thay are match fit before the opening game of lal liga .
"Some of them are not ready to play 90 minutes, but others are because they had been doing working previously," he said today.
"We need more time for the internationals – perhaps another two weeks."
Sevilla have an interesting statistic to look upon as they go to the nou camp in search for another silverware . they had won twice at nou camp during their successful copa del ray stint , most famously defeating atletico 2-0 in the final . and their coach Antonio Alvarez is desperate to make it three in a row by clinching the supercup at the same venue .