The Young and the Restless - EPL Top Picks
718 //
07 Aug 2010, 19:55 IST
We're just a week away from the much anticipated season opener of the Barclays premier league 2010-2011 . Expecting some fireworks from some of the youngsters who will look to pit their wits against the big boys ? Here's a look at some of the best bets.
Criteria :
1) Under 21 players as of 1st January 2010.
2) Players expected to get actual playing time with the first team.
GoalKeeper
Vito Mannone (Arsenal , now 22)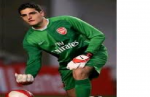 With slippery Fabianski and butterfingers Almunia  significantly contributing to  yet another trophy less season for the Gunners , Vito may just be able to step up and  heal  Wenger's Achilles  Heel . Branded  'The Don" , by the British press for his man-of-the-match display against Fulham .  A good reflex goalkeeper who will blossom with age .  Italian Job for Venga(r)boys!
Left Back
Jerome Boateng (Manchester City , 21)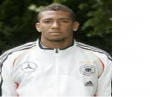 A 12.5 million pound signing from Hamburg, he brings with him versatility  in plenty. Impressed for Germany as a tough tackler and swift runner down the  left and could break bridges for Wayne at Eastlands. Defend thy Citizens!
Centre Half
Jack Rodwell (Everton,19)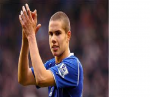 Who would turn down a 15 million offer from Manchester United ? Well , Jack Rodwell …Very much in the Rio Ferdinand mode , he can stamp his authority on a football game. Never afraid to throw in a tackle or run a swift counter attack . Effectively used at Goodison Park as a central midfielder although he prefers the centre of defence .  Prized  t(r)ophy for  Toffees!
Centre Half
Phil Jones (Blackburn,18)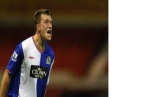 Rewarded for a breakthrough season for Blackburn with a call up to the England U-21 side . He is seen as a long term replacement for the ageing Ryan Nelsen and could benefit with playing time when Blackburn's best "striker" Christopher Samba  is sent bombing forward .  A no nonsense defender brimming with confidence after some stellar performances at the back end of last season.  A blessing of thorn for the Roses at Ewood Park !
Right Back
Rafael Da Silva(Manchester United , 20)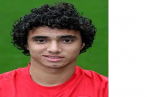 Quick, good at the overlap and the ability to track back at pace.  With the ageing Gary Neville unable to put in a regular shift at right back , this could be Rafael's big break.  The Red Devils would be hoping the ghosts of Munich to be exorcised.  Baby's day (and year) out!
Left Wing
Gareth Bale ( Tottenham , 21)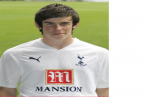 At 6 feet, he stands head and shoulders above any left sided midfielder in the Premier League, figuratively as well as literally. Good pace and certainly the eye to thread a pin point pass with that magical left foot.  S(u)pur man!
Defensive Midfield
Steven N'Zonzi ( Blackburn ,21)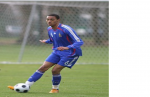 He has cemented his place at the heart of the Rovers midfield with some rock solid displays. At 21 , and very much in the Patrick Viera mode , N'Zonzi's made 33 first team appearances in 2009-2010 season. A combative defensive midfielder with a good passing range  from deep positions.  Big Sam's big, hard, crunchy French Toast!
Attacking Midfield
Jack Wilshere ( Arsenal , 18)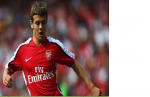 The potential midfield general calling the shots for the gunners. With the departure of Fabregas to Barca seeming imminent sooner or later and the unfortunate Ramsey's  struggles with a broken leg , he will be thrown in to display his wide range of incisive passing and ability to run at rival defences. Jack of (and at the tip of the) Diamonds!
Right Wing
Giovanni Dos Santos (Tottenham ,21)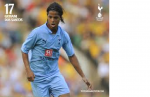 Undoubted talent and hope wily old Harry to turn that potential into a commodity for Spurs.  With the injury prone Aaron Lennon and the seemingly out of depth David Bentley, expect Giovanni to stamp his mark this season after a good World Cup .  G I Joe to the fore!
Striker
Javier Hernandez ( Manchester United, now 22)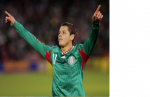 The Little Pea has sprouted out from his pod, rather burst out of it , clocking the fastest times at the recently concluded FIFA World Cup and banging in some friendly goals.  Speed and agility coupled with some deft touches and neatly timed runs augurs wells for a Man U attack which is over reliant on Wayne Rooney .  Best Supporting Actor in the Theatre of Dreams!
Striker
Andy Carroll (Newcastle,21)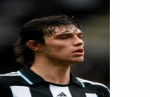 Described by Gainluigi Buffon as "a paintbrush striker" for his sublime finishing touches to attacking   moves. Good strength to hold off defenders, a powerful shot and excellent heading ability.  Shearer of the Toon Army!
Others
Chris Smalling ( Manchester United ,19)
Dedrik Boyata ( Manchester City , 20)
Sam Hutchinson (Chelsea ,21)
James Tomkins (West Ham , 21)
Martin Kelly (Liverpool ,20)
Mathew Briggs (Fulham , 19)
Micah Richards (Manchester City , now 22)
James McCarthy ( Wigan ,21)
Victor Moses ( Wigan , 20)
Lee Cattermole ( Sunderland ,now 22)
David Hoilett ( Blackburn ,20)
Aaron Ramsey(Arsenal ,19)
Danny Rose (Tottenham ,20)
Theo Walcott (Arsenal ,21)
Marc Albrighton( Aston Villa ,20)
Fabian Delph (Aston Villa ,20)
Fabrice Muamba ( Bolton , now 22)
Tom Cleverley (Manchester United ,21)
Gael Kakuta (Chelsea,19)
Emmanuel Frimpong (Arsenal,18)
Jack Collison(West Ham,21)
Junior Stanislas (West Ham,20)
Danny Welbeck (Manchester United ,20)
Fredrico Macheda (Manchester United ,18)
Franco di Santo ( Blackburn ,21)
Zavon Hines ( West Ham ,21)
Nikola Kalinic (Blackburn ,now 22)
Carlos Vela (Arsenal ,21)
Nathan Delfouneso (Aston Villa ,19)
Daniel Sturridge ( Chelsea , 21)