The 10 Most Influential Captains of the Modern Era: Raúl González Blanco
10.39K //
04 Nov 2012, 17:11 IST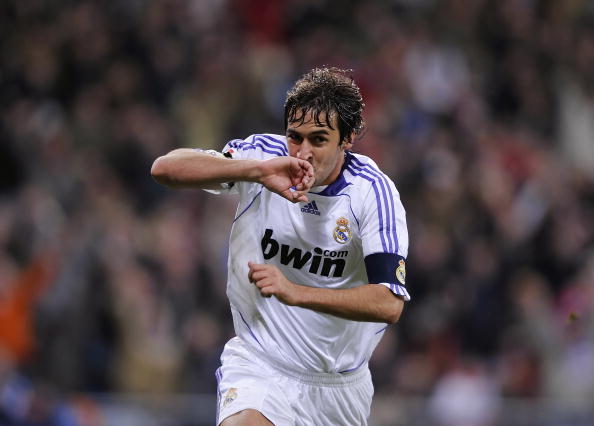 When you are asked to write about someone who has influenced your life, it is huge. I had a man crush on him, well for a certain period. The guy was much more than a football player, captain or symbol; he was someone who made you love the game, love Spanish football more and more. I am talking about Raúl González Blanco. I was devastated when he left the club. I swore that I wouldn't support Real Madrid anymore, not the Madrid which has no Raúl in it; but eventually my love for the club grew back.
Raúl was born on June 27, 1977 into a working-class family in Colonia Marconia, a modest suburb of Madrid, and began playing football with San Cristóbal de los Ángeles del Villaverde. In spite of being a Blanco, he wasn't born into a Madridista family, more like the opposite. His father was a huge Atlético de Madrid fan. Not surprisingly, his father took him for trials at the Vicente Calderon when Raúl was thirteen.
He started playing for the Atlético youth team, and eventually ended up winning the league twice with the Cadete team. Even at that age, his touch was a little suppler, a little classier, and a little more assured than anyone else around him. Although it wasn't something that was going to last forever. After an early-90s recession hit Europe, Spain was knee-deep in muck and club president Jesús Gil was forced to abort the youth system due to financial issues.
He was heart-broken, it was like a dagger had been pierced into his heart. Although after a couple of days, the unexpected happened. He got a phone call from his ex-team's direct rivals. "Mrs. Gonzalez, we'd love to invite your son over for a trial." He was thrilled, and every day, he would make the hour long trip across the town to prove his mettle to the people who'd given him another chance. Later, impressed by his performance, Raúl was snapped up by rival Real Madrid, which can probably rated as the cheapest and best signing of all-time for the Spanish giants.
Then came in the phase in his life that would change him for good. He was fifteen and settling up to a new team wasn't really difficult for him. He scored 71 goals in 33 games while playing for the Cadete team in the first season, and then was promoted to the Juvenil C team and subsequently went on to play for their Juvenil B and Juvenil A team. Statistically, he scored 16 goals with the C team, played one game for the B team and then eventually promoted to the first team by coach Jorge Valdano, filling in the massive boots of Emilio Butragueño, who was approaching the end of his career.
"I think he is the greatest player to have ever played the game. He walks on the turf and astounds. It is utterly amazing.

— Luís Figo on Raúl.
Raul's dream to play for the first team was achieved in October 1994 in La Romareda of Zaragoza. It wasn't the start he would have hoped for, as Madrid succumbed to a 3-2 defeat. Nonetheless, he did create a goal for Iván Zamorano. A week later, he would go on to score his first Liga goal along with an assist, that too against Atletico, the club he started out in. Gradually, he cemented his place in the team and ended up scoring nine goals in 28 games in the season, thus helping Real Madrid win the 1994–95 Liga Title, the first of that decade. When you watch him play closely, it is fascinating. The grace and attitude stands out, but above all the intelligence is what strikes you.
Raúl turned out to be much more crucial in his second spell with the club, tallying 19 goals. He was even considered for a berth in the Spanish National team for Euro 1996, although then-coach Javier Clemente Lázaro decided to not call him up, given he was just eighteen. Raúl had already represented the nation at the FIFA U-20 World Cup 1995. The next season turned out great as well, as Real Madrid retained the league title with Raúl netting 21 times. His third season with Real Madrid went down in the Real Madrid history books as the the club ended a 32-year wait for another European Champions Clubs' Cup title defeating Italian giants Juventus 1-0 in Amsterdam. In 1998-99, he won the Pichichi scoting 24 goals, an achievement he repeated in 2001-03 with 25 goals, in a season which had the added satisfaction of yet another Liga title.
He was more than just a player, he was a team player who had a natural footballing brain. He had the ability to read the game and lift his teammates' spirits during tough times. He was the ideal choice to wear the captain's arm band after fellow veteran Fernando Hierro decided to step down. Ex-Spanish national coach Luis Aragones describes him as a 'blood donor' who would do anything for his team. During this period, Raúl and Real Madrid also won three UEFA Champions League trophies in 1998, 2000, and 2002 – quite an achievement in itself.
Talking about achievements and records, Raúl had many of them. He was the first player in Champions League history to score 50 or more goals, and is still the all-time top scorer in the competition with 71 goals. He was also the first player to score in two Champions League finals, netting in two finals against Valencia and Bayer Leverkusen. In terms of Liga goals, Raúl scored 323 goals for Real Madrid, which is the highest in numbers. He is also the top active La Liga goalscorer with 228 goals in La Liga matches, and is presently third on the all-time list, which is headed by Telmo Zarra with 252 goals. He is also one of the few players who have never received a red card in their career.
"I hope he doesn't like travelling, Failing that we will stop him entering the country. Real buy these big players like Figo, Zidane and Ronaldo but I think the best player in the world is Raúl."

— Sir Alex Ferguson.
His journey with team wasn't always this sweet and easy. Especially during the 'Galactico' era after the arrival of big names like Luis Figo, Zinedine Zidane, David Beckham and Ronaldo. He had to play a more deeper position and his goal tally reduced considerably. Raúl hated the word 'Galactico' and everything it stood for. Raúl still managed to keep his calm amidst all the glam and marketing ventures, and maintained the core principles that represented the emblem.
However with the arrival of Fabio Capello, the team was able to find stability. He regained his lost form, and his partnership with Dutchman Ruud Van Nistelrooy was lethal. Real Madrid's 30th League title last season was his fifth so far, although it was far from perfect. He was dropped from the National team, and a huge debate emerged over this. Most of the people couldn't have though of a Spanish National team without Raul, but there were also many people who supported Vicente del Bosque with his decision. After the 2008-09 season, things just fell apart. Raúl continued as a leader, but the team wasn't worthy of someone like him, leaving Iker Casillas as the captain.
Questions started to arise if Raúl would continue or not. He would never play for any other team apart from Real Madrid, that is what he had in mind. But every fairy tale has an end, and this was no exception. Raúl played his last game in the Blanco shirt, scoring his last ever Real Madrid goal against Real Zaragoza, coincidentally at the stadium he made his debut in 1994.
He joined Schalke 04, a Bundesliga team on 28 July 2010, which turned out to be one of the darkest days in Real Madrid history. He continued to score there, and was adored by Schalke fans too. Suspicion regarding his work ethic on the pitch was dispelled soon as his propensity to flourish in UEFA competitions saw him lead Schalke to the Champions League Semi-finals, knocking out reigning Champions Inter Milan along the way. So passionate was the club towards him, that they decided to retire the iconic No. 7 shirt in his memory when he left them for Qatar based Al Sadd. That was huge, given he was there for only two seasons.
To write or to speak of Raúl is to do so of a friend, not a teammate. Our friendship transcends the locker room and transfers to our personal life. We always went out and go out with our families when our profession permits it. When I was playing in Monaco and Liverpool, he came to see me and made my life outside of Spain easier.

— Fernando Morientes on Raúl.
In the modern game, he is a true anomaly: a man whose phenomenal talent is matched only by his incredible dignity. Despite not bidding the sweetest of farewells, I know his role with Real is surely not over and he will return, maybe as a manager. Who knows? He was a true captain and the face of the club; a player every new footballer could look up to. He was a Madridsta, and represented club values and I have nothing but wishes for the man whose devotion towards the game is an inspiration. Thank you,  'El Angel de Madrid'.
Here is my favorite Raúl moment: