Top 10 midfielders in Europe (2012/2013)
21.89K //
17 Mar 2013, 12:30 IST
Disclaimer: The views expressed in the article are those of the author and do not necessarily reflect that of Sportskeeda.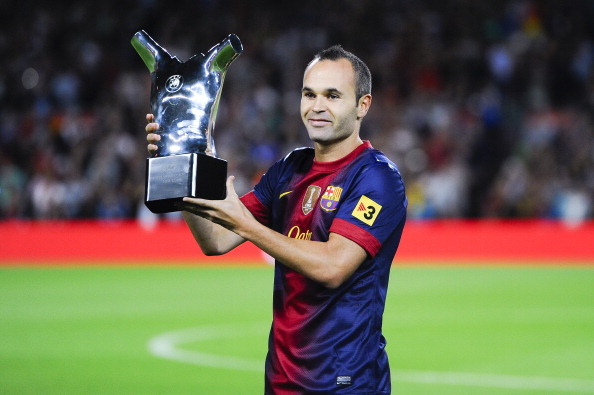 A match on the football pitch is run by these gems. Midfielders are the players who are the engine of the team. The link between defense and attack, they can split an opposition defense with one pass or make a crucial tackle to deny a scoring chance for opponents. This article looks at the top 10 midfielders currently playing in the various football leagues of Europe.
10. David Silva (Manchester City)
A key member of the Manchester City midfield, David Silva has established himself as one of the most talented players in the world. His passing skills and possession abilities have led to his team mates calling him "merlin". Silva can break open any team's defense with his razor sharp passing and silken touches. Also adept at dead ball situations, Silva is one of the outstanding Spanish midfielders of this generation
9. Steven Gerrard (Liverpool)
Having played every minute of the Premier League this season for Liverpool, Steven Gerrard has led the Liverpool side admirably in the past few months. Having scored 8 goals and 9 assists this season already, Gerrard remains one of the finest midfielders in Europe even though age seems to be catching up with him. A one-club man, Gerrard has blossomed as a creative midfielder with limitless energy, who is renowned for scoring crucial goals at crucial times. A real leader, Gerrard is a tireless runner and has superb vision. A true hero at Anfield, Gerrard truly deserves the word 'legend'.
8. Eden Hazard (Chelsea)
A true gem in the Chelsea midfield, Hazard primarily plays as a winger or an attacking midfielder. Hazard is known for his creativity, speed and technical ability, and is described as a fearless, explosive attacking midfielder who can change the game with a turn of pace or a dribble. He has also been described as a defender's nightmare, and has earned much acclaim for his playing style, which has led to the media, coaches, and players drawing comparisons between him and Ballon d'Or winners Lionel Messi and Crisitiano Ronaldo. Hazard has definitely been the signing of the season for Chelsea.

7. Xabi Alonso (Real Madrid)
Xabi Alonso has been the lynch-pin of the Madrid midfield for 4 seasons now. Alonso is well known for his passing ability and is considered to be one of the best passers in the world. Playing in a deep role for Madrid, Alonso links the defense and the attack of the Madrid team. His passing can break open the best of defenses, and his positional awareness has been invaluable to Madrid on numerous occasions this season. One of the first names on the team sheet, Alonso is truly an exceptional midfielder.
6. Juan Mata (Chelsea)
This Spanish magician is more often than not the creative spark for Chelsea at the centre of the field. Blessed with a mesmerizing left foot, Mata also has stunning close control, astonishing free-kick taking abilities and a wonderful eye for goal. Playing in the number 10 role for Chelsea, Mata often leaves an awestruck defense gaping open mouthed at his supreme skills. Almost perfect at all aspects of the game, Juan Mata is truly a midfield maestro.
5 . Andrea Pirlo (Juventus)
The master puppeteer in the centre of the midfield for Juventus, Andrea Pirlo is pure class. Usually deployed as a deep lying playmaker, Pirlo has been given the nick name l'architetto, meaning "the architect" as he builds the moves for his team. Blessed with supreme close control, amazing vision and a deadly right foot, Pirlo has carried Juventus entirely on his own shoulders on many occasions. One of the best players in the past year, Pirlo is a real game changer and is an asset to any team.
4. Mesut Ozil (Real Madrid)
The talented German has become an integral part of the Real Madrid team under Jose Mourniho. Ozil is acclaimed for his finesse and improvisation as an attacking midfielder. His style and knack for providing assists for his team-mates has been compared to that of Real Madrid legend Zinedine Zidane. Always having a key to unlock any team's defense, Ozil has formed a deadly combination with Cristiano Ronaldo for Real Madrid. 

3. Xavi Hernandez (Barcelona)
The mainstay of the best midfield in the world, Xavi has been phenomenal season after season for Barcelona. Regularly nominated for the Ballon d'OR awards, Xavi, this season, has been slightly below his best. However, his standards are so high that even when he is not at his best he takes the number 3 position in this list.  Xavi's abnormally good vision, pinpoint accurate passing and world class ball control allow him to dictate the flow of play whilst rarely relinquishing possession. His ability to completely control some matches has earned him the sobriquet, "The Puppet Master".
2. Bastian Schweinsteiger (Bayern Munich)
The vice captain of a very impressive Bayern Munich side, Schweinsteiger has been one of the main reasons for Bayern's dominance this season. Not only integral in attacking moves for Bayern, Schweinsteiger also plays a huge role in the defensive responsibilities for Munich. Bastian Schweinsteiger has excellent dribbling skills, ball control, precise passing and good tackling capability. He also takes set-pieces. Dubbed the "Midfield Motor", Schweinsteiger is also a superb reader of the game and has scored spectacularly due to his good positioning. All in all , Schweinsteiger is a dream player for any manager .
1. Andres Iniesta (Barcelona)
The diminutive Spaniard has been astonishing the footballing world since 2005 and there are no signs of him slowing. A true gem in the crown of the Barcelona midfield, Iniesta almost has a telepathic understanding of his team mates positions. Always setting up goals or scoring crucial ones, Iniesta is truly a big match player. Much like other Barcelona youth products such as Guardiola and Xavi, Iniesta relies on exceptional creative passing, intuition and inventiveness to control the midfield and dictate the ebb and flow of play. Iniesta has been absolutely astonishing this season and he is the best midfielder in Europe and also the world for the 2012/2013 season.
Honourable Mentions
Michael Carrick (Manchester United), Yaya toure (Manchester City), Cesc Fabregas (Barcelona), Frank Lampard (Chelsea), Santi Cazorla and Jack Wilshere (Arsenal), Mario Gotze (Borrusia Dortmund)
Disclaimer: The views expressed in the article are those of the author and do not necessarily reflect that of Sportskeeda.