Some managers etch their names into history because they change the game. It is because of them that we think about football in the way we do. They are the visionaries, the ones who see the sport in a different way and force us to forget all we know about how 11 players should function on a pitch.Here are the top 10 tacticians that changed the game of football.
#10 Arsne Wenger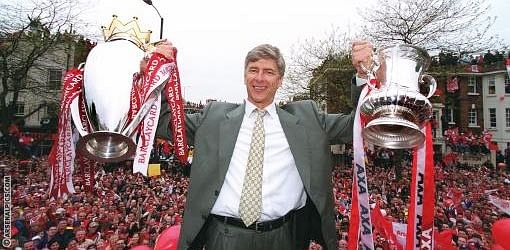 Arsène Wenger is ranked above managers who have won more and with very good reason.
The Frenchman changed the nature of elite football training, introducing dietary changes and making player lifestyle an important aspect of training. He shifted the focus from the physical to the technical—even basic stamina work involved a ball.
The results were spectacular. In his first full season, he became the first foreign manager to win the double.
Wenger reached his high point in 2004, when his 'Invincibles' won the Premier League without losing a single game. They went on to extend their unbeaten record to 49 games, making them arguably the greatest team in Premier League history.
Led by captain Patrick Vieira, opposing sides had neither the athleticism to cope with Arsenal's speed in attack nor the guile to break down its well-organized defence.
The Professor, as he is called for having a masters degree in economics, helped oversee the club's move to the Emirates, managing to keep Arsenal competitive through this transition despite having less to spend on players and wages.
This change of scenery made Wenger abandon his 4-4-2 system and instead adopt a more cautious 4-5-1 system that focused on keeping the ball.
Wenger revolutionized not only the Gunners' game, but also that of English football.
#9 Sir Alex Ferguson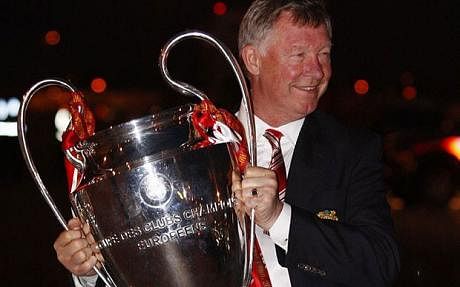 Sir Alex Ferguson was known for his ability to stay ahead of an ever changing game. That becomes very crucial especially if you have a management career spanning over 30 years. Add to that the winning mentality he fostered every season – and you have the makings of a tactical genius.
Ferguson predominantly played a fluid 4-4-2 system that was known for its wing play. It excelled at absorbing pressure to launch swift counter attacks.
The biggest strength of his teams was their quickness in transition of team shape.
The reason United were so successful under Ferguson was because of his tactical variation. It was difficult for the opposition to defend against United due to their different varieties of play.
After his retirement, this became all too clear when United finished a miserable 7th using predominantly the same squad that he had used to win the title a season earlier.
With a remarkable 28 major trophies in his 26 years in charge of Manchester United, I doubt if his success and longevity at a single club will ever be matched again.
#8 Pep Guardiola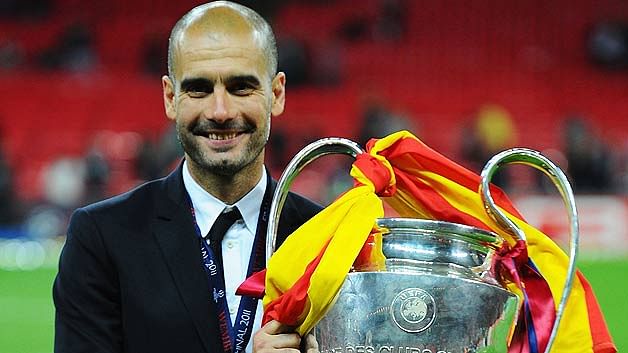 Pep Guardiola had attained fame as a great defensive midfielder in Johan Cruyff's 'Dream Team' of 1992. With that philosophy in mind, Guardiola took over FC Barcelona in 2008.
The 37-year-old immediately implemented his ideas, improving standards of fitness and did the unthinkable by selling star players like Ronaldinho and Deco to make way for hungrier young talent. Fast forward 12 months and Barca had won the treble for the first time in their history.
His teams combine supreme technical quality with unwavering discipline. Often monopolizing the ball with fast-paced passing, their pressing and statistical dominance has been unparalleled.
Under him, tiki-taka reached new extremes. His idea was to try and form triangles all around the pitch and maintain ball possession, something his teams excelled at because they maintained the right shape consistently throughout a game.
His use of Lionel Messi as a 'false nine' was another one of his genius tactical adjustments.
Still only 43, Guardiola has ample time to be regarded as the greatest ever.
#7 Herbert Chapman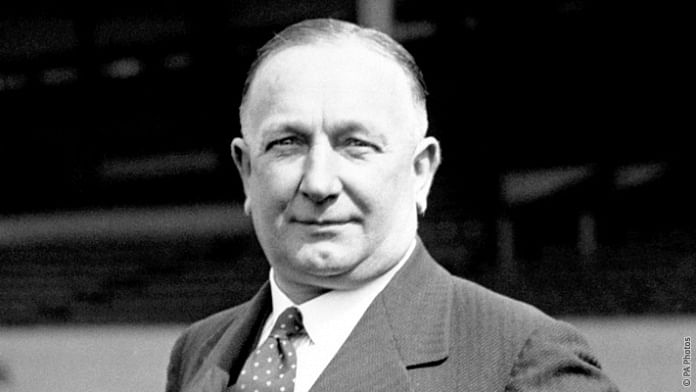 Englishman Herbert Chapman was one of the first modern football managers.
He proved himself an innovative coach by realizing the importance of physical fitness and subjected his players to a strict regime of physical exercise. He was also one of the first coaches to add physiotherapists to the staff.
Chapman's biggest successes came during his time at Arsenal who he established as one of the best sides of English football.
He shunned the popular 'kick-and-rush' approach in favor of a more measured counter-attacking game that saw the midfield drop deep to afford the forwards more space in which to operate.
He was the mastermind behind the introduction of the 3-4-3 formation, aptly named the W-M for how the players line up in a formation which spells out the two letters.
It was the first prototype of a counter-attacking system which would be used several times in the future.
This was his greatest legacy.
#6 Jos Mourinho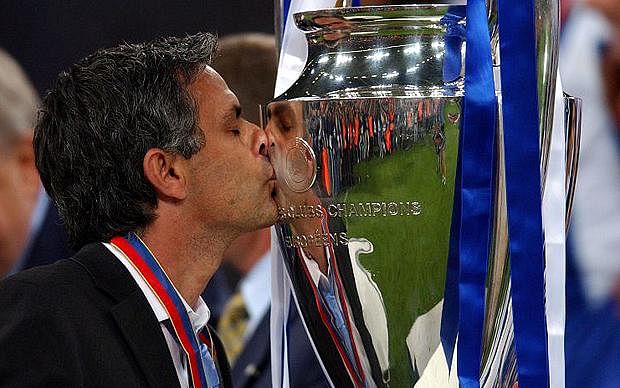 While many managers are capable of getting the best out of their players,none have the ability to make men believe they are world beaters likeJos Mourinho can.
Could any other manager have led a side that included Pedro Mendes, Nuno Valente and Derlei to European glory? I highly doubt it.
He can see things happening in a match that seem to be invisible to most. He can thus change the equation of a game to benefit his own side, something that trulymakes him the Special one.
A hallmark of a Mourinho team is their near-flawless defensive organization and incredible efficiency on the counter-attack.
Regularly playing with a compact 4-2-3-1 system, the Portuguesedoes what he believes is required to win. Thats why he was able to beat a seemingly unstoppable Barcelona side with a meager 16% possession on his way to theChampions League crownwith Inter Milanin 2010.
Mourinho is quite simply a guarantee of success. Twenty trophies in 13years, across four leagues, is an outstanding record by anyones standards.
Now in his second spell at Chelsea, you wouldnt put it past him to add to his already impressive CV.
#5 Bill Shankly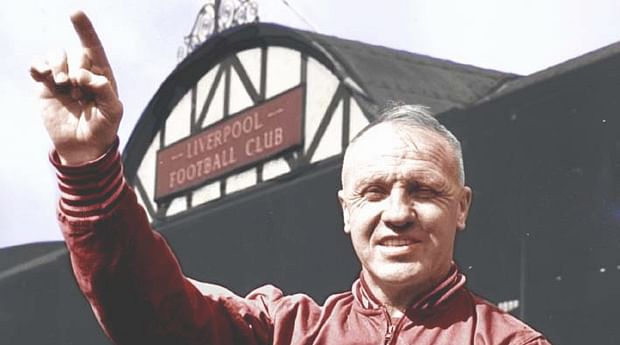 When Bill Shankly arrived at an outdated Melwood training ground in late 1959, Liverpool didn't know what it was like to compete in Europe. By the time he left, he had transformed Melwood into a top class facility and taken Liverpool from a struggling second division team to being the best side in the country.
Shankly believed that the continental system of possession based tactics and strategies could be successfully implemented into English football. Possession, for him, was everything and there was no sense in having defenders who simply kicked the ball long and hard at every opportunity. He thus deployed central defenders who had the technical qualities of midfielders with great distribution, awareness and an excellent reading of the game.
He went on to build a side, known as the 'Red Machine,' where each player was comfortable on the ball and had the intelligence to efficiently use possession.
He had a vision when he arrived and wasn't afraid to make difficult decisions that he knew would benefit the club in the future.
His successor Bob Paisley went on to be more successful than him but Shanks will always be remembered as the man who built the Anfield empire.
#4 Johan Cruyff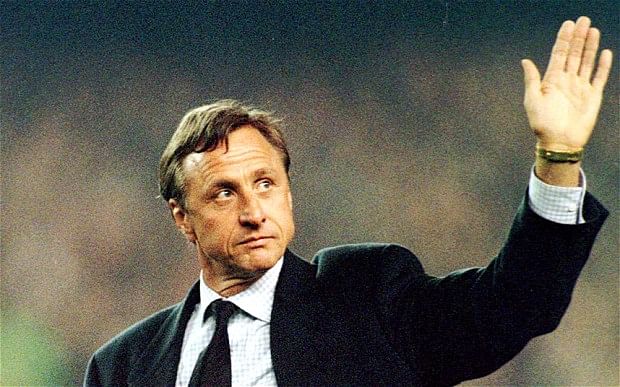 Building on the 'Total Football' legacy of his mentor Rinus Michels, Johan Cruyff proved himself the most unrelenting advocate of attacking football in the history of the game.
Cruyff was frustrated with the overly physical game that was dominant during his own playing days. He instructed his players to concentrate on keeping the ball by using intricate combination plays which made the ball do all the work.
He began his coaching career at Ajax, but it was at Barcelona that his revolutionary vision of a free flowing attacking style of football was realised. It was there that he assembled what was fondly remembered by Catalonians as the 'Dream Team'. They succeeded in winning a host of domestic trophies as well as the first European Cup in the club's history.
His team, featuring the likes of Pep Guardiola, Ronald Koeman and Hristo Stoichkov, played an attractive brand of possession football in a flexible 4-2-3-1/4-3-3 system.
His legacy continues through Ajax and Barcelona who have developed their youth academies around his coaching methods.
Cruyff's football philosophy has influenced many notable managers such as Pep Guardiola, Arsène Wenger, Michael Laudrup and Frank Rijkaard making him one of the most influential figures in football history.
#3 Helenio Herrera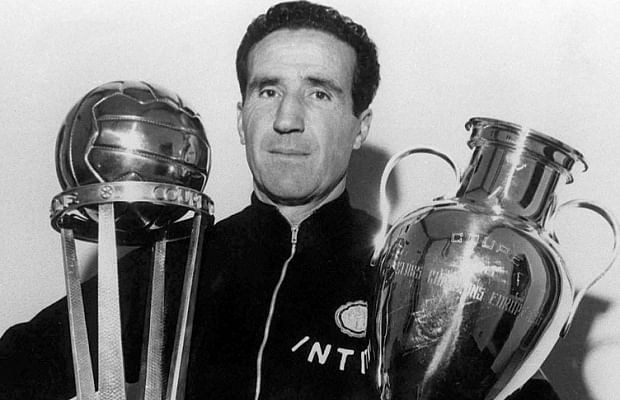 Depending on your point of view, Helenio Herrera changed the game for better or for worse. This is because Herrera is widely recognized as the inventor of the ultra-negative 'catenaccio' system, which favored quick counter-attacks from a tight defence. (Remind you of a certain Jose Mourinho?)
But he wasn't all about parking the proverbial bus. He established a new style of play that greatly affected the future of European football.
Before him, the manager was a more marginal figure, but Herrera's insistence on the power of tactics combined with fitness, psychology and self-discipline changed our perception about the role of the football manager forever.
He played with a sweeper behind his defensive line whose role was to stop any forward that escaped from the grasp of the center-backs and restart the counter-attack.
He improvised this further by moving a midfielder into the sweeper's position, creating a back five and thus liberating the left-back to attack at will.
This system won him 2 European Cups and a host of domestic trophies.
Herrera was a man before his time, and should be regarded as the greatest thinker the game has ever known.
#2 Victor Maslov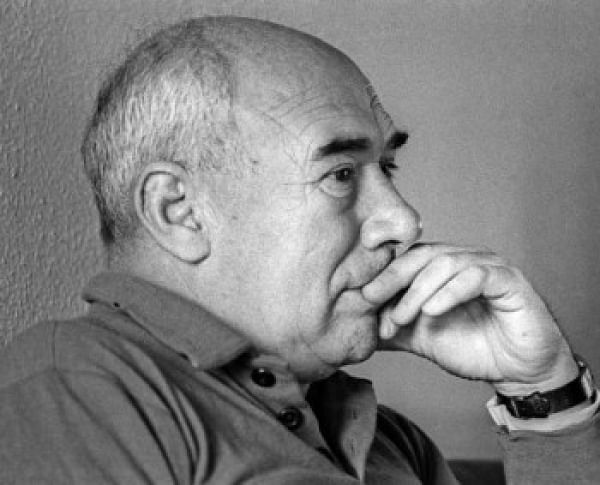 Having studied the Brazilian 4-2-4 formation at the 1958 World Cup, Viktor Maslov saw a visible flaw. He felt that there were gaping holes left down the wings between the full-backs and the wing-forwards. He then developed the famous 4-4-2 formation by deciding to drop both of his wingers back to create a midfield quartet.
The Russian found the right balance between defense and attack by narrowing down the open spaces on the wings.
Maslov's 4-4-2 was proactive. His holding midfield player, who played like a sweeper, was the initiator of attacks.
He also introduced the tactic of zonal marking by pressing and squeezing the opposition high up the pitch, something we see used by teams even today.
Off the field, Maslov put particular importance on his players' nutrition and dietary routines and ensured that his team remained fit throughout the season.
Maslov had a profound impact on football which is why it is sad that his name has been lost amongst greats such as Herrera, Michels and Cruyff.
#1 Rinus Michels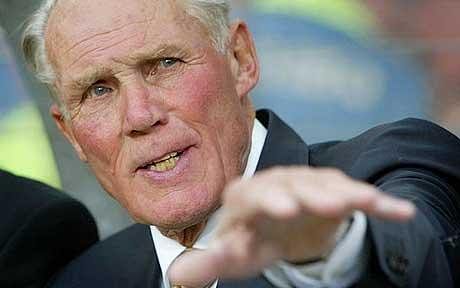 Rinus Michels was the pioneer of 'Total Football' and is regarded as the father of modern football.
Total football is an attack-oriented strategy where players have no definite position and are capable of playing in any given outfield position with equal proficiency at any given time.
The Dutchman added discipline to this template by introducing a hard working pressing game. At Ajax, he used a 4-3-3 formation that centered around Johan Cruyff, and won the European Cup as well as several domestic trophies.
It was Michels who first established the principle of schooling young players in a way similar to the first team so that each successive generation would play in the same way. So it is not too much of a stretch to suggest that many of the youth development principles currently used across Europe were seeded by him.
He took over the Dutch national reins in 1988 and won the European Championship, their only major trophy till date.
Such was his greatness that FIFA declared him the Manager of the century.