Top 15 young players to sign in career mode on FIFA 13
These are the 15 players that have really impressed while I've 'managed' Dortmund, Newcastle, Milan and Liverpool. Cheap and worth every penny, the following players are young, and will grow to become brilliant footballers.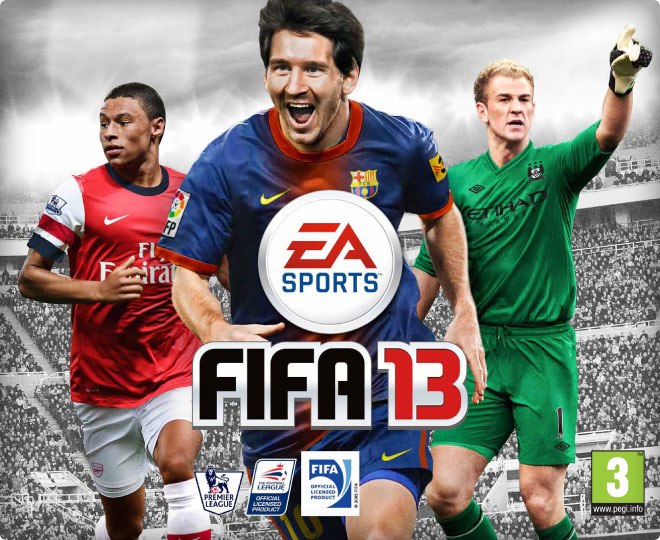 Goalkeeper
Ter Stegen, Borussia Mönchengladbach, 20 years old, OVR – 80, $20 million
Simply, THE best goalkeeper I've played with. I mean, I didn't really need him at Newcastle, Krul was good enough; but I made it a point for this guy to be my first purchase at Dortmund, Liverpool and Milan. Starts off with all of his goalie traits at around 80, improves massively to become the best goalkeeper, hands down. His current overall is 88 after 6 seasons and he simply is brilliant. No other goalie suggestions from me.
Danilo, FC Porto, 20 years old, RB/CM, OVR – 77, $10-15 million
Starts off with fairly good stats with a sprint speed of 90 and stamina of 81, making for a very pacy fullback who will last the 90 minutes. Decent crossing and dribbling abilities, has that knack of scoring a goal or two at times.Improves from 77 to around 86-87 after 7 seasons.
Musacchio, Villareal, 21 years old, CB/CDM, OVR – 77, < $10 million
Okay, yes, I agree an overall of 74 is low for a 21-year-old but trust me it rises very very quickly. He is currently 24 years old in my career mode with an overall of 84, so that should explain it. Rock solid at the back, has decent pace, and is a threat at set pieces.
Mangala, FC Porto, 21 years old, CB/LB, OVR – 77, $10 – 15 million
Another player brought up by FC Porto, Mangala is a strong and pacy centre-back, perfect for those counter-attacks where you need your defenders back in to position quickly. Starts off with strength rating of 82, pace 79 and stamina 74. Ratings increase to 85-86 in a couple of seasons.
Varane, Real Madrid, 19 years old, CB/CDM, OVR – 76, $10 million
A substitute defender for those little injuries to your main centre-backs and the occasional starter, no more. Decent stats, normal ratings grow to 84 after 4 seasons.
Mbaye, Inter Milan, 17 years old, LB/RB/CB/CDM, OVR – 71, < $10 million
With a sprint speed of 85 to start off with, strength and stamina at 79, this guy is an absolute beast. An incredibly versatile player, he can play for you anywhere in your defence, and can even do the job of a holding midfielder if the situation demands it. A steal for less than $10 million if you ask me. Physical attributes jump through to the 90s after 6-7 seasons, with an overall rating of 85-86.
Willems, PSV Eindhoven, 17 years old, LB, OVR – 71, < $10 million
Another one of them 17-year-old I absolutely love playing with (however wrong that sounds). May not be as versatile as his Inter Milan counterpart, but is equally good (if not better) at left-back. If ratings are to go by, he betters Mbaye, growing to 86 at 24 years old with all his physical attributes in their 90s.
Gundogan, Borussia Dortmund, 21 years old, CM/CAM/CDM, OVR – 80, $20 million
A perfect professional footballer in my opinion. Injury free, good work rate and he doesn't complain when he's benched. Plays the holding role exceedingly well, chips in with the odd assist or two, a goal if you're lucky. Ratings grow to 88 after 4-5 seasons, a shrewd buy.
Pogba, Juventus, 19 years old, CDM/CM, OVR – 72, $10-15 million
Low starting overall and unimpressive stats, you must be wondering what this Manchester United reject is doing on this list. This guy proved to me that ratings sometimes don't matter at all. He's, simply put, a beast on the field. Exceptional strength, dispossesses players very easily, and is a treat to have on your side, not so good for the opposition. A very fiesty holding midfielder, has incredible shot power for clearances as well as occasional goals.
Adryan, Flamengo, 17 years old, CAM/CF/LW, OVR – 73, $10 million
This Brazilian with decent physical attributes can play either in the heart of midfield in a playmaking role, or can play upfront occasionally for those annoying little injuries. Expect plenty of assists and goals with this guy's vision, passing and shot accuracy. Overall ratings rise to around 85-86 after 6-7 seasons.
Ahmed Musa, CSKA Moscow, 19 years old, RM/ST, OVR – 72, $10 million
Exceptional physical attributes, with four out of the eight in their 90s, this guy can play for you in the right of midfield or right up front. Scores and makes goals at will, incredibly pacy, beats almost every defender in the game with his sheer pace, good crossing abilities as well make him a very valuable signing.
Ramirez, Southamption, 21 years old, CF/CAM/ST/RW, OVR – 78, $20-25 million
Slightly on the costlier side to make this list, but trust me this guy is epic. Incredibly versatile, can play in midfield as well as lead the attack; is a predator, he can literally score from anywhere inside 30 yards with his awesome shot power and accuracy. Ratings improve rapidly, reaching 88 by the time he becomes 24 years old.
El Shaaraawy, AC Milan, 19 years old, CF/LW/CAM/LM, OVR – 76, $20 million
No young player list is complete without this guy. For $20 million, he is an absolute steal compared to how many goals he scores and makes for your team. He led the list of goals and assists for 3 seasons and still does. Clubs will be swooping upon him like vultures, which is justified considering his overall reaches 92 by the time he is 25. One more player you absolutely have to sign, his hairstyle slightly tips the scales in his favour as my first signing in every career mode, ahead of Ter Stegen. Awesome, awesome player.
Lucas Piazon, Chelsea, 18 years old, LW/CF/CAM, OVR – 61, < $10 million
Agreed, he doesn't have the stats to back his claim to be on this list, but in the game he is brilliant. Scoring and assisting at will with his shot accuracy and vision, yet another Brazillian who will light up your team.
Sterling, Liverpool, 17 years old, LW/RW, OVR – 69, $10-15 million
This lanky 17-year-old Englishman is sure to set the EPL on fire, both in real life and in your game, if you let him stay at Liverpool that is. A very pacy customer, with good dribbling and crossing skills, he's the winger you want. Also scores more often than not when presented with the opportunity.
With that ends my list of players that will succeed in your career mode. It would have been easy for me to suggest to you guys the Lucas Mouras, the Mario Gotzes and the Jack Wilsheres, but all this is from my 'experience' of playing career mode on FIFA 13.
Buy FIFA 14 here -> http://s-k.cm/1dszF4i
(Includes free gift worth Rs.400)