Tottenham Hotspur v. Liverpool: Dazzling game or Drab draw?
693 //
28 Nov 2012, 15:08 IST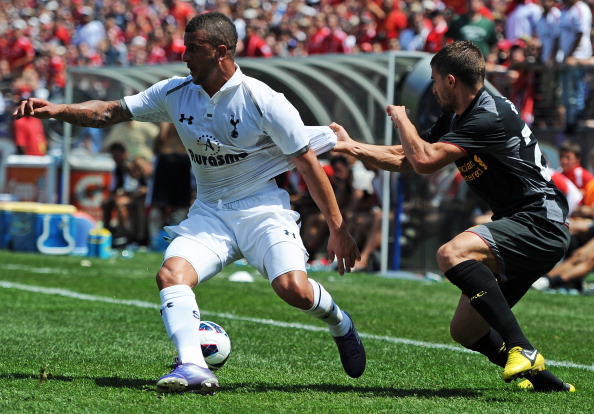 White Hart Lane, one of the grounds which Martin Skrtel doesn't cherish going to, such has been his luck for the past few seasons, Skrtel has been synonymous with a Liverpool-Tottenham game. The season before last, he broke his jaw, then the other season he was the goal scorer at both ends. Add to that, he was sent off one season, so pardon him if he doesn't exactly carry golden memories of the place.
Between all that that has gone about, Liverpool really need to start picking up more wins instead of draws, and then only will their rise be rapid up the table. It's a nice sight to see the standings and realize that Liverpool are only 4 points of the Europa league places and 9 leagues behind Champion's League places. The teams above them have been inconsistent as well. Liverpool may have avoided defeats, but a point a game is not what Brendan Rodgers has in mind, if he has Champion's League ambition in mind. At least, looking on the bright side, Liverpool have been consistent in getting draws and playing good football, so the morale of the players is on the rise.
Though there have been some decent performances for Joe Cole and Downing, it more or less is now settled that they both will be on their way out in January, freeing up funds and lessen the wage bill as well. Henderson is one more player, but time is on his side and Rodgers can mould him as well into  a better player. Also, once Lucas Leiva is back, maybe Gerrard will be pushed further up the field. The captain, although inspirational, has not been able to find his goal scoring touch this season except for a couple.
Suarez is already on his 10th goal, and has provided two assists as well, Tottenham will be well aware of that. But Tottenham do possess more quality than Liverpool, especially in the wing department, it will be fascinating to see how Wisdom faces the flying Welshman "Gareth Bale", who has been electric as usual. On the other hand, Johnson on the left will be equally kept busy, with Lennon having the tendency to change direction and cutting in and out.
While the game may eventually come down to clinical finishing, it's necessary Liverpool provide the required service to Suarez. Last season, when Andre Villas Boas's Chelsea and Brendan Rodger's Swansea City faced each other, it made for enthralling games, with Villas Boas getting the upper hand over Rodgers, but it was not before Rodger's side fought valiantly. This season though, both are two different teams and the pressure is a whole lot different, especially on Rodgers, who knows a defeat would seriously undermine the efforts of the progress Liverpool have been making over the past few games.
This game, though, has the ability to light up at any point of time with so many flair players in the attacking positions. It will be a test for both defenses, and it just might be that the team which defends better may get the better result.