Tough road ahead for Manchester United
3.28K //
24 Jan 2015, 19:42 IST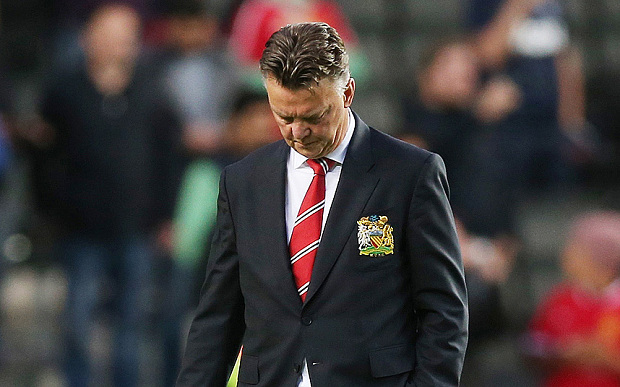 Manchester United have now done it the old way, the scrappy way and a new way, but Louis Van Gaal's army looks as clueless as a lost child in a Notting Hill Carnival. It was a classic FA Cup fight between the David & Goliath of English football which ended in a frustrating draw for Manchester United. 75 places below was Cambridge United in the league ladder and how have they come out fighting. Both sets of players knew the importance of such a tie.
For the Red Devils, it was a sheer matter of pride and nothing but a win was expected from them. But for their opponents it was an opportunity and a dream come true facing the biggest English football club in the World and also a probability of playing at the Theatre of Dreams. Of course, the prospect of an upset and more importantly advancing in the FA Cup loomed largely in the minds of the players which did make them nervous. The result was Cambridge United earned a replay at Old Trafford while Manchester United endured an embarrassing draw.
Chants of '4-4-2' in the match against QPR, last week was probably the first of of its kind, but it seemed Van Gaal did lend his ear to the fans' cries and duly obliged. So his 4-4-2 it was with a midfield diamond of Michael Carrick, Angel Di Maria, Marouane Fellaini and Adnan Januzaj supplying service to Radamel Falcao and young James Wilson at the front.
Everyone expected United to swat Cambridge aside while producing some attractive play. Though it was anything but that as Manchester United didn't look like a well-oiled machine. The problem with their performance now-a-days is it's very predictable and you could tell where each player was going to pass. This is not how United should be. Teams should not be able to figure them out.
Daley Blind and Antonio Valencia worked tirelessly on the flanks, moving up and down but failed to deliver any sort of purposeful crosses. Blind in particular was guilty of, not playing out timely crosses. There was one point in the match where Falcao placed himself perfectly ahead of the defender and had the cross came in a bit early he should have buried it into the net. Instead, Blind chose to cut inside for the pull back which never reached any of the United players.
This has been a feature of Van Gaal's philosophy and fans around the world must realise that United are no longer a counter attacking team or a team with quick passing attacks. Flashes of the old United might show time to time, but they have been transformed, at least in this season, to more of a possession-based team.
The fans have to adjust with Van Gaal and his slow build up play. Having said that, his team should be scoring more goals. The Big United have only managed to score 6 goals in 5 matches this year, which by their standards is a crime. Though the defenders have not leaked too many goals, they still look shockingly shaky.
Phil Jones, who, by the way, has replaced Wayne Rooney as the left corner taker, has managed to place himself at every position on the field except for the one where he needs to be. Misplaced passes, mistimed challenges and facial expressions have become a feature for a player who was deemed as a beacon of the future.
Fellaini on the other hand looked clumsy against Cambridge and even after his heroics at QPR last week he still doesn't fit as a Manchester United player. Robin van Persie and Ander Herrera were introduced in the second half and suddenly United became fluid in possession. Both Falcao and Van Persie should have scored in the second half and put United through to round five. But it was not to be. As frustrating it is to believe, Manchester United have forgotten to inspire the world.
Arsenal's win against Manchester City was a historic one for many reasons. But it has placed United on high alert as the Gunners are breathing down their neck. They are just one point behind the 20 times champions and Arsene Wenger's expertise in finishing in the top 4 from any lowly position must concern the United fans. Southampton, on the other hand, look like a team capable of finishing in the top 4, thanks to Ronald Koeman and his managerial brilliance.
They have already defeated United at Old Trafford and Arsenal at St. Marys and will face league champions Manchester City and league leaders Chelsea away from their home. People love a fairy tale ending for clubs with less monetary power.
Southampton FC under Koeman have become a fan favourite around the world and could well finish in the top 4. We have to involve Liverpool and Tottenham in this discussion as both teams look set to fight for a top 4 spot.
Spurs have made a habit, of winning late matches through Christian Eriksen goals and Liverpool, are on a run of 7 undefeated matches last losing to United in mid-December. Come the end of this season any two of these teams could be playing in the Champions League next season. Manchester United are not safe by any means.
?Do United fans need to worry?
Yes, they do. Premier league is full of surprises & United need to put up a string of winning performances assure their fans of a top 4 berth. Serious doubts must now circle Van Gaal's regime. The promised improvement after three months has been and gone.
And after what looked like lift-off in December, his United have stalled. A battle for fourth place in the Premier League is now on with Arsenal, Liverpool, Tottenham and Southampton, and the FA Cup is the sole trophy on offer for them. It isn't going to be easy even against bottom placed teams as they will be trying to avoid relegation. No match can be taken lightly and Van Gaal must make his players ready for any kind of challenge.
We are now getting to the business end of the season and Van Gaal better buckle up for a stormy finish. The start of the second half shows how tough the following months will be for United.
People have started accusing the Dutchman's tactics and, of course, his arrogance. Even I can assure you that Van Gaal's position is not in danger but what if United lose out on a top 4 finish. What if Van Gaal's United lose to the big guns as well as to their top 4 competitors? What if Falcao and Van Persie continue to fluff their lines? What if United's midfield fail to create enough? What if Manchester United, the 2nd biggest club in world football, miss Champions League for a second season in a row? What if.....