Video: Sunderland manager Poyet goes one-on-one against Hull boss Steve Bruce in a touchline row
2.66K //
04 Mar 2015, 10:26 IST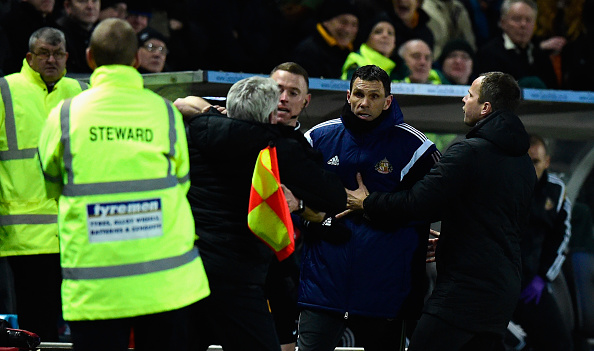 It is not often when you see two managers engage in a heated argument such as this one when Hull City manager Steve Bruce had to be held back by the assistant referee as both him and Sunderland manager Gus Poyet were involved in a touchline row.
Things haven't been easy for Poyet who had to deal with the thought of losing out on Adam Johnson after the English midfielder was taken into custody over allegations of sleeping with a 16-year-old, and the sending off of Jack Rodwell for simulation in the 36th minute of the match made matters worse.
Poyet would then go on to kick a crate full of drinks out of frustration, only to be sent off by the referee afterwards. Perhaps agitated with everything that was happening around him, the Uruguayan manager, before he was on his way to the stands, confronted Hull City manager Steve Bruce by offering him a handshake that looked like a pretty sarcastic gesture.
There was a heated exchange of words, and we assume those were moderately hurtful as Bruce lost his cool immediately after that, only to be restrained by the assistant referee and other staff officials.
---
Steve Bruce's post-match interview
"These things happen in the heat of the moment. Grown men acting like a couple of children. They happen in big games.?"?
Gus Poyet's post-match interview
"I am old fashioned, what happens on the pitch stays on the pitch."