West Bromich Albion: Overachievers already?
814 //
28 Nov 2012, 09:06 IST
After Roy Hogdson took over as the England manager before the Euros, it seemed that all was lost for the Baggies. They finished a commendable tenth in the Barclays Premier League in 2011-12, and it would have only taken a brave man to predict where they are now. Ask the West Bromwich faithful and they say they have come a long way. The appointment of Steve Clarke has been a revelation, and had the making of a secret but successful recipe behind the curtains at the Hawthorns.
Sitting on a pretty and well-deserved third place after thirteen games in this this excruciating league is by no means a miracle in the offing. Neither is it a flash in the pan. Ask the supporters who go full throttle for the Baggies and they would agree. After all,who wouldn't? Leapfrogging teams who have come their way, and sitting five points clear of fifth placed Everton is not something you can achieve by sheer luck.
They have been able to maintain their impeccable form at home from the start of the season, winning five and losing one. So whatever they get from away matches is purely a bonus. Appointing Steve Clarke has been a master stroke. The 49-year-old Scot has gone right down to business from day one. If you don't remember, ask Liverpool who were thrashed 3-0 in their opening game at the hands of the Baggies. Moreover, having a fitter squad than other teams can give you that extra advantage, and that is showing. It enables the manager to rotate his squad more frequently than normal, which has paid rich dividends so far. Four wins in November, and that too back-to-back, against teams like Southampton,Wigan, Chelsea and Sunderland have sky rocketed their morale. With some games against the tougher teams in the Premier League, there is no reason why this bunch of hard-working youngsters, coupled with an experienced manager at the helm, can bring joy to the faces of the club's faithful.
Clarke, who was number two to Kenny Dalglish during his reign at Anfield, has always been a firm believer in a strong defence to win matches and that has shown from day one. They have only conceded five goals at home, which is at par with Manchester City. Only Stoke City can boast of a better record, having conceded a goal less than these two. Wins over Liverpool, Everton and Chelsea have shown their desire to fight for a Champions League place, though it's still early to say whether they can book a berth for Europe's elite competition, although with 5 FA cups and league championship (albeit a long time ago), their trophy showcase isn't empty.
The acquisition of players like Shane Long, Peter Odemwinge and Romelu Lukaku on loan has been the talking point this season for the Baggies. Their defence has been rock solid with McAuley, Olsson, Jones and Ridgewell marshalling like guards at the gates of their own net, and it's hard for the opposing forwards to score and find wide spaces in the Albion box. With Zoltan Gera and Chris Brunt in terrific form, unleashing bullets and measured chips for the strikers, along with Chris Brunt, it's no wonder that Steve Clarke has unleashed a magic wand on his players.
With Ben Foster injured, Clarke has to keep Myhill guarding his goal. Despite not playing at their best against Chelsea, they still managed to win the game. With a third man always available for team-mates, it only makes passing easy; more so when they have pacey young players with the right mindset and the willingness to go into hard tackles and win them. A feisty looking 4-2-3-1, the best part of their movement is they tend to draw almost three players towards the ball carrier, which provides acres of space in and around the opposition penalty area, and as they play higher up the pitch, things can only look uphill form here.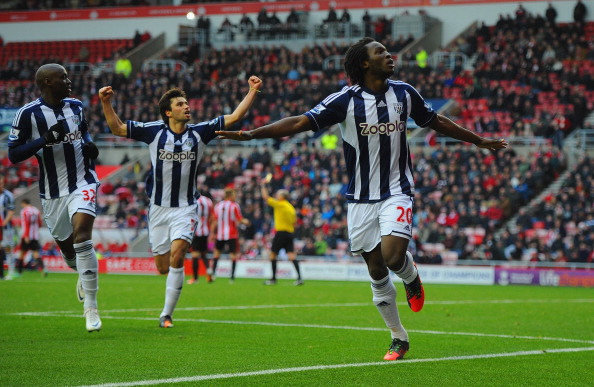 If they can get to Christmas at this pace, and with twenty-five odd games to go this season, some shrewd buys come January, this team is going to create serious problems for other teams. The most important thing for the Baggies though, as their star striker suggests, is to remain grounded. With the best ever start in their Premier League in over a decade, they shouldn't get carried away, and remain realistic about their chances this season. Keeping their feet firmly grounded has to be a habit, lest they would be making sand castles in the azure sky of The Hawthorns.
At the end of the season, we can decide on whether they are overachieving or they have culminated a winning mindset which isn't a illusion which will cast away into oblivion.