SARRISMO is nothing but the managerial philosophy used by the new Chelsea manager, which made Napoli dream about their first Scudetto since the days of Diego Maradona. To understand Sarrismo we need to understand the man behind it.
Early Career
Born in Napoli, Italy, Sarri played as a central defender for various non-league sides and could never make it as a professional footballer. Sarri would work as a banker in the morning and train in the evening. At age 40 he moved into coaching following the same routine he adhered to in his playing career.
Managerial Career
Sarri first started coaching in the year 1990. His first club was U.S.D. Stia, since then he has gone on to manage a staggering 18 clubs in 28 years. Of the 18 clubs he has managed, 16 of them have been in the lower leagues of the Italian footballing pyramid.
He would often move on from clubs after a year or so since being in charge for some reason or another. It took him 20 years to climb the pyramid when in 2013 he guided Empoli to promotion from Serie B to Serie A after a wait of 6 years. In the following year, he managed Empoli to Serie A survival by securing 15th place.
Impressed by his tactical brilliance at Empoli, he was offered his first elite job: Napoli. Sarri had completed the full circle by joining his native club. This is where he caught the eye of the footballing world as a master tactician.
The Philosophy
The Sarrismo philosophy works on two basic principles; Possession and Progression. When in unison this leads to a 'possession with progression' based football which is quite a sight to behold.
His Napoli team lined up in an orthodox 4-3-3 formation, shifting to a 4-5-1 in defence and 2-1-4-3 in attack. Sarri trusted each member of his squad as a ballplayer. With the ball, Napoli always tried to implement the triangle passing method with pass master Jorginho being at the heart of everything.
Without the ball Napoli pressed high with a high defensive line causing opposition to pass backwards or make mistakes, thus helping them to break with whip speed.
Most of Napoli's attacking came from the left-hand side, initiated by the pacey left-back Faouzi Ghoulam, who then linked up with Hamšík and Insigne producing some scintillating football which also allowed Jose Callejon to showboat his Der Raumdeuter(German for space master) prowess.
After losing the main man Gonzalo Higuain to Juventus and Arkadiusz Milik out injured, Sarri's magnum opus arrived when he turned a small Belgian winger into a prolific centre-forward. Dries Mertens managed almost a goal a game which bolstered the attack and justified the effectiveness of Sarri's philosophy.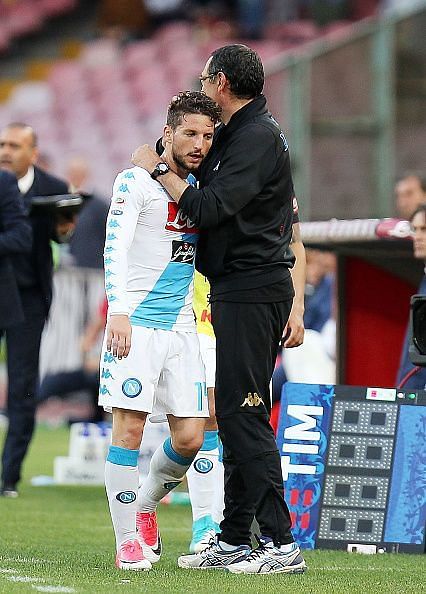 Sarri's Napoli finished 2nd last season just four points behind the eventual winners Juventus. Scoring almost two goals per game and were considered playing the most attractive football across Europe.
Chelsea?
Maurizio Sarri has replaced Antonio Conte as the new Chelsea manager, signing a three-year contract under the trigger-happy Roman Abramovich, but the lack of time is under which Sarri thrives the most. He brings Jorginho with him who slides into the heart of the midfield as a long-term replacement for ageing Cesc Fabregas.
If Chelsea manages to adapt to the philosophy of a chain-smoking ex-banker who didn't manage a single top-flight club until the age of 55 and keep hold of their star players in Eden Hazard and Thibaut Courtois, the waves of uncertainty could be calmed and commence a dawn of exciting times for the club as well as for the Premier League.