What will Paulinho bring to Tottenham Hotspur?
2.02K //
09 Jul 2013, 21:35 IST
Tottenham Hotspur confirmed the signing of Paulinho from Corinthians for a fee in the region of £17m after the Brazilian midfielder passed his medical and signed a four-year contract at the club.
The 24-year-old, who has been capped 17 times by Brazil, helped his country to FIFA Confederations Cup success with victory against world champions Spain and is now relishing the chance to prove himself in the Premier League with Andre Villas-Boas' team.
"First, I want to thank Tottenham for believing in me. I am very happy and excited to have joined Spurs. It's a huge pleasure for my career to be at a club as big as Tottenham. I know it will be a huge challenge but I think I can help all my colleagues to succeed and give a lot of happiness to the supporters," Paulinho said to Tottenham Hotspur's official website:
"The Training Centre is amazing and I'm very impressed about the conditions Tottenham offers to the players. I will focus on my job and use the facility as much as possible.
"We used to watch the Premier League in Brazil – including Tottenham – and this club has big players. I just want to help them to succeed here. It's nice to have another Brazilian in the squad and I'm excited to meet with Sandro and all the players."
What does he bring?
Many people would characterise Paulinho as a defensive midfielder given where he plays for Brazil, but who have watched him at the recently concluded Confederations Cup or have seen him play regularly for Corinthians will know that the characterisation is not quite accurate.
To best describe Paulinho's playing style, he is a classic box-to-box midfielder, in the same mould of Yaya Toure, Steven Gerrard or Bastian Schweinsteiger, who is equally comfortable and capable of being an integral of both attack and defence.
Strong and athletic, he gives Villas-Boas lots of options in midfield. Defensively, he is strong enough to deputise for Sandro as a holding midfielder when his fellow countryman is absent. When they start together, Paulinho can push forward and be the driving force in the midfield.
Mousa Dembele too has the ability to do the same, but what the Brazilian will bring that the Belgian does not, is goals from midfield. He has the knack of arriving late in the box from deep to find himself in goal-scoring positions, like he did in the recent games against Japan and England. This is something Tottenham don't have in their squad.
Not only is he good on the ground but is also good in the air, and we saw an example of it when he headed home the winner against Uruguay to help Brazil reach the Confederation Cup final. Spurs in the recent past have struggled when defending set pieces and towards the end of last season, when Sandro was out injury, the team seemed to concede a goal from such situation every week. Perhaps his aerial ability will be made good use of while defending set pieces and that could prove important for the team.
Finally, Tottenham are signing a player who is at the very peak of his game and comes to the club as a mature 24-year-old. For a player who is still comparatively young, he brings with him the winning mentality and plenty of experience of winning things.
Paulinho was an integral part of the Corinthians team that won the Campeonato Brasileiro Serie A, Copa Libertadores and Club World Cup, and also played a huge role in helping Brazil win the Confederations Cup. That will be vital to a Spurs squad short of players with such experience.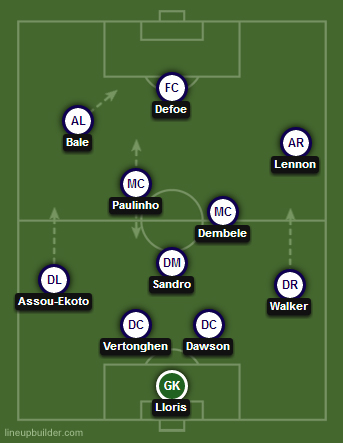 Where does he fit in tactically?
Given his box-to-box ability, Paulinho will fit in perfectly at White Hart Lane and be used appropriately by Villas-Boas. Expect to see Paulinho be played is his natural role whether the former Chelsea boss decides to play with a 4-2-3-1 formation or a 4-3-3 formation which will allow him to settle in and be utilised perfectly.
In a 4-2-3-1 formation, Paulinho will play as one of the two holding midfielders with three attacking midfielders in front, and he would be partnered with Sandro, Scott Parker, and/or Tom Huddlestone. In this formation, Paulinho would be the holding midfielder who gets to roam and push forward, much the same way Schweinsteiger does in his partnership with Javi Martinez at Bayern Munich or Toure does at Manchester City.
In a 4-3-3 formation, Paulinho will form a fearsome three-man midfield unit alongside Sandro and Dembele. Sandro will play as the defensive midfielder shielding the back four, Dembele will be in charge of distributing the ball, and Paulinho will be given the licence to push forward and be the driving force in midfield.
This formation is a very exciting prospect as it gets the best out of all the three players, who are able to interchange with one another and who would surely outmuscle most opponents in the league.
At the same time, the Brazilian's arrival will also help Villas-Boas install his beloved 4-3-3 at Tottenham, which worked wonders at FC Porto but failed at Stamford Bridge. There is no doubt, Paulinho would provide immense depth and competition in a 4-2-3-1 formation, but should AVB wish to field the trio together (which in my opinion he should), then 4-3-3 is the right way to go.