Where is the 2013/14 Premier League title heading?
A season that saw Liverpool storming back as one of the firm title contenders in England, may well have all but shattered after they were held to a draw by a rejuvenated Crystal Palace on 6 May, 2014. With what started as a four-way race between Arsenal, Chelsea, Manchester City and Liverpool, the Premier League trophy seems to be heading to the Etihad Stadium after a gap of two years.
The Premier League continues to unravel yet another musical chair season. The season has seen as many as 4 teams staying at the top of summit but have failed to cement their position. Manchester City now just need one point from their last game of the season, where they face West Ham at home. The title race is still not over but City, thanks to some crucial 'slip-ups' by Liverpool are sitting in the driver's seat.
Not to forget, after 22 games in the 2013/14 EPL season, it was Arsenal who were leading the charts. The signing of Mesut Ozil from Real Madrid looked set to to end Arsenal's trophy ridden years. It was all until they met Southampton and their sudden downfall began. A series of draws and losses never helped them while City, Chelsea and Liverpool maintained the race at the top.
Chelsea in the month of February and Mid-March enjoyed a long stay at the top of the table but after their 1-0 loss at the hands of Crystal Palace, they were dethroned by Liverpool with just 6 games left to be played. The title from there on was either for City or Liverpool to win. At this stage after game-week 32, Liverpool were on top with 71 points and City were 4 behind having played only 30 games.
City eventually squandered their chances when they lost to Liverpool 2-3 on 13 Apr, 2014 at Anfield, but now after Liverpool's loss to Palace, City are firm favourites to win the Premier League until and unless something dramatic happens. 11 May, 2014 will see the Premier League wrapping up its 2013/14 season and with all figures and facts, the title is now for City to lose.
Here is how the EPL table looks like after 37 games: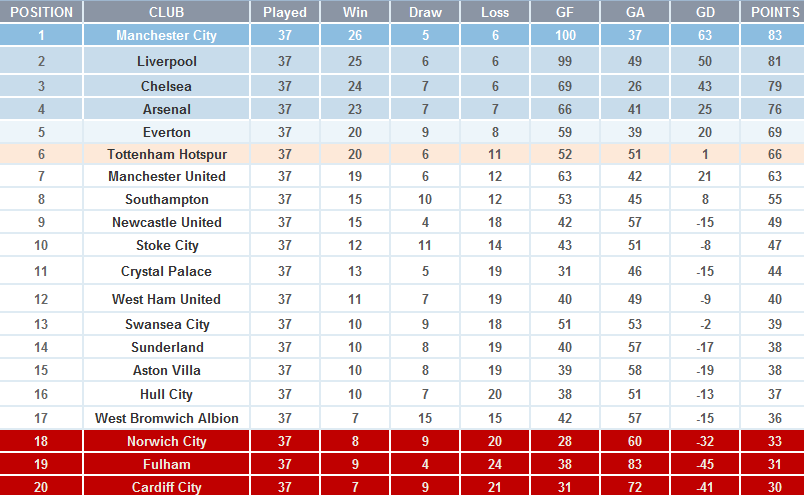 All the final EPL games will be played on Sunday (11th May, 2014) and this is how title will be decided .
Liverpool: The Reds face Newcastle United at home. They are two points behind City and only a win could give them some hope. A win will take them to 84 points, one point ahead of City. The Kops then have to pray for City to lose against West Ham.
Manchester City: All they need to do is make sure, they don't lose against West Ham. Playing at home, City so far have the best home record, winning 16, losing one and drawing one. A draw for City and a win for Liverpool, will take Manchester United's noisy neighbours level on points with the Scousers. But they have a goal difference of 13 more than Liverpool and it is highly unlikely that Liverpool will score that many against Newcastle.
If two or more teams are equal on points, the winner is then determined by goal difference and then, if necessary, by the number of goals scored.
What if Liverpool score 13 goals and City ends up with a score 1-1 against West Ham? Impossible.
But if it stays like this, Liverpool will tie City on goal difference and win the League title on account of more goals scored.
Note: Congratulations Manchester City on winning the 2013/14 Barclays Premier League.