Why Aaron Ramsey moving to Barcelona would make sense
2.58K //
25 May 2015, 03:24 IST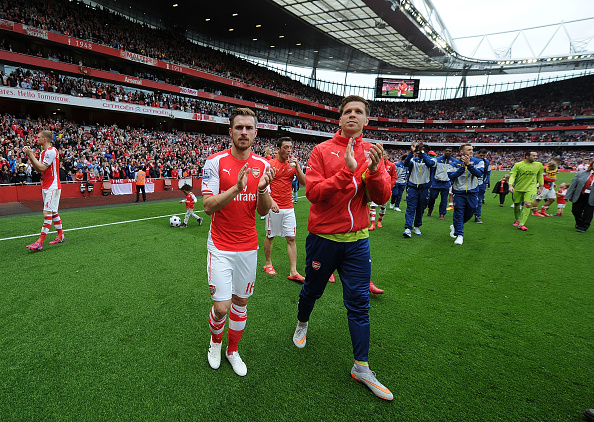 Aaron Ramsey has been one of Arsenal's best performers in the last couple of seasons and the Welshman has really started to be hot on the lips of most of Europe's biggest clubs and rumours this week are speculating Barcelona, a club under transfer embargo, are willing to put a £50 million bid in for the 24 year old.
For Barcelona, with Xavi confirming his departure from the club of his life last week to join up with Al-Sadd in Qatar, Ramsey could be his perfect replacement. How, you ask? Aaron Ramsey is definitely one of the classier central midfield players in the Premier League at this current time and with a combined 18 goals and assists in 33 starts for Arsenal this season, with the likes of Suarez, Neymar and Messi in front of him, this could be his moment to shine and become one of the best.
He can play all types of roles, but in front of Busquets and next to Iniesta is somewhere I feel he'll thrive, though I feel he'll strive wherever he has a ball at his feet. He's got a sense of adaptability about him too, and if asked upon can play a more holding role, in the case of Busquets being injured. Or if need be, he would enjoy an attacking role, being one of the free roaming three behind the striker, the role he plays for Arsenal.
Who stands to gain from Ramsey deal?
As for Arsenal, this is a very sizeable fee for a man who they don't really need, even though he has been their top performer over the past two seasons, as they have a lot of squad depth for where he operates. With the kind of fee involved, I can imagine a lot of it will go into the transfer kitty and Wenger will get more money on where it is essential that they add quality, otherwise it's back to a non-title challenging season, again.
Arsenal need stability for the back four and new members of a mediocre back four to become title challengers, such as where they want to be. Whether Wenger will deliver that with this money and the sizeable funds he has available now is for us to see come September.
With Aaron Ramsey being a fairly injury prone player, and is guaranteed to have an injury during the season at one point at least, I believe this deal will suit both parties. Never ti underestimate what a phenomenal player he is, if the deal were to go ahead both will be gaining, and they'll both feel they've had the better part of the deal.
Because, at the end of the day, whether you like it or not, Aaron Ramsey is one of the best players in his position in the Premier League, and I'd even go as far as saying in Europe. I'd love the Caerphilly-born Welshman to get this opportunity of playing for a club on top of the European spectrum and it's his chance to show the world that he's got what it takes to become the best and prove the doubters wrong.