Will the English duo's Europa adventure affect their conquest for a Champions League spot?
1.12K //
23 Mar 2013, 12:42 IST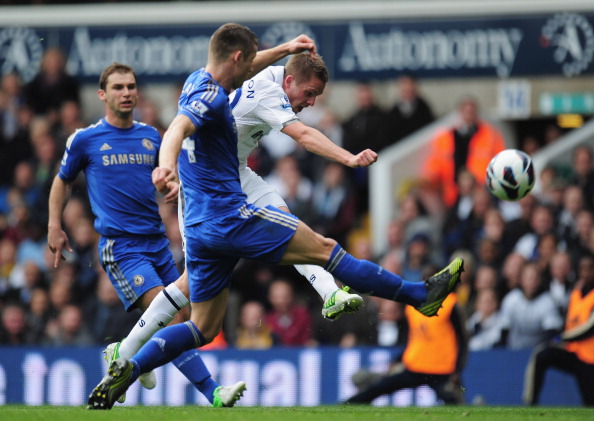 After last season's eleventh hour drama for the Premier League summit, the state of affairs seem a lot less enthusing this season in the blue part of Manchester. With Manchester United's 15 point lead over their fierce rivals, the 'twentieth' looks destined to go to Old Trafford, curtailing the chances of another miraculous surrender this season. With 9 games to go, as the heat for the top spot simmers down, the race for the other Champions League qualification spots is all set to go down to the wire.
Realistically speaking, the second spot is for Manchester City to lose. With the FA Cup being the only seemingly rational chance to win silverware this season (read distraction), and with the reputation of an expensively assembled (with those oil laden gazillions) squad at stake, one would assume that they will be motivated enough to finish a very respectable second. Just for the sake of our pleasure, we won't completely rule out the chance of a Citizen meltdown.
All in all, we have four contenders (Chelsea, Tottenham, Arsenal and Everton) with Liverpool possessing an outside (very outside) chance to compete with Europe's elite next season. Since Chelsea and Tottenham Hotspur remain the only English contingent in Europe now, we'll try and deliberate their respective European qualification prospects – the fixture congestion, the tired legs, the injury woes, the managerial selection headaches, everything concerning the two camps. If it's happening somewhere, don't worry, we'll have an eye on it. (*sarcastic wink)
Chelsea, who have already played 53 games this season (may increase to 70 if they go all the way in both cup competitions) have gone into the international break on the back of a gritty second half fightback against United in the FA Cup, earning themselves a replay at the Bridge. They also managed to dig deep against Steaua Bucharest and turned the tie around with a tenacious performance at home. Not exceptional by any stretch of imagination, just enough to get the job done. Add to that, a home win against West Ham and you know, having already missed out on four trophies in a roller coaster ride of a season, interim manager (Please don't mind the phrase, Rafa!) Rafael Benitez's men should come back from national duty with soaring self-belief.
The fixture pile-up would still be a matter of concern though. After travelling to Southampton on Saturday, March 30, the Blues have been scheduled to take on Manchester United at home in a F.A. Cup replay, less than 48 hours later. Just three days later i.e. on April 4, the London outfit are arranged to play the Russian giants Rubin Kazan in the Europa League, followed by a visit by the Black Cats on Sunday, April 7, further capped off with a long trip back to Russia for the second leg and a short visit by Spurs (fellow Europa League and UCL spot contenders).
"We are not going to sacrifice any competition. We want to win them all. And we have the capacity to do it."- Benitez before the home game against Steaua
All in all, they are supposed to have six games on their agenda over a matter of just 13 days. While one could argue that a club of Chelsea's stature and squad depth should back itself for such a gruelling schedule, to make matters worse, their April is rounded off with games against Liverpool and Swansea. Extremely unforgiving indeed, considering the fact that 13 (all possible first-team starters)  players from their squad will be away, representing their respective countries.
Tottenham, on the other hand, have gone into the international break with the suggestions of an 'annual choke up' looming large over their head, courtesy consecutive defeats against Liverpool and Fulham. Safe to say, Spurs are officially into that period of the season when they insinuate of a 'shift in power' but end up desperately short of their claims. After a walk in the park performance against the Nerazzurris at home, what seemed like a formality almost turned out to be an utter embarrassment for the men from North London as Spurs managed to bundle their way through to the Quarter Finals courtesy of a William Gallas shocker and a dogged show from the men in black and blue.
"Every goal was a boost of motivation for them and knife in the back for us. When the mind does not work, everything becomes a catastrophe."- Andre Villas- Boas post his team's mauling at San Siro
Despite Villas-Boas's insistence that his team won't bow out of the Champions League Qualification race, the prospect of facing the likes of Swansea, Everton, Chelsea, Manchester City and a double whammy against the Swiss champions, F.C. Basel, over the next three weeks, doesn't really paint a rosy picture. Spurs, having played a game before, are just four points ahead of their North London rivals. And with the minds of the Spurs faithful still afresh with the thoughts of last year's capitulation, the ex-Chelsea manager's brawn is all set to be put to a stern test, come the penultimate stages of the season.
With 12 first-team players away for national duty, Villas- Boas will be forced to run some of his tired horses in this race to the finish. Should the Lilywhites brace themselves for another season of let-down?