Zinedine Zidane: The magician in numbers
4.46K //
28 Nov 2012, 13:45 IST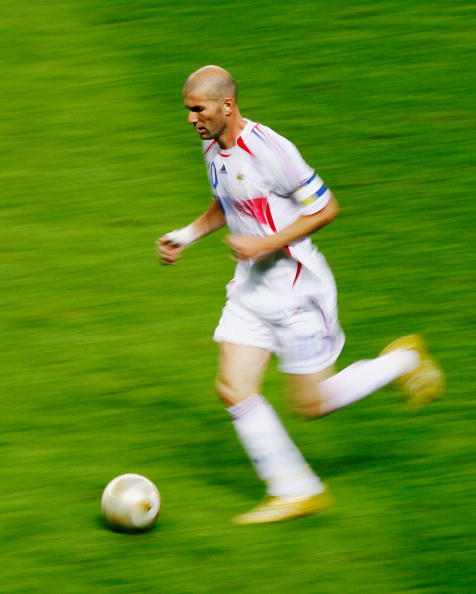 Zinedine Zidane is one the greatest players in the history of football.
Here are some interesting facts on this great legend:
0- the number of times he was caught off-side in his scintillating career.
1 - his ranking in and online poll was conducted by UEFA, becoming the one and only player to do so.
2 - the number of match winning goals he scored in the 1998 World Cup final against Brazil
3- He scored only one hattrick in his illustrious career, scoring against Sevilla. On that day he added,with a pinch of salt "I have had to wait for 34 years to score a hat-trick. It is great."
4 - number of years he played for Cannes, his first professional club
5  – the jersey number he wore when he came to Real Madrid, which primarily was worn by Luis Figo, and it meant for players who play attacking mid position.
6 - number of major tournaments he played in his international career , the first  being  Euro 96′ and the last being the World Cup final in Germany in 2006.
7th – minute cheeky penalty by Zidane puts France ahead against Italy, in the 2006 World Cup final, becoming one of four players to have scored in two finals in the World Cup competitions.
8 - number of goals scored by the legend  Zidane during his time at Bordeaux for two consecutive seasons,which helped to establish himself as one of France's most promising talents.
9 - number of goals scored by 'Zizou' his final season, all of which came in the La Liga.
10 - his age when he was signed by US Saint-Henri. Also his jersey number, which proved he is one of the greatest play makers in history.
12 - number of years he played for France from his debut in 1994 to retiring in 2006.
13 - number of times he was booked in his international career with France.
14 - number of red cards given to 'Zizou' due to his aggression, including two for his country including the infamous head-butt incident at the final of World Cup 06′
May 15, 2002 – the date on which he  produced one of his and one of the world's most iconic goal, with an  irreproachable volley into Bayer Leverkusen's net from  a long range for Real Madrid in the Champions League final. It was the winning goal, and was scored with his weaker foot which is etched in the memory of almost every soccer fan.
16 - number of international goals scored in the second half of matches out of which seven came in the last 10 minutes of games making him the best game-changers in modern history.
December 17th 2006 – the date he received Algeria's order of National merit (he is actually from Algeria settled in France).
18 - Zidane's age when his first professional goal was scored for Cannes.
20th minute of extra time in the 2006 World Cup final, the head butting of Marco Materazzi.
'Zidane: A 21st Century Portrait' was the documentary in which he starred ,it showed the match  between Real Madrid and Villarreal in April 2005 and truly he proves the name in title.
'22 world cup,Qatar organizing committee has named Zinedine Zidane as its ambassador.
23rd June ,1972, the legend is born.
24 - The age when he was going bald. he commented "my wife looks happy with that, so I am not troubled"
26 goals, he scored in the European championships totally.
27 minutes to go and at 2-0 down, he scored twice against Czech Republic showing his acrobatic skills and found himself a permanent place
At 28, Zidane was at his peak form and scored for France as they won the Euro 2000.
29 was his age when Real Madrid signed him for a fee of 150 billion Italian lire, which was a world record.
30th international match he played in his home city of Marseille,and scored a goal too.
31 international goals ,to his credit and only three other players have scored above his tally.
32nd minute goal against Spain,setting up a 2-1 victory for Les' blues
at 33, he scored his first and only hattrick over Sevilla in January 2006.
At 34 years , Zidane brought the curtain down and retired after the World Cup.
35-metre goal against  Real Betis in UEFA Cup 96 is remembered as one of the best goals.
Thank you Zinedine for all these figures and I was alive when this great legend was playing this great game.