Fortnite Chapter 3 Season 4 is almost over. Ordinarily, this wouldn't matter much, but Epic Games has decided to forego the rest of Chapter 3 and head straight into Chapter 4. This is exactly like the end of Chapter 2 Season 8, except that it's coming far earlier in Chapter 3.
Like Chapter 2 Season 8, this season will also end with a massive live event. The fate of the island, as it usually does, hangs in the balance.
The live event is likely going to dramatically reshape the game. Players will want to tune in because it could very well be the most important one yet.
---
The Fracture event that ends Fortnite Chapter 3 Season 4 will kick off at 4:00 pm EST
Here's how Epic Games describes the live event:
"Fracture is a one-time only, in-game event starting Saturday, December 3, 2022, at 4:00 pm ET. The 'Fracture' playlist will open up 30 minutes prior, so you can jump in before the event starts. You can also join in-progress until 4:40 pm ET!"
The Fracture event will kick off at 4:00 pm EST and will likely last no longer than an hour. Here's when it will occur in other time zones:
3:00 pm CST
2:00 pm MST
1:00 pm PST
9:00 pm GMT
2.30 am IST
8:00 am AEDT (next day)
12:30 am IRST
10:00 pm CET
12:00 am MSK
6:00 pm BRT
11:00 pm SAST
5:00 am ULAT
12:00 pm AKST
10:00 pm WEST
5:30 pm NST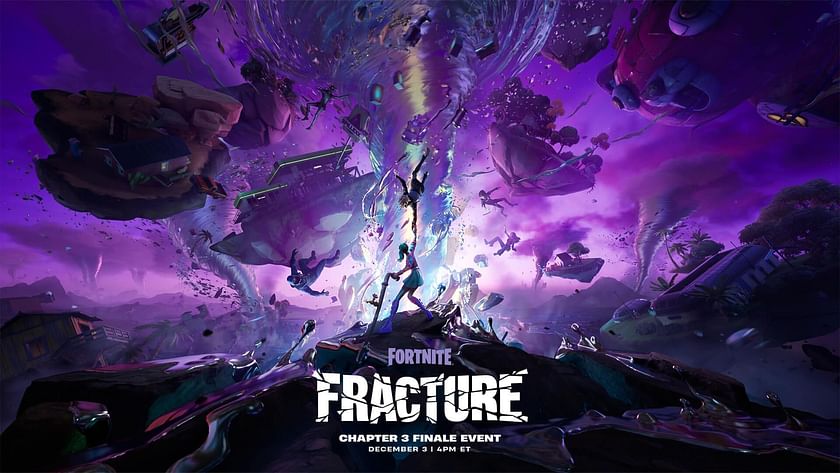 Players should be sure to log in early as there will likely be a lot of people using the same servers at the same time. The earlier, the better, as it will reduce your potential issues. The Fracture game mode will open 30 minutes early.
---
What to do before the live event
One of the most important things to do before the live event is to finish all the challenges. This will be the last opportunity for players to earn Fortnite Chapter 3 Season 4 XP. It is also their final chance to unlock things linked to challenges, such as the Nothing's Gift pickaxe styles.
Additionally, players should look to unlock Spider-Gwen, Paradigm, and other skins or cosmetics on the battle pass. The same goes for the elusive bonus styles. These will all go away after the current season ends, so it's best to try and unlock whatever there is.
Players should visit POIs or do anything in-game that they particularly enjoy. There's a high chance that it will all go away after the live event, so now is the time to take advantage of it.
In previous seasons, players were also advised to spend all their gold. It didn't carry over, so if one had 2,344 gold, it would all go to waste. This is no longer the case, though, so don't worry about wasting Fortnite gold.
Players should be sure to do all of this before the live event starts, as normal Fortnite gameplay won't be occurring.
Edited by Rachel Syiemlieh